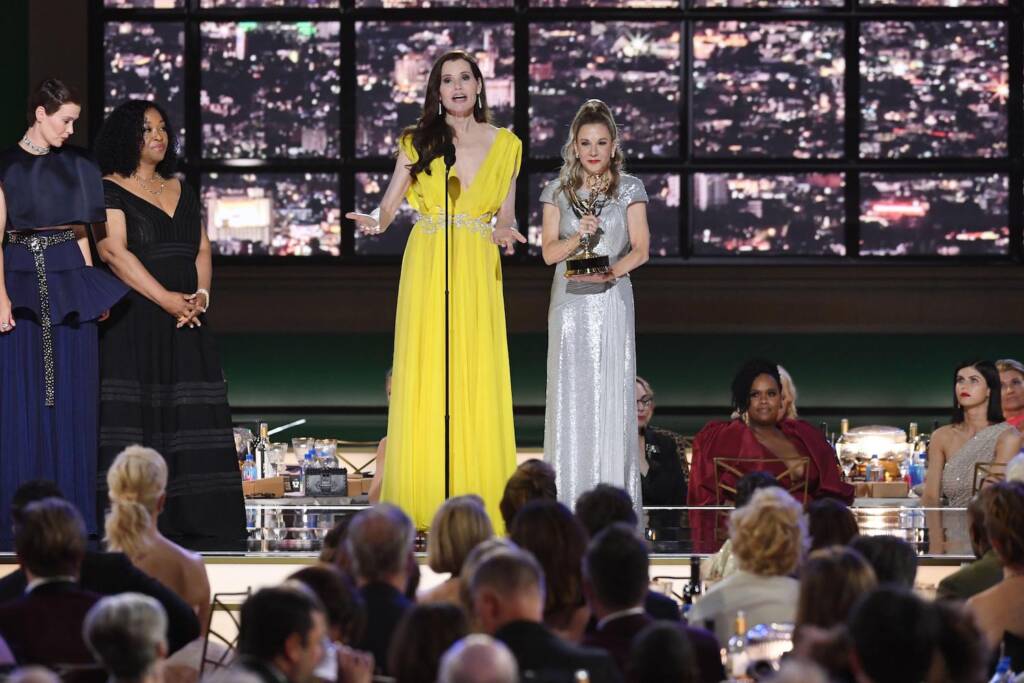 ACMI announces two-times academy award-winning sensation, Geena Davis as Goddess Ambassador and reveals first suite of event programs.
The iconic actor is set to travel to Melbourne as lead ambassador for the Melbourne Winter Masterpieces blockbuster, Goddess: Power, Glamour, Rebellion. The ACMI-curated exhibition open sat Australia's national museum of screen culture on 5 April before touring internationally.
Globally renowned for her show-stopping performances in hits such as Thelma & Louise, A League of Their Own, Beetlejuice and The Accidental Tourist, Geena Davis is a true Hollywood movie star.
Beyond her impact on screen, she is also a leader in leveraging research, education and advocacy to influence systemic change in onscreen character portrayals in global film, television, advertising and gaming through her Institute.
Goddess celebrates the pantheon of trailblazing women who fought the system that tried to exploit them. Showcasing more than 150 exhibition highlights, including never-before-seen costumes, original sketches, interactive experiences, large-scale projections and cinematic treasures, the exhibition interrogates the many stereotypes surrounding the screen goddess and honours the ground-breaking achievements of the screen's revolutionary leading women.
In aligning with the Geena Davis Institute on Gender in Media, Goddess signals the work of these formidable figures is far from done–there are more boundaries to break, agendas to advance and systems to fight–while working towards a better future.
Speaking about her ambassadorship with ACMI, Geena Davis, said:"I'm so excited to be a launch partner for this ground-breaking exhibition and to lead important conversations about gender equality at the special Goddess event, Being Seen on Screen: The Importance of Representation. This one-day conference at ACMI will inspire discussion about equality, diversity and ageing on Australian screens –vital conversations to have if we are to make permanent change in the screen industry."
Tickets to the provocative new exhibition and events program now on sale ACMI today announces a pivotal new partnership with two-time Academy Award-winning actor and advocate Geena Davis and the Geena Davis Institute on Gender in Media.
Being Seen on Screen: The Importance of Representation – Wednesday, 5 April 
For one day only, join two-time Academy Award-winning actor Geena Davis and an array of Australian talent at Being Seen on Screen: The Importance of Representation. This once-in-a-lifetime opportunity to hear one of the world's most influential advocates for the representation of women on screen and her passionate call to action is not to be missed.
Geena will deliver an exclusive keynote speech on the important work of the Geena Davis Institute on Gender in the Media and take part in a passionate and lively in-conversation. Other special guests discussing some of the most pressing issues facing our culture and screen industries will include beloved presenter Jan Fran, renowned director Sophie Hyde, Bollywood superstar Pallavi Sharda, activist Carly Findlay, 2023 Australian on the Year Taryn Brumfitt – and many more.
Goddess Nights – From May 25 on select Thursday nights.
Celebrate and experience the collective power of Goddess after dark with a dynamic, diverse, and shapeshifting program of femme-focused live music and performance honouring the women who continuously challenge social narratives, exude fearless creativity, artistry, and expertise within their craft.
May line-up: DJ JNETT, CD, POOKIE, AYEBATONYE
GODDESS EXHIBITION HIGHLIGHTS
Exhibited throughout the exhibition, visitors will find a collection of costumes worn by the trailblazing faces that came to challenge, disrupt, and ultimately drive change around the idea of what feminity and other social constructs around gender looks like both on and off the screen.
Originally conceived as a risqué showgirl costume, the iconic pink dress in Gentlemen Prefer Blondes was a last-minute change in design when studio producers wanted to project a more sophisticated image after Monroe's nudes were sold to Playboy. Goddess explores how the iconic dress has been replicated and remixed across cinema and pop culture; its reinterpretation a response to the prevailing social issues for women in that period.
Margot Robbie took inspiration from Monroe's dress in Birds of Prey: And the Fantabulous Emancipation of One Harley Quinn, reimagining it as a jumpsuit as she rebelled against her sex symbol status. Winnie Harlow meanwhile donned a traditional gown for her Instagram photoshoot to challenge white beauty standards and the ideal Monroe projected. In Kiki and Kitty Elaine Crombie shimmers in a pink sequin outfit that she wears as Kiki (Nakkiah Lui's) fairy-god vagina.
Sakuran, is a transgressive portait of Japanese womanhood is a 2006 film that celebrates sexuality and agency. Developed in response to the success of Memoirs of a Geisha, the film was created by a women-led creative team tired of the romanticised depiction of courtesan life and aimed at a Western audience. On display in the exhibition are colourful kimonos from the film, alongside the graphic novel and manga series on which the film is based upon.
Marlene Dietrich brought the gender fluidity of underground Berlin cabaret to mainstream Hollywood. She slipped between dress codes, wearing trousers in a radical act of defiance to disrupt expectations of femininity and masculinity. Dietrich curated a look both on-and-off screen that was androgynous yet glamorous with her gender-fluid identity upsetting the traditional dichotomy encoded in society. Her famous white tuxedo is exhibited alongside her patent shoes, cufflinks and other items that epitomise the screen siren's gender- bending look. Meanwhile, the pink and red tuxedo and tulle train ensemble Billy Porter wore to the 2019 Tony Awards, showcases a contemporary take on the enduringly gender diverse tuxedo.
Within women's friendship stories, costume design plays a major role, with characters often shedding their femininity in order to become 'stronger' and designs weaponising the feminine aesthetic on behalf of the characters' agendas. The iconic friendship movie Thelma & Louise does just that with the costumes worn by Geena Davis on display in the exhibition conveying her strength and rebellion against her old life.
As a contemporary counterpart, two costumes and a series of sketches from Promising Young Woman are displayed, a film starring Carey Mulligan as a med-school dropout who seeks revenge against the men responsible for her best friend's demise. The costumes include her childlike clothes and her sexualised nursing outfit – both of which exaggerate her femininity to achieve her aim of duping men.