Writing by Kara Zosha // photographs by Cristina Mariani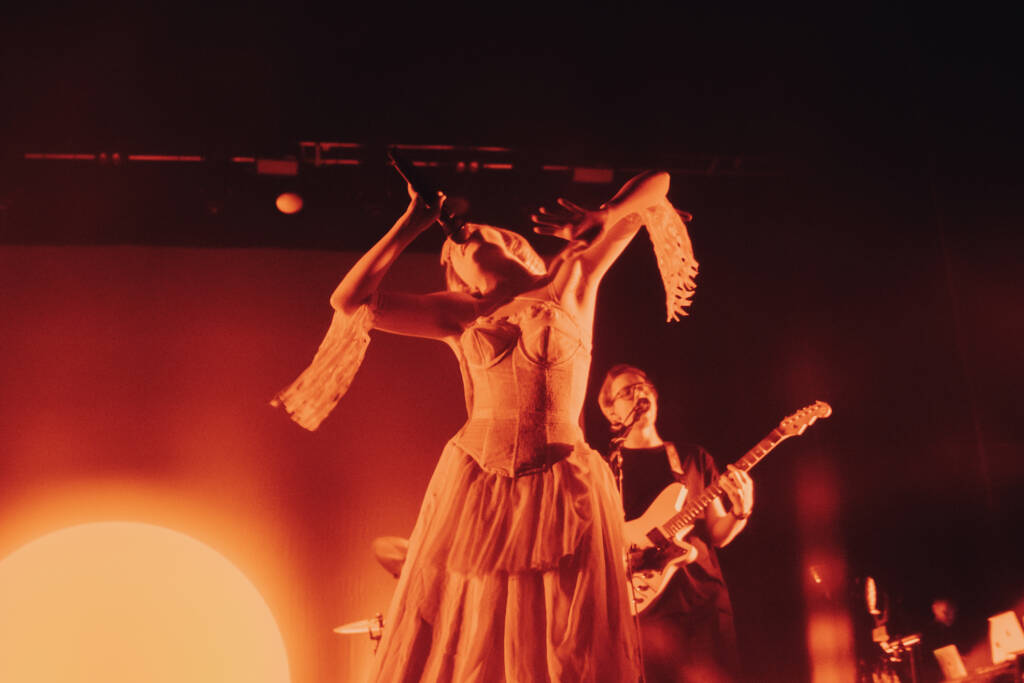 There was a slight breeze in the air as I boarded the tram down to the Palais Theater. The trip was about forty-five minutes from where I live and it's the farthest I've traveled so far during my time here in Melbourne. I hopped off at Luna Park, the sun had already gone down and I was greeted by the gorgeous Palais Theater adorned in orange and red lighting with a marquee stating AURORA's sold-out show. The theater was insanely elegant with two separate levels of seating including inclined rows, ceiling domes with bas-relief sculptures, and other ornate detailing throughout the entire venue.
As supporting act Blusher finished their set, you could feel the energy in the room become tense with anticipation as almost three thousand fans sat and waited for the unreal experience that is watching AURORA perform.
That's when we heard the beginning of The Forbidden Fruits of Eden, fans started to cheer and the band poured onto the stage. The lighting was a red hue with an orange moon shape in the background. AURORA appeared on stage dressed in a white ensemble that consisted of a corseted top and flowy bottom that made her look otherworldly.
As someone who is somewhat familiar with AURORA's music, I've always wondered what a live show from her would consist of. I can for sure say she definitely did not disappoint. Opening with Heathens she set the tone of the entire night of airy, yet powerful vocals over a synth/folk-inspired backing from the band. Followed by Blood in the Wine and Infections of a Different Kind, which were both beautiful in performance and lyricism, it actually made me cry.
AURORA's voice is soft and sweet as she explained how it's usually hard to have audience applauses deeply register with her, but tonight it was different. "To be able to sink in the applause, it's a weird thing, but today I feel like I-I don't know. It feels nice today. I think it's because the room is so old. It makes me feel like I've been here a hundred years and I feel the love of the people who've played and the people who've listened. It's both very ancient and new, which is dope as … heck."
Throughout the night the lighting behind AURORA and the band changed from warm hues of orange and red to cool tones of purple, blue, and green. Continuing with The River, AURORA told the crowd it was time to dance, and as the song started the crowd slowly began to stand from their seats. From that point on the crowd was electric.
AURORA's connection with her audience is one like no other. Her ability to not only be vulnerable in her music and performance, but also when chatting with the crowd is magnificent. You can see this in the way she introduces her songs as well.
"I am a very emotional human and I know you are emotional too, so if you know the pain of being an emotional human this is for you." – All Is Soft Inside
"This next song is about saving this world, it's in our hands and making the world better for all of us is in our hands. It was international women's day yesterday and it's obviously a day of celebration, but it always makes me very sad and angry as well. It's kind of a complicated day for us I think, it's full of emotion and I always get very riled up, grrrr, during this next song. I sing this for all who don't live in the world they deserve right now." – Apple Tree 
"The whole point of you is that you are designed to be different from everyone else. It's strange people make such a hassle over it when that's the whole point. Love makes us so beautiful, it makes us so selfless and wonderful. It makes us notice the small things in each other, it makes the world so wonderful." – Exist For Love 
As the concert came to a close AURORA left us with this message; "The point in life is to not be so scared. I hope you know you deserve everything in the world, to do whatever you want, and I hope you find happiness. I love you so much and thank you so much for coming." She then closed the night with Daydreamer, which was the perfect song to end the show with. Before exiting she and her band came to the front for a final bow and waved goodbye to the crowd.
There is a multitude of aspects to fall in love with when it comes to live shows. My favorite, other than the show itself, are the fans that attend it and their connection to an artist. Their energy, passion, and love shine through every moment and you can tell when an artist reciprocates that admiration. AURORA made me appreciate not only the artist, but everyone else in the room that equally contributes to the concert experience.