Interview by Erandhi Mendis // Photos by Sara Regan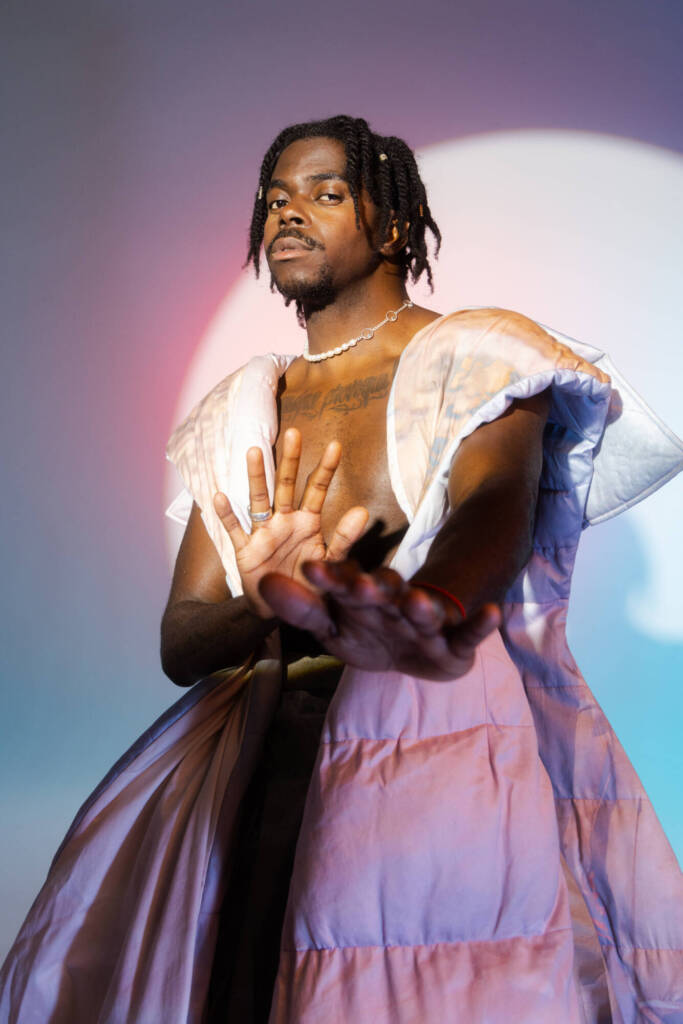 Rhythm is one of the oldest concepts of music that we have in the world.
Growing up, percussion was an enchanting, complex family that always seemed incredibly out of reach. Resigning myself to strings and keys I instead spent my years watching drum solos intently, helped friends carry their kit up and down stairwells, tried my hand at spinning a drumstick backstage and admittedly once or twice – I fell in love with a drummer.
On the morning that I meet Pauli Lovejoy, I am gifted with a fistbump, a hug, and the safety of conversation with a creative who at their core – is also mesmerised by rhythm.
Although a drummer by trade, these days you're unlikely to find Pauli behind a kit. A devoted polymath, we caught up while Lovejoy was visiting Australia, serving as the Music Director for Harry Styles' Love On Tour shows.
"Of course I miss it," they say of drumming, having a storied career as a percussionist for the likes of the Gorillaz and Bobby Womack. Despite a nostalgia for comfortable beginnings it is clear Pauli has enjoyed an evolution.
"I love my situation now," they say of the musical director role. "I love the idea of being a part of something and directing it from the perspective of the people you're working with. Like those directors who also act. You can empathise with people in a different way. I'm not approaching it like I've been there – I am with you. We are all in this together. I love being able to do that. It makes you conscious of every decision you've made."
This is abundantly clear when I see Pauli take the stage that Friday night as Styles' MD, bounding across the floor in front of more than 50,000 people. Watching their performance with a newfound understanding of how Lovejoy has orchestrated the show – it is awash with a sense of togetherness and an appreciation for the unique talent held by their bandmates.
"Any time I am musically directing someone I'm always trying to tap into their greatness and who they are. Tell me about you – Ok, cool you enjoy that? Let's bring that out in your performance."
There is an innate sense that Pauli sees power in difference; seeking magic in the amorphous that ebbs and flows on a stage. It takes a particular level of introspection to connect with the emotional state of a band-member, but to then tether yourself to the way that manifests in their performance is impressive. In some ways, these heightened levels of empathy around music seem organic for Lovejoy.
"My parents divorced  when I was quite young. At Dad's house it was all reggae and at Mum's house it was all these heartbreak records. Mary J Blige's Waiting to Exhale – that soundtrack is imprinted on my brain. As an adult now I look back on it and think, she was really going through it and that was her escape – it feels weird even saying it, but I remember her holding on to me and dancing to those songs. Those are my earliest memories of music."
Lovejoy isn't afraid to be vulnerable when discussing his journey into music. After first achieving success, winning Young Drummer of the Year in 2005, he confides that his school environment made him reject the idea of being a musician. "I actually hated the idea of being a session musician. I didn't want to be a musician because I kept getting kicked out of music class. My teachers saw I was going to the music room more than I was going to my other classes. As opposed to nurturing my interest, they saw it as being disruptive to my own future. Between the ages of 14-16, typically the ages where young Black boys get in trouble and need something to escape to – that's when I had nothing."
It's a sobering memory, one that brings visible reflection upon Lovejoy's face. "This is therapy for me," they laugh. After being pushed away from music Lovejoy turned to film and production only to graduate during the economic downturn of 2008. "There were no jobs, the whole world felt like it was upside down."
He eventually started an internship at Al Gore's media network – but as fate would have it, two weeks in they received a phone call about a drum audition.
"I went and did the audition, I met Damon – " a pause and a smile, "Albarn, and yeah the rest is history."
Albarn is of course the East London rocker who spawned Blur and the Gorillaz. Lovejoy seems to credit Albarn with opening musical doors for him, "I toured on so many different projects born out of Studio 13 [a London recording studio known for being Albarn's studio of choice]."
But Pauli was young. "I just remember being 20 years old playing in these massive arenas and stadiums – thinking, this is my life now. For five years of touring at no point did I ever really take stock and really consciously enjoy it."
This is a different story today. Watching Lovejoy dance and ricochet around Marvel Stadium with Styles, it is obvious he is present for the bombastic celebration of confetti, kindness and disco. I watch on as he partakes in the Australian 'tradition' of a "shoey" on stage – a celebratory drink from a shoe. His facial expression plastered over gigantic screens is halfway between regret and repulsion – but it is clear he is living for every second; good or bad.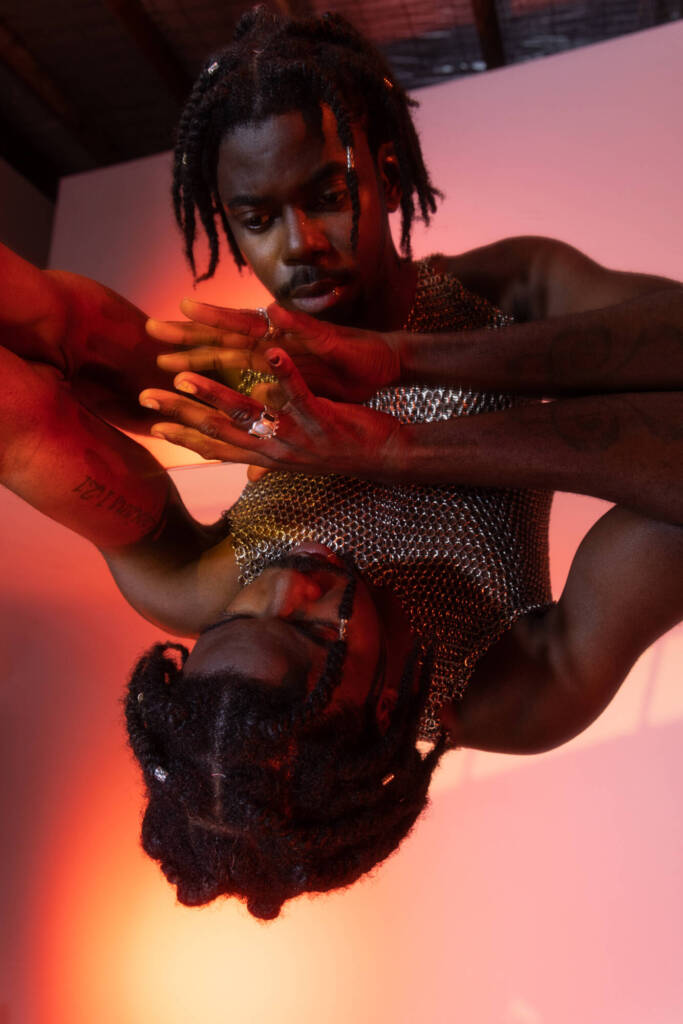 "I get lost in the moment. If you see me on stage now, I live and die by those moments, I play like it's my last show. I leave nothing to chance, tomorrow isn't promised." It doesn't feel like hyperbole when Lovejoy shares this, there is complete sincerity in his voice. "I leave it all out there on stage. I'll die on that stage – for me it's everything. You know, those 5 years [touring in my 20s] could have been incredible, but I spent those 5 years pretty miserable if I'm honest. There were no mental health checks, nobody was even talking about mental health [back then]."
The more I uncover about Pauli's winding road to a rather triumphant arrival as a confident, constantly evolving artist – the more I am convinced that music is his invisible string; a quiet chain that he cannot outpace.
"I quit music again [after touring in his 20s with the Gorillaz]. I was this young Black kid from Edmonton – I didn't feel empowered, I just felt I was part of this weird music industry system. I went to live in Paris to try and rediscover who I was and what I wanted to do. It was healing for me. But also I ran away so it wasn't the best way of dealing with things."
Albarn's presence and impact on Lovejoy's journey comes up again as the person who brought them back to London and music. I can hear the gratitude in his voice for this. "You can't be a prophet in your own town, you need someone to open that up for you." When Albarn asked Lovejoy to accompany Bobby Womack on the road, Pauli hesitated and now credits his mother for convincing him to take the job, "I called her saying I wasn't sure I could tour again and she pulled [Bobby's] record off the shelf, blew the dust off it and asked me 'is it THIS Bobby Womack'? And then said 'come back to London, you're doing it,'" he laughs.
Unbeknownst to me, the late great Womack (Pauli affectionately refers to him as Uncle Bobby) is credited with giving Lovejoy their name. "Just before we played Glastonbury, I went backstage to say thank you for having me. He was just this god-like being. He had so much charisma and so much soul. We had done all these rehearsals and I'm sure he didn't know my name so he just said "hey man..something about you brother, you just got that love, you gotta have that joy. Lovejoy."
It's an astonishing memory, and one that Pauli carries both in name and nurture through life. "There have been so many of these pivotal moments that might mean nothing to no one else, but for me it was weird because they were happening in front of everyone else but they were so personal. Playing the biggest stage in the world with Uncle Bobby felt like a very private thing but at the same time it was very public."
Nowadays, privacy feels like a foreign concept. Directing one of the biggest tours in the world has attracted a significant level of focus but Lovejoy is very clear on the notion of "fandom."
"I call my 'fans,' – he gestures in inverted commas – I call them my homies. It's a symbiotic thing, there is no me without them. I'm so conscious of that. When people ask me for photos I'm always thinking, no! I want a photo with you! I think it is so dangerous to create these idols or god-like characters. Some of my followers make art – they call it fan art but I call it fam art, that's my family." He laughs and then says "anyone who spends that much time looking at my face, we're family now."
Being recognisable is something Lovejoy is acutely aware of. A Black man on tour with one of the biggest pop stars in the world brings about a generational understanding of who can stand on the world's largest stages.
"Music directing, being on those stages and being Black – being visible. I think it's important for me to be on stage. I think I'm really conscious of it – the lasting impact it has. Maybe it's on this stage now – with the job I'm doing now specifically. I'm not ashamed to say that as much as possible I'll try to bring 'other' to these stages. If it's Black, Brown, Queer, or any kind of other, you are more than welcome to the party – I think everyone would love to see more of that but not everyone has access to that."
The way Lovejoy speaks about diversity in an industry that has long showcased genres as a way of 'othering,' feels like I am chatting with a friend. The self awareness of one's place in the world is simultaneously empowering and heartbreaking. He's already had a long career but is clear in his convictions on representation, "tokenism is really fucking dangerous. Sometimes I feel so attuned to being the only person of colour in the room."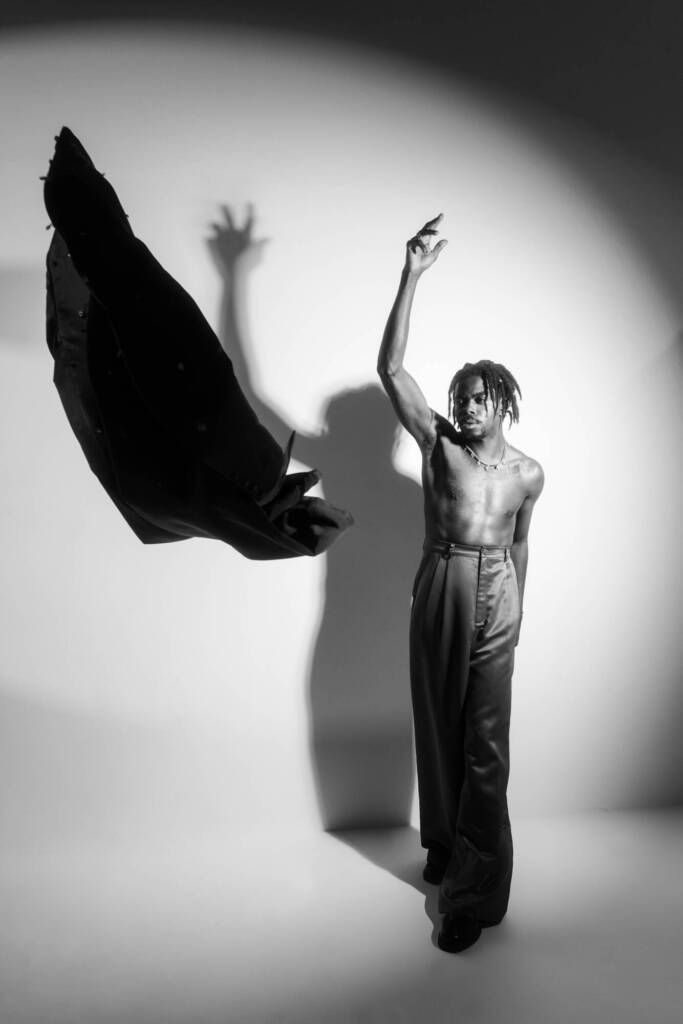 Amongst all of this, suddenly he interrupts our discussion, "-what is this?!" Gesturing to the food he's just put in his mouth. I explain that my mother has made us some traditional Sri Lankan snacks (maalu paan and cutlets), to which Pauli responds "your mother is a wizard."
It feels trivial, but as a journalist of colour – knowing we can share our cultures and our families with each other is important to the storytelling. I learn about his Jamaican grandmother and the church choir he longed to be in, we discuss colonisation and the crossover between Jamaican and Indian cuisine and on the drive home I share with him the traditional South Asian music and film I grew up consuming – the genuine interest and curiosity is in some ways unfortunately unique. His unadulterated attention to my story is representative of not only his character, but a cognisance and understanding of being 'othered,' and crafting chiaroscuro in the navigation of identity.
"I think with my music and who I am I've always been hyper conscious of the presentation of self. I think you can become one thing or another and these binary worlds that never mix. You can be toxic and you can also be a lover."
Lovejoy explains that their upcoming music explores an acceptance of the many facets of human experience. "I've got two songs coming out – one is called Milky Way and the other one is called Saucy. They're both really fun tracks. One is about an intergalactic gay romance and the other is all bravado – like I can steal your girlfriend," he laughs. "We've all got many sides. Own who you are and figure it out."
The milky way, and space more generally seems to be a recurring motif in both Lovejoy's artist project and a foray into advocacy and social impact. "I was on tour with The xx and I got to go to the Houston Space Centre. I remember just being shocked that we were talking to astronauts. I'm from that world where it is a conspiracy that people went to the moon. I was really interested in getting Black kids and marginalised kids interested in space. Space is this very accessible world to those who have grown up knowing how to access it. That was my impetus, because it felt like people [who look like me] didn't even know about it. I felt a responsibility to raise awareness. If you don't have the keys to the kingdom, how can you be expected to find the door?"
This interest led to the creation of the Badman Space Program, which began as a conduit of using music and art to provide space exploration resources to low socioeconomic status communities. Humble as ever, Lovejoy does not mention that this led him to collaborate with NASA on improving curriculum delivery of astronomy content in US schools.
"Information without understanding is nothing," they say, before laughing upon noticing I recognise this is a Jay-Z quote. But he is right, while music and astronomy don't seem like logical companions, Lovejoy has created a vehicle that helps deliver both information and a thirst for understanding for those who come after him. If anything, it feels appropriate that the quote comes from an MC often touted as one of the most prolific rhyme makers of all time.
It's three days before Pauli returns to the Love On Tour stage and we drive back to the hotel where they hope to have some quiet time to finish some upcoming music. The love of rhythm apparently transcends oceans and borders, "I travel with a portable studio," they laugh. "I ended up making most of my last record on the road too. It's working from home for artists."
After spending the day together I am keenly excited to hear what they are going to release next, my fascination with multi-instrumentalism feels reinvigorated and most of all, I feel I have learned from Pauli. When I inquire about what's been resonating with him over the past year or so he pauses – "please hold," and pulls out his phone – scrolling furiously through his notes. After a few false starts, he looks at me earnestly and says:
"The same boiling water that can make an egg hard, can also make a potato soft. Don't let your environment dictate who you are."
I don't bother to ask if this is an ancient proverb or a Jay-Z excerpt that I'm not across – for all intents and purposes, this quote is forever something I'll associate with Pauli Lovejoy.