Interview and Review by Kara Zosha // Photography by Briarna Dal Col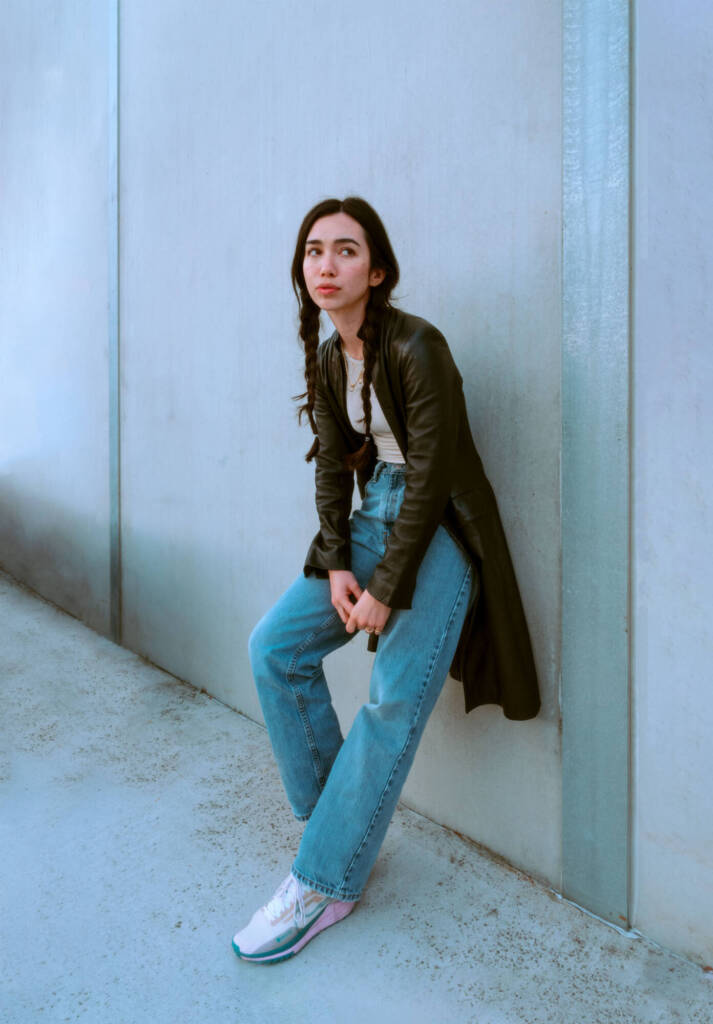 Wallice is the type of artist you wish you had heard about sooner. With catchy melodies and relatable lyrics, she's one of the most captivating up-and-coming musicians. The LA native has been playing shows across the globe and is currently supporting The 1975 on their 'At Their Very Best' tour until the end of May where she'll continue touring with her headlining shows in the US and the UK.
The arena that was once empty just mere hours before was starting to fill with fans. General Admission was already more than halfway packed and the seats were sporadically being taken when Wallice took the stage.
You can tell that Wallice and her band stay true to their authenticity and sense of style. Their on-stage fashion is subversive, yet business casual in a sense. With elements of ties, button-ups, and pleated skirts alongside knee-high boots, fishnet stockings, and overall an alternative feel. Think Weezer, but with influences of Vivienne Westwood.
Wallice's set was not a particularly long one, but it was one that made an impression. I'm sure after their performance they've converted concertgoers into fans if they weren't so already. Stand-out songs like Funeral, Best Friend, and 23 were some of the best songs to see live. John Wayne in particular had to be one of the highlights of the night from the entire band, the ending was electrifying and nothing short of spectacular. The song included one of the sickest bass lines I've heard in a while by Alina Sloan, who had one of the best stage presences I've seen in a bassist. The other members were notable too! Callaghan Kevany had captivating guitar riffs, especially on songs like Funeral, while Corey Gordon was a killer drummer who added a layer of groove and stability to every song. Even Wallice herself had her own guitar that she'd jam out on throughout the night.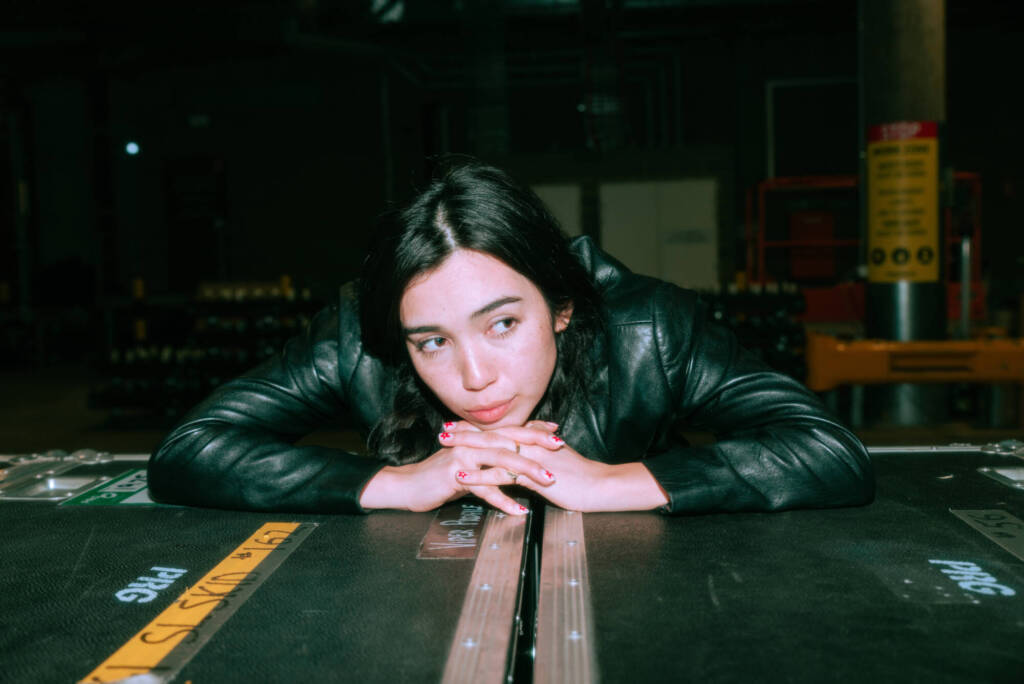 A few hours before their fantastic Melbourne show I had the opportunity to sit down with Wallice and chat about her journey as an artist, the story behind signing to Dirty Hit, and what's in store for the future. I even got to inquire about the FFA jacket she's seen sporting throughout her Instagram and music videos – which yes is silly, but I had to ask.
Is this your first time in Melbourne or Australia in general?
Mmhmm, I've never been here before or south of the equator. Perth and Adelaide were – it's hard to judge [those] places because it was Good Friday and Easter Monday, so everything was closed. We had this morning to walk around and it was really nice. [We] got a good brunch at Twilight Terror and went to some vintage stores in the Fitzroy area. It was really fun!
You told NME "It'd be cool to play in a stadium in the future," and though you're playing at an arena today; what's it like to play to these huge crowds you once wished for?
It's so crazy because I really wouldn't have thought that was a possibility at all in the future of [only] a couple of years. We were literally on tour last month across the US at 500 to 1000-capacity places. I was an opener, but usually my own shows are around that size as well now. Those shows are easy. I'm used to seeing that size room and I don't get nervous anymore. The first arena we played was in Bangkok. I think it [capacity] was 10,000 and during sound check it's completely empty and you're like "what?!" It's really crazy … I was fine, I felt prepared, but my body was physically nervous. I think my mind was fine, but when I was dancing and singing on stage I was like "why am I a little bit more out of breath than usual?" Last night was our fourth show with them [The 1975], which isn't that many, but I felt like it was just another show – which is crazy to think of that big of a place. It's nice not feeling nervous anymore, it's so silly to feel used to playing for like 6,000-10,000 people now.
What's the story behind how you signed to Dirty Hit?
I ended up having meetings with Dirty Hit and they said all the right things. Everyone on this team/label are such nice, easy to work with, people and they're so supportive of me. It's [artists signed to Dirty Hit] really curated, so I feel lucky to be a part of that. I really didn't know what a record deal was before. I was just like "that's what you need to be able to be an artist," so being able to get one is really cool. I really don't have anything bad to say which is really rare for people's experiences with labels.
How has the journey been from when you left school in New York to become a full-time musician to today, now living that dream?  
It's so funny thinking about school because I just turned twenty-five, so that was like six or seven years ago now and that's really crazy to think about. In school I took vocal performance one and the teacher kinda was saying I'm not good at performing. Vocal Performance one and two or whatever level you're at, you do a show at the end. I was so nervous for probably like twenty people.
I moved home when I was nineteen and didn't find success in music until my first song Punching Bag in October 2020. There's a lot of time between me moving home and being able to make music my job.  Online it could look like an overnight success, but I had music out before Punching Bag that did not find musical success. It was definitely a journey and it's funny that every single artist has such a different path, so there's no guidebook on how to get there. You just gotta keep going and believe in yourself.
What is your favorite song to play live?
I really like playing Funeral because I love that song. It's my favorite song that I have out, but I think maybe 23 just cause most people know that and it's very reliable.
How do you manage the challenge of touring for months on end?
It's hard not being home for so long. Having to wake up earlier to get a flight and play a show the same day is hard, but also being able to travel and have off days is so nice. I wouldn't trade it for the world.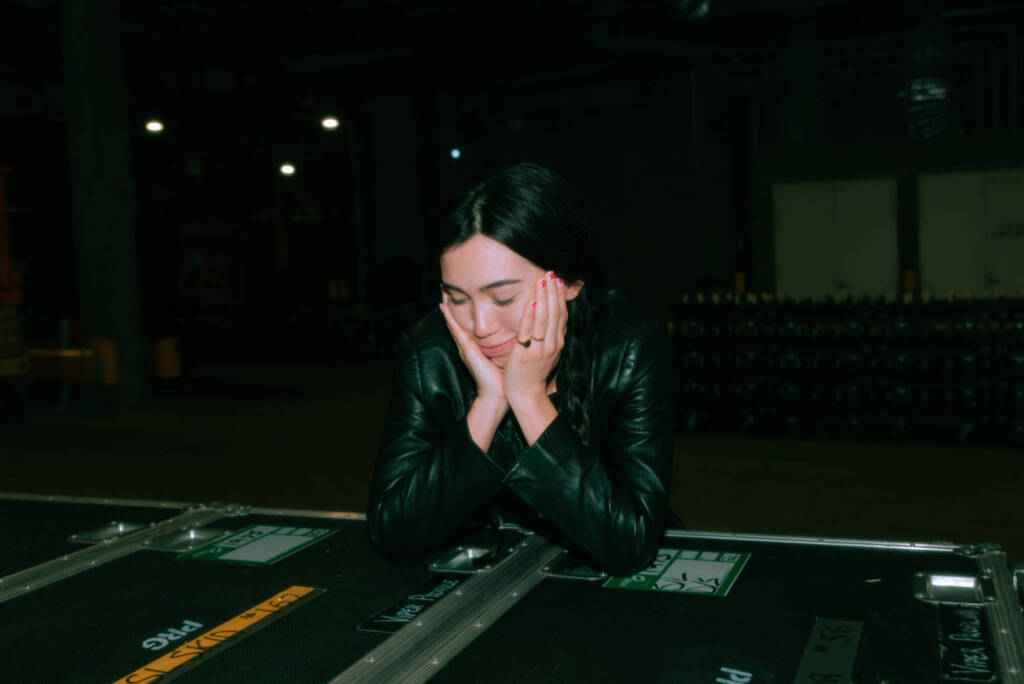 You've mentioned that when you write you end up crafting big stories. Is that always your writing process or is that just one aspect of it, given songs like Japan?
I love TV shows and movies. I watch a lot of content and I, like most LA kids, grew up acting and I still love acting, but not in a thespian way. I think it's so fun to be able to incorporate that into a music video. I just saw Rina Sawayama on the Tonight Show talking about how she was in John Wick and it's her acting debut. She was saying how like "if I have the budget to make a music video, I might as well make an acting reel with it" and I was like I kinda did that too.
The first two EPs are very character based, so it's fun to act that out. You can hear a lot of honesty in 23 and Punching Bag too, but you can feel the difference in this song [Japan] versus the other two. Not that the other two aren't authentic, but it's really me, lyrically and visually. I think moving forward that's kinda coming into my music more. It has [always] been very authentic to me, but it's more personal rather than character [based] now.
In the music video for Japan, you wore an FFA jacket. Were you in FFA when you were younger? 
She started laughing "No, I got it at a vintage store in Japan. I don't even know what it is, I just wear the jacket. It's like a band tee to me. One of my friends has an FFA Virginia jacket and I have an Oregon one. They're at vintage stores and swap meets everywhere."
What are your plans for the future? 
I'm so excited to get home and I have to make an album at some point this year. I just released a new song last week called Best Friend and that's the first song of my next EP called Mr Big Shot. I'm very excited to release this EP!
This EP turns more personal like Best Friend could easily be about a romantic relationship or a best friend. I've had a couple of best friends throughout my life that you just don't talk to anymore, but you still miss them or miss your relationship or miss parts of them. That's what that one's about. New EP, lots of touring, and then eventually an album, that's what's next!