Interview with Ella Hooper by Freya Bennett // photographs by Laura May Grogan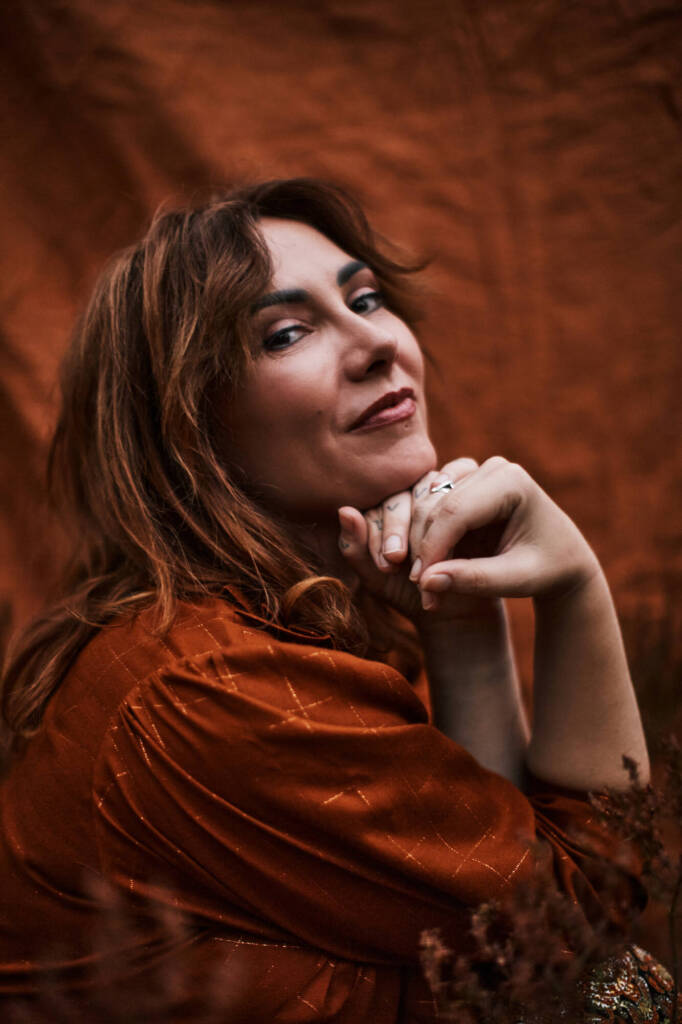 After rising to fame as the lead vocalist of Killing Heidi, Ella Hooper has established herself as a unique, versatile voice in the Australian music industry. Ramona had the pleasure of sitting down with Ella to chat about country living, how she's changed as an artist and her latest record – Small Town Temple – an introspective collection of songs that lets her impressive songwriting skills shine.
Hey Ella, how are you?
Good! Tired, but only from the sweet burn of busyness.
You've just released your latest album 'Small Town Temple', how are you feeling?
Like I am getting to close a cycle.. which is great! the process of releasing new music is always intense and somewhat complicated, but the reaction has been amazing so far. It makes all the tricky bits and late nights so worth it when people connect with and react to the music. So, satisfied!
Tell us a little bit behind the concept of Small Town Temple:
It's a love letter to and exploration of growing up in the country, in nth east Victoria. I wanted to tell, or sing, my origin story, which has been covered many times, but not in my own words. Particularly it revolves around my mum's amazing home, which was also a local venue and meeting place, called the Parish, as it's two old weatherboard decommissioned churches, that she bought and moved there and made into the most warm, welcoming, fun, inclusive multi use hub for our town, Violet Town. I wanted to remember them and their impact as sadly that chapter is now closing, as my mum left the mortal realm last year, and the 'small town temple', her home, a place that was important to and shaped so many folks, including me, will now become something and someone else's..
What was the process of getting this album out?
I started working on it in earnest in covid lockdown in 2020. Taken off the road but receiving job keeper I had an amazing opportunity to focus and write. I was living in the church w mum and her partner, but basically had the run of the place. I thought it would be best to write what I knew and use what I had around me, so the church became the window through which I framed this bunch of new songs, and found some old ones that reflected that idea too. Digging into home, community, childhood, friendships, family, was such a beautiful, cathartic process. And I'm so lucky the timing was truly cosmic, as mum wasn't sick when i started the project, but when she was re-diagnosed in 2021, I knew it was an important story to tell and era to celebrate NOW. It's a bit of a thanks to her, for all her wisdom and creative inspiration as well. She even contributed backing vocals on the record, and was there the whole way along witnessing the creative process to completion.
How does this album differ from your older music? 
It's a return to my folk / Americana leanings, which I've explored before, but not for a while. It feels like coming home, to be using a more acoustic, twang-laced palette again. It's highly personal, and perhaps more openly so than my previous music. I used real places and people and stories to hopefully give the listener a sense of the town, the church, the community. A song writing teacher told me, 'the more personal the more universal' so even though I sometimes wondered if these stories were too specific, too zoomed in, it appears not! I made the record in bits and pieces which was at times frustrating, thanks to endless lockdowns and budget constraints, but I did manage to create it with the help of just two amazing producer / musicians, Tim Harvey and Marcel Borrack. They did practically everything, most of the playing and we worked remotely when we had to, so it's a wonder it feels and sounds so live!
As a seasoned musician, what is one piece of wisdom you wish you could impart on a young Ella (that other new musicians can take on)?
I always say, find and highlight your uniqueness. An artist really shines when they're completely doing them! It might sound selfish or self involved, but again it's why we love art, or music specifically, someone sharing something of themselves that we can all look at and go 'oh! I've felt that too' or be transported by. Influences are great, but what can YOU bring to it that someone else can't?
You've been living in the country for a few years now, what brought on the decision to move?
I wasn't sure what I wanted to do next with my life and career, I was hoping to move overseas (to Nashville!) so I was also in saving mode, and country living is heaps cheaper! I asked mum if I could come back for a bit to save and figure it out, yes even at my age and stage that is the reality for a full time muso who isn't crazy about 'real jobs' and wants to be able to live off their art. It's hard! And it often requires help from family and others, which I am so so lucky and grateful I had.
What do you love about country living?
I feel much happier and more relaxed in the country, I always have. I love the big sky, the smells, the quiet at night, the raucous birds, and the relaxed pace and the friendliness! There! Am I selling it??? Haha
As the world continues to open up, how has the music industry changed?
It's busy! Or it feels busier than before. It's also really hard to sell tickets in a crowded market now everyone is rushing to release their own covid records and finally Mount those tours they were planning in the 'before times' – but – it is also nice to see people out there connecting expressing and having fun with live music again. Thank goddess!
What is something that immediately calms you? 
The sun. I'm a shameless sun-bunny. And the turtles and ducklings in the Castlemaine botanic gardens. That's my happy place.
Apart from music, what is something you do in your own time?
I love esoterica, astrology, ancient mysteries and mythology, philosophy and psychology. Usually, I'm plugged into a YouTube lecture on any one of those things when not doing music!
Where can we see you play (upcoming gigs)?
I'm about to play the Castlemaine State festival, which is so exciting as it's my adopted home town for the moment and then I support James Reyne all around the country on an extensive tour this May June July. That's gonna be amazing. We're going EVERYWHERE, so come along!