Writing by Erandhi Mendis // Photography by Briarna Dal Col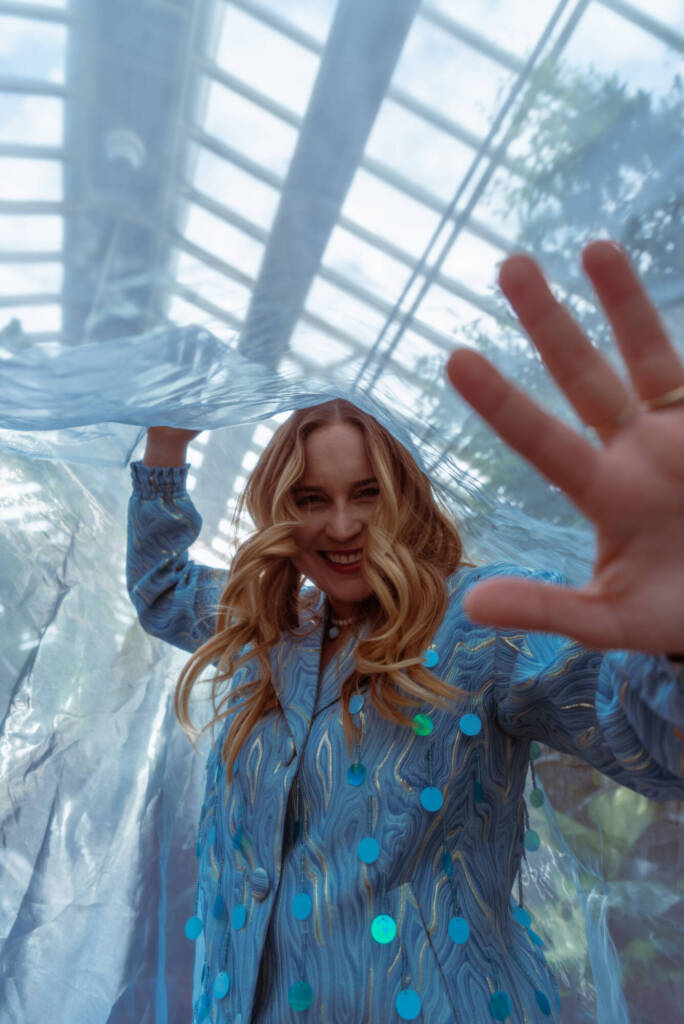 The first time I listen to Jack River's sophomore album, Endless Summer, the sun hasn't yet come up. It's a balmy 20 degrees at 4am in Cairns and everything feels ostensibly sticky, mollified by a scent in the air that suggests it might rain. Inside my headphones however, is a different sun-soaked story.
It's hard to believe this is only Holly Rankin's second album, such is her alter ego Jack River's almost eponymous association with Australian music. The 10 track oasis of psychedelic pop feels like Rankin's best offering yet at capturing the essence of her artist project. The title, a subtle play on words – calling out to the literal endless summer our world is being thrust toward.
There is a charmingly dystopian feel about the way the record absorbs a listener, akin to something going wrong while you fall asleep in blissful ignorance. She defines this as an "apocalyptic daydream," which is better than I could have ever worded it myself.
Before I even hit record on our interview in the corner of a little Collingwood cafe, Rankin drops the borderline insane intel that as a teenager she won a Dolly Magazine (RIP) competition and was flown to Berlin with her best friend to meet Avril Lavigne.
While I collect my jaw from the floor, she elaborates that she gave Lavigne her demos on a CD, shot the Dolly cover and got into a lot of trouble with German security for trying to sneak into the Jonas Brother's green room.
"I think I'm a person who wins things sometimes," she laughs.
There is something particularly gentle about Rankin as she asks me what I want to eat and laughs about how there is never a good time to take a holiday as an artist. She is however – due to her winning streak – escaping to a surf island of Indonesia with her family in the coming weeks.
It feels like a well deserved break, though she notes that she will likely end up working while over there given the nature of the job. Looking at Rankin's resume suggests workaholic tendencies before you dig deeper to see indelible passion and selectiveness behind each endeavour she pens her name to. The singer-songwriter and producer leads somewhat of a double life between music and social impact – something that feels deeply relatable to me.
When I mention the term Hannah Montana, her eyes widen and she glances at her publicist Taya, "oh my god."
It turns out the topic of Miley Cyrus similarities has come up before. The obvious reference being both Cyrus and Rankin named their records Endless Summer – but it turns out they are both Saggitarius suns, and similar to Cyrus – Rankin is neck deep in many of the social issues of our time. From speaking out on lockout laws, to advocating for climate policy, reconciliation, women's rights and rallying broadcasters around Australian music – Rankin doesn't strike me as someone who necessarily enjoys sitting still.
"I take it to therapy a lot – the double life," she smiles. "It's quite alarming how dissociated my two lives are from each other. For instance, this week we've got lots of Endless Summer press and really exciting Jack River stuff going on and at the same time, I'm working as a creative director of a Voice to Parliament campaign which is on deadline. And there's really exciting stuff happening there too. And then I have my personal life happening as well, and literally in the car on the way here I was like, OK, how do we do this again?
In some ways the extreme separation of her artist project from her everyday life is what makes Endless Summer feel like the ethos of Jack River. The sustained motif of escapism feels central – albeit incredibly conscious – to the crucible of the record, painting each track as a runaway from differing realities.
"Since I was really young, I've found I do my best processing, imagining, dreaming, everything – in a bit of an escapist, daydream world. And I've found that's how I deal with traumatic things as well. Like on Sugar Mountain (the debut Jack River album), I talked a lot about dealing with my sister's death and needing to create the youth I didn't have and now over the past few years it's been like [onslaught] of fires, floods, pandemic. A lot of personal change for me, but there's a lot going on for everyone and I think I realised that I really enjoyed and needed an escape again. That's my relationship with music I guess and Jack River. I created this other world that became my career."
If Sugar Mountain was escaping the past, Endless Summer feels decidedly like escaping the present (and future). It's somehow a more atmospheric record, allowing Rankin to push boundaries with co-producer Matt Corby. The lead singles and latest release Lie To You are all distinct sonic landscapes – it's obvious while listening to the record in full that there was a sense of loyalty to an overarching palette regardless of how separate the songs become. The result is a melodically robust gloriously pop-fuelled expanse, it showcases Rankin at her most creative and also her most comfortable.
When I enquire as to her own feelings on the record and what she is proud of, she predictably recoils in the way most artists feel about talking positively about something they created. After a bit of encouragement she discloses that Strangers Dream, the album closer that she started writing a decade ago became "everything I hoped for and more."
Being in the music industry for her formative years has afforded her a sense of urgency and duty to ensure Australian artists get their dues.
"I think as a country we used to really value music."
It's a tough sentence to hear, but she's not wrong. Later that afternoon we discuss the lack of acts across the Australian landscape who are both familiar and supported to play arena sized shows. The list we come up with unveils how the industry has not championed artists to play the same game as counterparts overseas.
"We have streaming algorithms and social media algorithms pitted against us because they're prioritising big content coming out of the US and UK and that's always been the case in any form of the industry. But local media and radio used to take a little more responsibility and pride in growing new Australian artists – you can't bite the hand that feeds you but it does often feel like a lot is pitted against new Australian artists."
She comments it is early days into a new government and that she is holding out hope for things like radio quotas that will incentivise homegrown music.
It's around this point that Rankin's mother Donna and baby Maggie (Magnolia) join us for lunch. It feels like a particularly private portrait of an artist at their most natural – watching Maggie smile, attempting a feed (resulting in avocado disarray) and laughing with her mother in the Melbourne sun. The three generations all share a similar warmth and it's evident that much of Rankin's drive stems from her strong sense of self and connection to the portative, tangible sense of home she has within the various safe spaces she cultivates.
"It's been odd and interesting and curious," she says, reflecting on returning to the town she grew up in two months prior to Maggie's birth.
"It's a bit wild moving to your hometown. I think new mothers wherever they are, it can feel like going to high school again because you suddenly have to be friends with this whole new group of women that you don't know and you don't know who they are, where they come from or what their vibe is. And you've got to navigate all that again whilst navigating a huge personal shift. So it's been interesting doing that in my hometown where I am [reminded of] my high school original self. With everything that's going on with the album release, in a way it's felt like a big spiritual journey to be back at square one."
When I ask what she would tell her previous self she leans back in her chair and thinks deeply for a moment.
"I don't know, I wouldn't change anything – but I would tell past me that change is coming quicker than you think it is."
The day that Rankin and I meet, almost 700km away, the Australian Senate passes legislation to hold a vote on an Indigenous Voice to Parliament. Rankin's passion for this work is visible. She spends (what feels like her fictional free time) working on the Voice To Parliament campaign for The Uluru Dialogue.
"I feel like it's one of the most important moments in our country's history."
You can tell by the way Rankin approaches my line of question about the Voice, that she understands the sensitivities of it. At the same time, she holds a deep awareness of how millennials and young women make up a significant part of the electorate – and how her platform can help educate people who are now required to vote later this year.
"I think a lot of First Nations people would agree that many years and different movements have been leading up to this point and at the same time, it's hopefully just the first step of many really big changes that we need to make."
"I feel like an alien in Australia. And I think a lot of non-Indigenous people feel like that too because I don't feel like First Nations cultures are respected, celebrated and First Nations voices are not heard in the way they should be; and there's currently no mechanism for First Nations people to comment or advise on the policies that affect them. And this is just my personal reason for why [I'm involved], it's not the most important reason – but I can't continue to advocate for anything else until there are mechanisms for First Nations people to be heard. And also just on a heart level, I feel really uncomfortable in my own country and I want to help to repair and heal that."
There is a level of self-reflection (and preservation) that is required when oscillating from entertainer to mother to campaigner – but I get the sense that Rankin is somewhat of a high-functioning doer in all forms.
"When I look back on any kind of moment in history, there's always a lot going on. But I think at the end of the day I just feel so much passion to do stuff in this lifetime and use all the time possible," she pauses and smiles – "to get shit done."
—
Endless Summer is out now, wherever you listen to music. Stream below!
You can keep up with Jack River on Instagram.