Writing by Erandhi Mendis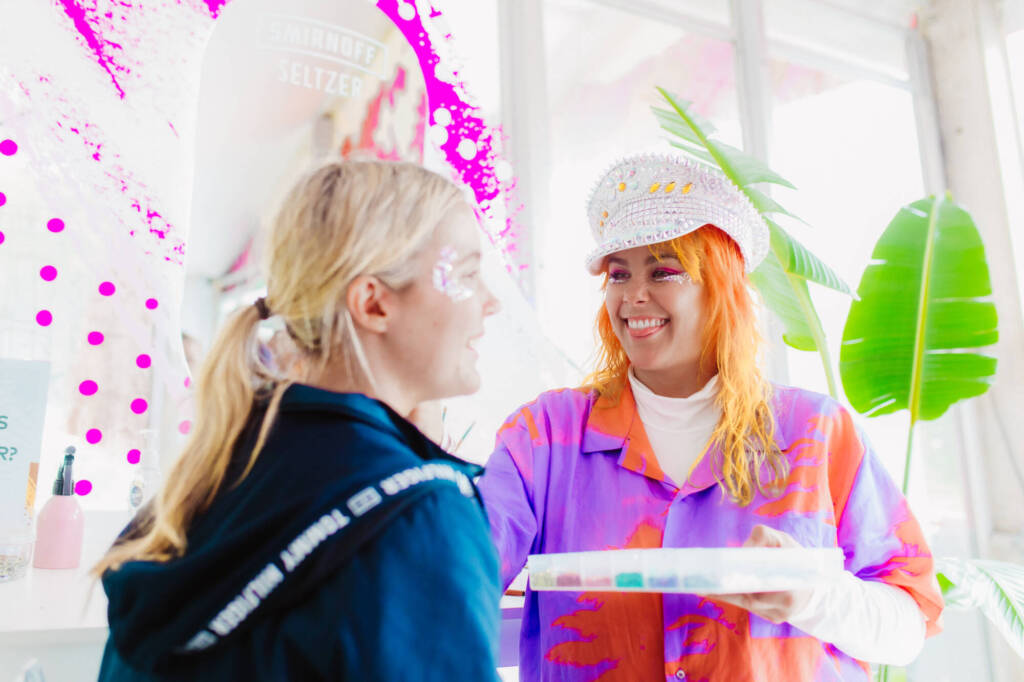 As Splendour in the Grass festival gears up for its highly anticipated 2023 rebirth, music enthusiasts are buzzing with excitement over a lineup that promises to showcase some of the best talent at home and abroad. We all know you're definitely going to catch Lizzo, Flume and Noah Cyrus – so in celebration of the diversity and artistic excellence amongst some of the other names on the poster, we thought we would shine a light on seven of Splendour's most remarkable artists to watch out for when you're putting together your pre-festival playlists.
Tkay Maidza: If you've caught a glimpse of Tkay live – you know already. Prepare for an electrifying experience as the Zimbabwean-Australian artist takes the stage on Saturday. With her infectious energy and genre-defying approach, Tkay seamlessly blends alternative hip-hop, electronic beats, and pop sensibilities. Her fierce lyricism and captivating presence are well worth checking out.
Mia Wray: Get ready to be spellbound by the soulful melodies of Mia Wray. The Noosa born, Melbourne singer-songwriter's captivating voice and heartfelt lyrics are going to be a pretty magical sight at Splendour. Her single Monster Brain got a big spin on the Ramona playlist and with her rich storytelling and stripped back performances, she's definitely set to captivate a few hearts over the weekend.
Sudan Archives: Want to push some boundaries and get transported somewhere else? Get down for some sonic exploration with Sudan Archives. The violinist, singer-songwriter, and producer is definitely one to watch, particularly if you vibe with a unique fusion of R&B, folk, and experimental sounds. Also known as Brittney Denise Parks, Sudan's mesmerizing performances and soul-stirring vocals create a pretty immersive experience that I'm excited to see people experience.
Claire Rosinkranz: If you've opened the TikTok app on your phone in the past year (after repeatedly deleting it for lack of self control) you've definitely heard the infectious pop stylings of Claire Rosinkranz. I'm pretty sure this is Claire's first trip down under and her catchy hooks/playful lyrics are guaranteed to offer a good time. This rising star's catchy hooks and playful lyrics will have you dancing along in no time. She's also got an interesting origin story worth having a google about… think nepotism but with more youthful charm and undeniable talent..
070 Shake: Remember that Fred Again… song everyone was pumping last year? That hypnotic loop of "sometimes I wanna feel the pain," was 070 Shake. And if you've not dived deep into their catalog, brace yourself for something pretty mesmerising. Everything from hip-hop, alternative rock, and EDM are blended to create something unique and introspective. With her signature vulnerability creating a magnetic stage presence, 070 Shake is poised to deliver a transformative experience at Splendour in the Grass.
Arlo Parks: Surely you're all over Arlo by now? If not, you're in for a treat – prepare to be moved by beautifully introspective and poetic storytelling. The British singer-songwriter's soulful, gentle voice offer a refreshing perspective on love, mental health, and self-discovery. She's set to perform from her latest album My Soft Machine which is a captivating collection of songs that will no double leave Splendour spellbound.
Pussy Riot: This is exciting news. The legendary Pussy Riot founder, activist, and all-around badass, Nadya Tolokonnikova, will be gracing the stage with her presence. And guess what? Not only will she be dropping some knowledge bombs at the Splendour Forum, but she'll also be delivering their one and only live performance in Australia! Brace yourself for a revolutionary performance of punk rock and unapologetic activism – a must-see moment for the festival.
These artists represent the richness and diversity of the Splendour in the Grass lineup for 2023 and hopefully will add something special to your festival planning. My favourite thing about festivals is getting to check out artists you've never seen before so we hope you stomp far and wide across the parklands to experience something new. Splendour is a hallmark of the Aussie music calendar and what a joy it is to see the line up celebrating diverse voices in the world of art and expression. If you've not grabbed your tickets yet you can do so below!
—
Tickets on sale now from Moshtix
Keep up with Splendour updates on Facebook and Instagram
#SITG2023