Interview by Kara Zosha // Photography by Briarna Dal Col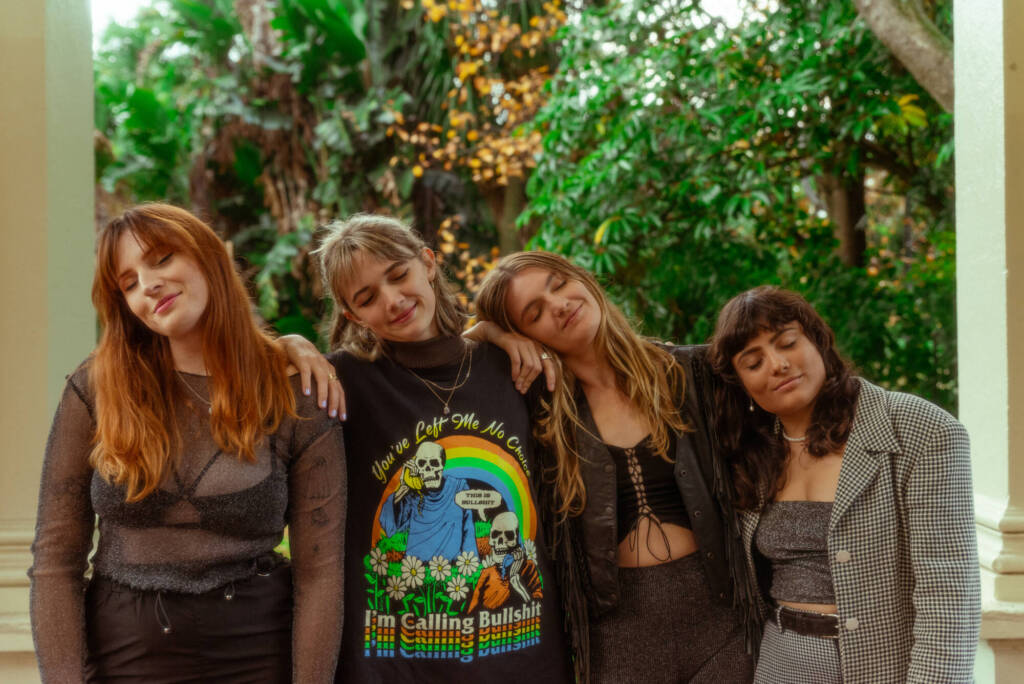 Fresh from the Sunshine Coast, Betty Taylor recently wrapped up their headlining Glitter tour after hitting some of Australia's most well known cities and today they release their latest heartbreak anthem Fuck You that we had the pleasure of listening to early.
Before their Melbourne show we had the chance to hang out with the band – all four members and their crew had such a welcoming energy, which translates throughout their music, performances, and interviews. With only a small (but mighty) discography Betty Taylor has been able to attract fans from all over the country. Singles like Stallin' and Glitter give you a taste of what these women are capable of; but they truly bring so much more to the table.
After a photoshoot and interview the Ramona team got to see Better Taylor in action at Yah Yah's. The night started with local singer / songwriter Frankie, who was such a perfect opener to set the tone right for the night. With only an acoustic guitar backing her you'd think that her set wouldn't be a powerhouse, but with folk rock music influence and her smashing voice, Frankie both complemented Betty Taylor's style and definitely blew us away.
Betty Taylor was nothing short of spectacular that night. Their set was about an hour long playing mostly unreleased music including brand new single "Fuck You." The chemistry on stage was electrifying, it's abundantly clear that everyone was having the time of their lives. There was a point in the show where Sophie and Claire even came into the crowd which was insane. I've seen lead singers do that at shows, but never a bassist! Betty Taylor is definitely rockstar material and I cannot wait to see what they do in the future.
How was the show in Brisbane last week? 
Betty Taylor: Amazing, fun, and probably the best show we've played yet!
What's your favorite thing about playing live shows?
Katie: I like playing with my best mates. Playing music with my friends is just so amazing
Sophie: I spend like 90% of the set staring at all the other girls on stage just having fun.
Do you guys still get stage fright?
Betty Taylor: Ah yes!
Katie: That's why I look so miserable when I play because I'm looking at the drums haha. I'm like "don't look, don't look, don't look."
Claire: As soon as we play the first song I'm like "Oh my god this is nice."
Kayla: Yes and no, I've done a lot of different things in different bands. I've played bass or keys or whatever, but I've never been a lead guitarist so it's really stressful. I'm kinda winging it for this band, but it's good.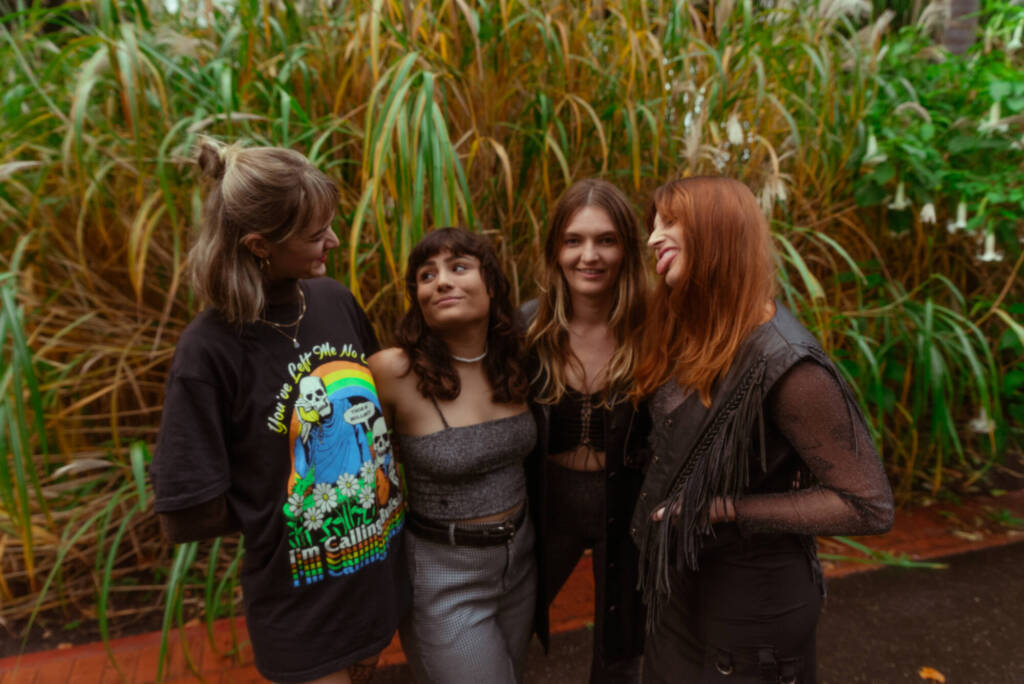 Has the Glitter tour been any different than your previous shows, if so how?
Sophie: We've played to pretty big crowds, but they're usually there for the headliner. It's really different, it's nice to play to crowds that are coming for us. It's surprising still, but we play and there are people in the crowd that know the lyrics and it feels really special. They're wearing Betty Taylor merch as well, so it's different. It's surprising.
Betty Taylor started out as a power duo consisting of Sophie and Kayla, so how did Claire and Katie join the band? 
Kayla: I lent Claire my bass guitar.
Claire: Yeah, I played at an open mic and someone was like "We don't have a guitar, but we have a bass." I was like "ah it's like the same." Then I played it for a few songs and it's really groovy like you just get to chill and everyone is bobbing along. Then I messaged Kayla and was like "Hey I think I like this instrument, but can I please borrow yours, I wanna see if I actually do" Then two weeks later she was like "hey do you wanna join this band."
Kayla: I knew Katie played drums as well, so I roped her in and I was like "let's just make an all-girl band."
Katie: It's been a dream of mine since I met Kayla to play in a band with her. Kayla's the glue she brought us all together.
What does the writing and producing process look like for Betty Taylor? 
Sophie: Usually, I'll come to the girls with 90% of a song, but we do a lot of the production work with Aidan Hogg who brings it all together and brings it to life. We've put together some pretty crappy demos and he makes them awesome, which is great. He's an important piece of the puzzle.
Was the goal for all of you always to become a full-time musician or be in a successful band?
Sophie: I think it was a secret dream. In my brain, I was like god I'd love to play music, but I'm gonna tell everyone I want to be a dental assistant for stability. I've always wanted to do music, but it's such a hard industry to actually get into and the reality of making a living off it is so hard. I feel like you tell people that's what you want to do and they're like "That's nice, but what's your backup plan?" and so you pretend that's not what you want. I think we've gotten to a point where we're like oh crap, this is actually possible. Personally, I already surpassed what I thought was possible for myself. I thought I was gonna work as a bartender for the rest of my life, then luckily covid came and I had a little bit of spare time to pursue this.
Katie mentioned in the interview with Milky that their dream collab would be with Wet Leg, did any of you see them when they came to support Harry Styles on his Australian tour?
Katie: No! I really wanted to go and people from my work went – I was so gutted. I wanted to see Harry Styles as well, obviously. One day we'll see them.
"Making music because we can't afford therapy" is Betty Taylor's tagline. On a more serious note,  how do you guys  manage your mental health in this profession?
Katie: Therapy. My therapist actually said that she needs to brush up on her celebrity therapy skills now, which I thought was quite funny.
Claire: Having each other as well like not being in it alone and knowing you have friends who are in the same spot.
Sophie: I think we're very lucky to have a team that we've had from the start who are very supportive and care about us first and foremost. I feel like we're in a very rare, very lucky position with that.
What can we expect from Betty Taylor in the future? 
Sophie: We're working on stuff. We have a whole back catalog of things we are working through, but we started to write some new stuff which is exciting for us because we've been playing the same setlist for like a year now. Even though we haven't played outside of Queensland very much, this is our first time playing as a band outside of Queensland. For us it's really exciting to get some new stuff out there, so hopefully we'll be smashing out some singles.
How would you describe your music to those who haven't heard Betty Taylor yet? 
Sophie: Therapeutic. Betty Taylor is a support network, if you've been broken up with or having a shitty time come to one of our gigs. It might make you cry, it might make you feel better.
Katie: For the girls, gays, and theys!
—
Catch Betty Taylor when they open for Matt Corby on 13 July for a stripped back intimate performance at District 14 in Narre Warren (tickets here) before supporting Teenage Dads on the QLD leg of their upcoming national tour.