Writing by Erandhi Mendis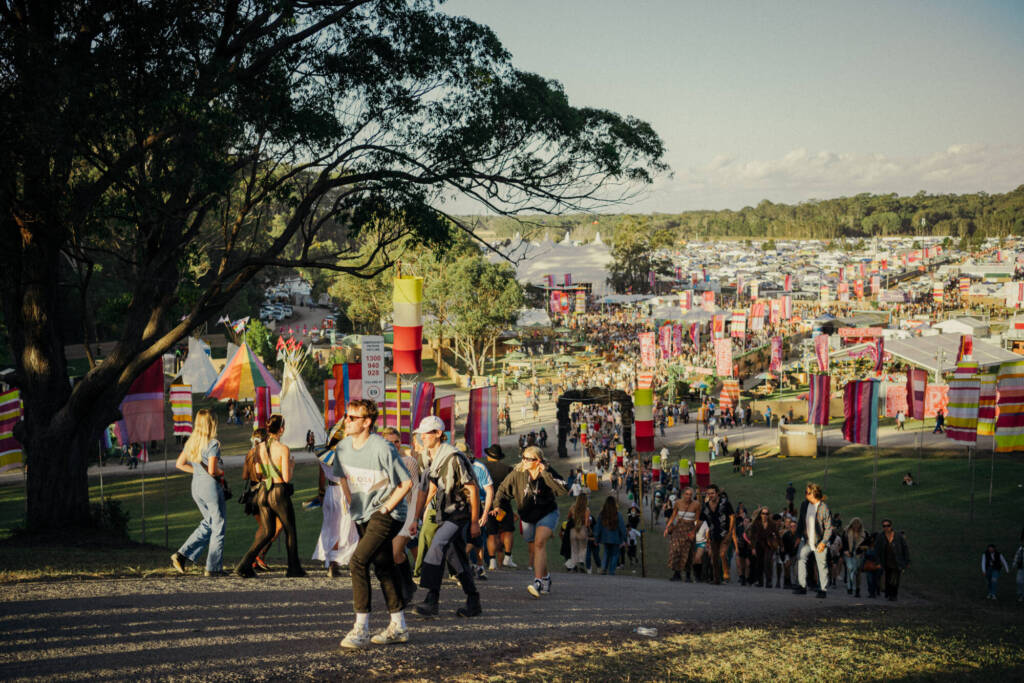 When I was 16 I bought a single floor ticket to Taylor Swift's Speak Now tour. The concept of going to see a live show on my own didn't particularly phase me. Why would it? I was so enamoured by the music that experiencing it alone felt like semantics. However, few things at a teen pop concert are less attainable than protracted and planned solitude – so as fate would have it, I ran into a friend at the entrance and would not truly know the feeling of being completely alone in a crowd until my 20s.
As I got older, that liminal state became something I was chasing. Be it the superiority of confidence to participate independently, or treasured anonymity in a swarm of Noah's Ark pairs and behemoth cliques. More likely, the reality of enjoying things that many of my close friends had little to no interest in. Movies, concerts, sports matches – I decided that if I wanted to, I should probably just go and do it. So it was a recent surprise to realise I'd never truly experienced a festival on my own.
Often proclaimed as the light amid a dark Australian winter, Splendour In The Grass has a reputation that precedes the horror stories of last year's festival. Before the mud, rain and bus catastrophes, Splendour was better known as the biggest outdoor music festival Australia had to offer. A history of pulling international headliners that would cause tickets to sell out in hours and often considered a launchpad for local artists; graduating from hometown garages to the big stage. How would the magic of Splendour hold up against a post-pandemic backdrop of an economic crisis and a muddy PR disaster?
It turns out – quite well. You see, for every critique about the longevity of mega-festivals in a volatile climate – there are thousands of punters who still believe. In what? Standing under the stars and swaying with strangers? Yeah, pretty much. It's astonishing the way we forget the magic of the first time we experience entertainment like this. Why is it that as we age everything seems ephemeral until it's not anymore?
I thought about this a lot as I traversed a (mostly) bone dry, sunsoaked North Byron Parklands on my own. Adopting my 16 year old mindset of being enamoured by an experience – I decided the best way to tap back into the enchantment of your first, was to steal moments of solitude. Unless of course, you don't need to tap into anything and it's all new.
Noosa born singer-songwriter Mia Wray had never been to Splendour until suddenly she was on the lineup herself.
"I'd always heard so much about Splendour, and it totally lives up to the hype. I honestly walked in and thought I was in some sort of acid dream," she laughs – "I've never actually done acid."
Opening the GW McLennan tent on Saturday, Wray drew an adoring crowd for a midday slot. If you were lucky enough to get there early, you would have been treated to astonishingly controlled vocals and introspective crowd banter. It's a magical Splendour moment to hear a crowd roar for a song that only came out a few months ago. Equally assured but humble, Wray repeatedly exclaims on stage that she simply couldn't believe she was playing Splendour. The songwriter is warm chatting to me behind the main stage, and while there is a palpable excitement that glitters off her – there aren't many nerves.
"It's overwhelming, but I had this weird feeling that I've worked really hard [on this project] for the last five years. So by the time I got to this moment I wasn't too nervous or felt too out of my depth. Which, funnily, made it less exciting because I was really settled. Afterwards though…getting off stage I was sort of like, who the fuck do I think I am?"
I get the sense Wray's oscillating awareness of her own talent is a driving factor of her success – enough to hold steadfast to who she is, but always with room to push herself to new heights. Given the festival's propensity to lift local talent, I would not be surprised to see Wray play a sundowner slot at the Amphitheatre in years to come a la Meg Mac, who just happens to be singing in the background of our conversation.
That trajectory is almost a rite of passage if you're lucky. As I sit on the grass on Sunday afternoon watching electro-pop siblings Amy and Josh Dowdle of Lastlings, it's particularly nice to see it come to life.
"We first played Splendour in 2019 and it was a packed crowd even though it was 12:30pm, which we were very surprised about." says Amy.
Now gracing an afternoon slot at the Amphitheatre, the duo lift a hungover crowd with their ethereal dance pop. Looking out over the hills, the pair appear almost startled at where they have landed. As it turns out, the other trajectory is going from barricade to stage.
"Josh and I used to go to Splendour every year when we were in high school, so it was a bit of a full-circle moment."
As a stalwart within the Australian music calendar, it is not lost on me how many attendees are having that first festival experience at possibly the biggest and the best – every morning the U18 line at the gates was consistently triple the length of any other gate. It's heartening to see, but given how unforgiving the festival industry has been in the past 12 months, it makes you think – could Splendour be the last major multi-day festival standing?
"It's like seeing the universe for the first time," says Holly Rankin (Jack River) of the magic of Splendour.
I chat to Rankin fresh after her spellbinding set on Friday night, performing with aplomb in a pastel meringue dress, the crowd cheers feel like a welcoming party.
"It does feel like coming home. It's like a reassuring moment of, 'this is where I'm meant to be'. [Performing here] is a really magical thing to do and there's a mutual understanding about that magic between the crowd and me and it's just a very, very special event. It's the most special thing in my world."
During Rankin's set she brings out everyone's favourite presenter Tony Armstrong to sing with her on Endless Summer – "we were doing live television together and I asked him on air to join me." It's probably the most unexpected surprise guest of the weekend but it's definitely the most exciting. When Rankin speaks earnestly to the crowd about the privilege of dancing on unceded land, it sets a beautiful precedent that I am reminded of as thousands of Yes23 stickers adorn festival goers throughout the weekend.
Writing and singing music about world events is a welcome mirror to the struggles of getting to even celebrate the festival. "I have this theory that so much of music – particularly underground music – is heavily influenced by sitting politicians and presidents," says rocker Izzy Glaudini of Automatic. She's right, we are all at the behest of how much local members value the arts.
For the organisers of Splendour – a cost of living disaster off the back of last year's difficulties meant a predictable decline in ticket sales. Some called the lineup middling, I'd counter: while objectively weaker than previous years, the 2023 roster was a beacon of homegrown talent during a time where we should be championing more Australian music on the big stages. Because of this, it was special to see mammoth audiences turn up for Thelma Plum, The Vanns, Peach PRC, Ruel and a particularly emotional set for local Byron boys Skeggs.
The international acts were still thick and fast, Arlo Parks, Little Simz, Palace and Noah Cyrus in particular having astonishing sets with punters spilling out of the smaller tents. And whether you were escaping via the dulcet pep talks of Lizzo or confronting facism with IDLES at the Amphitheatre – if you made it up the famous Splendour hill and back again, you were dancing.
It's true that it is difficult to understand the sorcery of something like Splendour In The Grass until you are in the parklands. So much of the commentary around festival cancellations fails to capture why we should protect arts and entertainment festivals. The focus is held on the practicalities of funding and location – we seldom report on why people love coming to these events. With the news that my beloved Falls Festival would be taking a break in 2023 (a year after relegating away from the famous Lorne site) it did make me consider that perhaps Splendour could be one of the last big festivals I attend. Amidst a growing list of other cancellations such as Play on The Plains, Yours and Owls and noticing that even the famous Newtown Festival was not immune, it does give pause to what is informing the downfall across the industry.
But mostly, in the face of 'practicalities,' as an attendee I remember how the first time I went to a music festival I didn't really think twice about weather or parking or how absurdly expensive things were. Sure, I reckon I thought about it once. "Why is a beer $17?" – me in 2013, probably. I was simply too busy being in complete awe of the experience. Pointing out the rainbow that peeks out behind the clouds post afternoon shower, that feeling of adrenaline each time a surprise guest runs on stage. Picking the perfect spot to sit on the grass and inevitably spilling at least one drink. Abandoning all sense of nutritional value and appropriate meal-times. Smiling at strangers and whispering to your friends when you see artists sneak into the audience. The pulse in your chest when you stand too close to a speaker. Watching a fingernail moon while holding someone's hand. Singing extra loud every time a cover is performed, and the way moving in a crowd always makes you realise how small you are.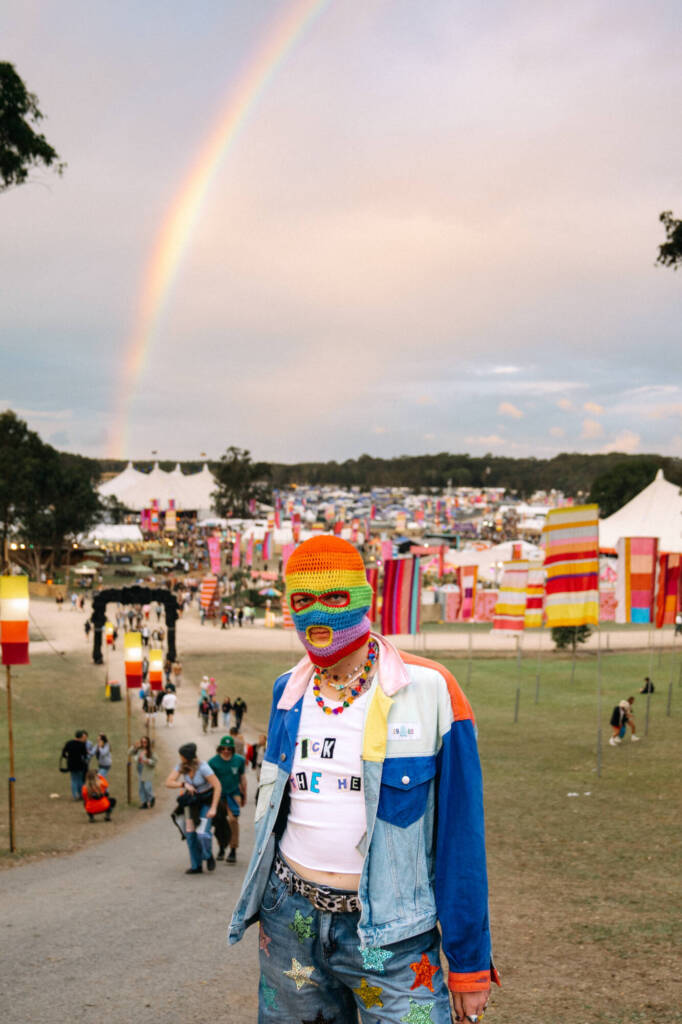 So now, a decade older, wandering around on my lonesome, it was nice to revisit the acute awareness of those fleeting moments. The ones that fade in memory as festivals become a customary adult tradition rather than a dazzling gift you feel lucky to witness.
But here's the thing I learned: protracted and planned solitude is also hard to come by at Splendour. It draws a crowd for a reason. And with crowds, come friendly faces: people I love and people I haven't seen in years. I danced with lifelong friends, met people I had only ever spoken to via email for the first time and shared conversations with strangers that I'll remember forever. Ever the optimist, I hope Splendour isn't the last of a dying breed – and I'm incredibly confident that 35,000 other people, covered in biodegradable glitter, dirt and probably a headache, would all wholeheartedly agree with me.