Writing by Ella Cigognini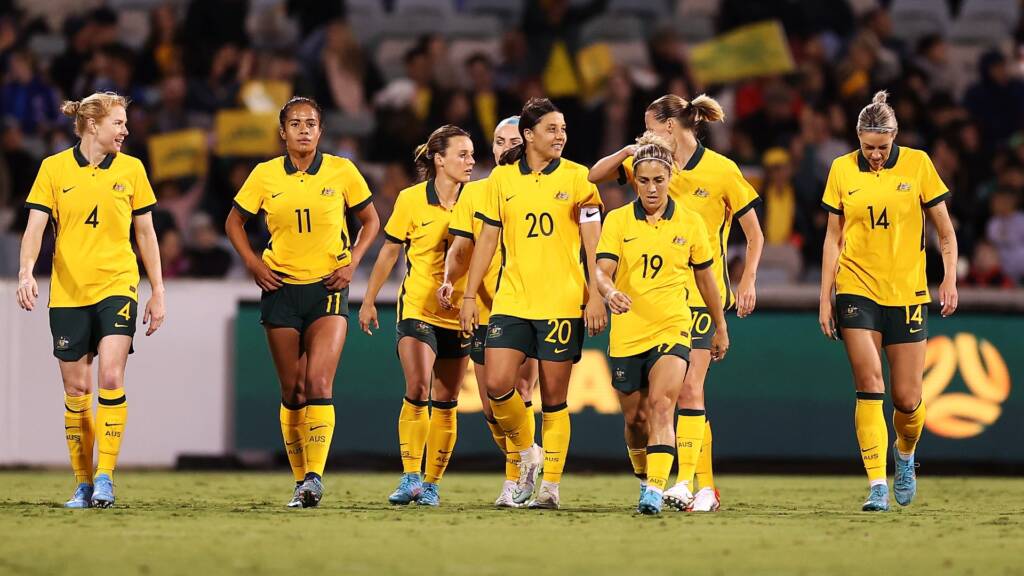 The cold chill that swept Melbourne on Wednesday night did not deter the thousands of people flocking to Federation Square. You can't put into words the anticipation that overwhelmed the crowd even before the first kick. A roar erupted from the entire square when we saw the players lining up on the pitch, ready to take their country to the next stage, ready to take women's sport to an entirely new level.
The Matildas had already made history in their heartstopping penalty shoot-out against France. They had already made us proud and had already inspired millions. They didn't need to prove themselves to anyone – they were already so incredibly impressive.
In the moments before Sam Kerr's goal, the crowd had gone silent. I felt like I could almost hear synchronised breathing from the 10 000 people present, as we patiently waited for the play's outcome. As Kerr danced her way to the goals, running and weaving through English players, that breathing got quicker, more intense. "She's gonna need some support," The commentators said during her run. She did not in fact need support.
Kerr's kick soared through the air, curving around the English defenders and through the hands of the goalie. I don't think I was alone in thinking that that was one of the most impressive sporting plays ever seen.
The celebration after that goal was history.
While the result of the semi against England wasn't the fairytale ending Australia was dying to see, the Matildas have made a fundamental impression on Australian culture. They had gone further in the World Cup than any other Australian team, and united a country that values sport so highly in its convention.
Albanese's government has pledged $200 million to women's sporting facilities and equipment, a huge promise to local communities who have tirelessly advocated for every girl and woman to have access to sports they are passionate about. With hope, this funding will mean a greater value is placed on women's sport.
The numbers do not lie. We saw an unparalleled broadcast coverage reaching 11 million people, an outstanding record-breaking feat. It surpassed any Channel 7 television coverage over the last 20 years, and put women's soccer on the average Australian's radar.
Social media is now inundated with women's soccer content. The thousands of Tiktoks, tweets and posts of young people asking where they can next watch the Matildas is only the beginning of a new history. And while support during the World Cup was at an all time high, the ball must keep rolling. Now is the time to back the movement, to fund the facilities and programs, to broadcast more frequently on television and represent people from all over Australia.
There's even actions that we all can do. You could join a local team for social exercise, or volunteer as a committee member, coach or coordinator for events. You can donate old and unused sporting equipment to girls teams that are just beginning. Or simply, you can go out and watch your local footy or women's cricket team. Tell your friends and family and buy some hot chips from the canteen.
On the train home from Fed Square, my friends and I could not describe the game other than heartbreaking. We sat there, as girls who had never watched the Matildas prior to the World Cup, feeling immense pride. Proud seeing women from Australia on one of the biggest sporting stages in the world. And proud that everyone was cheering for them, congratulating them for doing what so many others haven't. There was so much warmth in seeing people from all walks of life – including men and boys – packing the stadiums and watch sites, a special feeling in which I personally haven't felt or seen before.
When looking at the ways in which women support other women, there is always a passionate, gratifying endorsement. It's like we share a collective heart that knows we're all in this together, we're all fighting for the same thing. We want to see our mothers, daughters, friends and sisters succeed, and we're going to help them do it.
Investing in women and girls all across the country has been proved to inspire others. When one Sam Kerr or Hayley Raso steps out in front of the world as their unfiltered self, so many young girls know that they can make it there one day too. That they can be as strong, as brave and as independent as these players. I hope that in the sea of green and gold that cheered and screamed at Fed Square, there was at least one little girl who saw herself in the women on the screen.