Writing by Emi Nesvara Hernandez // Photographs by Natasha Librero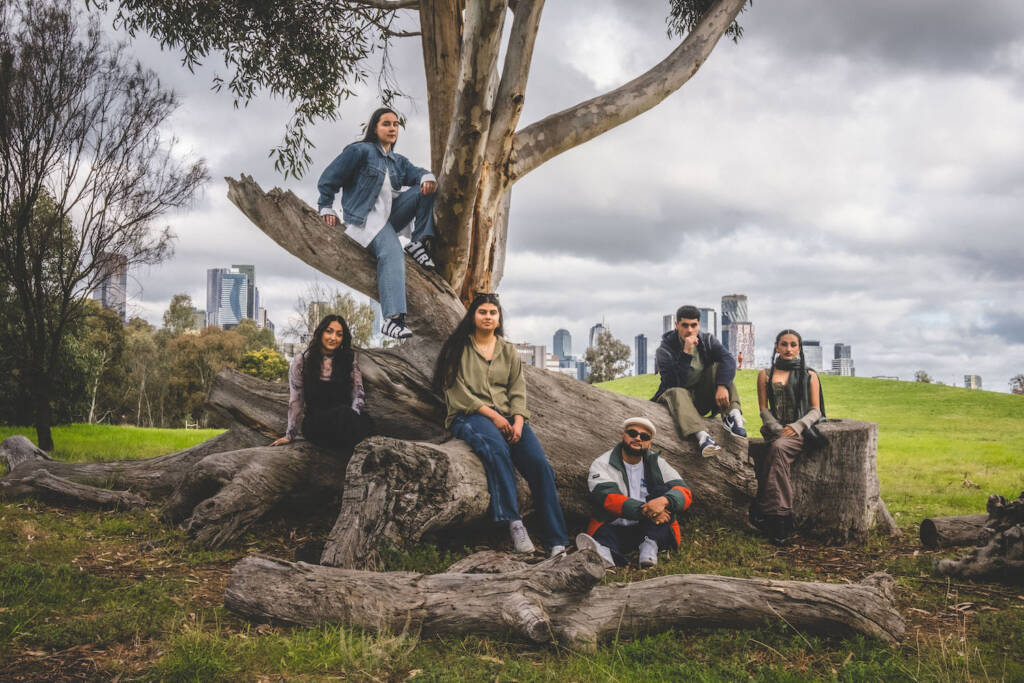 ¡Mi gente!
While we are starting to see artists like 'Bad Bunny' and 'Rosalia' bring Latin sounds, art and fashion across the sea and onto Australia's radar, there are many hard-working latinxs looking to make waves in Melbourne's very own creative industry.
Forging their way through the jungle of Naarm's art scene, these 'hybrid' artists are embracing their heritage while they're at it. We all know that representation matters and the way that these 6 artists weave their culture into their artforms is something truly unique and worth getting around!
JUPiTA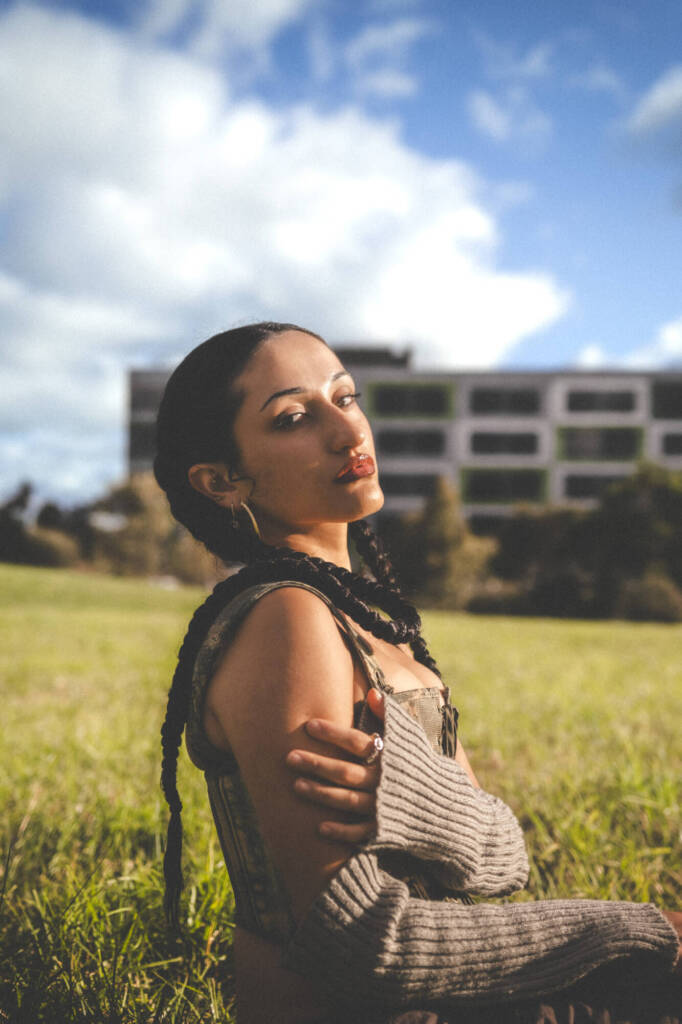 Since 2015, JUPiTA has been captivating audiences in Naarm (Melbourne), Australia with her live performances and music releases. Formerly known as Ruby-Sofia the independent chilean vocalist, producer, and songwriter, she has collaborated with artists from a diverse range of genres, including Latin pop/reggaeton, alternative, dance/house, jazz, jungle, R&B, and more. Despite her versatility, JUPiTA's jazz background shines through in her expert use of melody, harmony, and rhythm. What sets JUPiTA apart from other artists is her lyrical content. Her fiery and poetic lyrics perfectly complement the instrumentation in her music, creating a depth and passion that can be felt in every song. Even during the Covid pandemic, JUPiTA took time to reflect on her sound, which has only resulted in even greater musical creations upon her return. Whether performing live or releasing new music her unique style and artistry never fail to impress. Stay tuned to JUPiTA's socials to catch her next performances and releases.
What is your chosen medium and the main inspiration behind your art?
My chosen medium for expressing my art is through music and my main inspiration comes from the culture of Mapuche people. The Mapuche, meaning "People of the Earth," are the Indigenous group from Chile. Their belief system revolves around two coexisting worlds: the natural world with earth and people, and the spiritual world known as "Wenumapu," which exists beyond the clouds and cosmos.
In my creative journey, I've explored conceptual photo shoots and written pieces about various spirits within Mapuche mythology. One spirit that particularly captivates me is Pillan, symbolizing power, strength, and protection in Mapuche beliefs. Pillan's ability to control the forces of nature adds to his formidable presence, making sure his essence remains unforgettable.
How do you celebrate your heritage through your art?
I celebrate my Chilean/Australian heritage by infusing my music with distinct Latin American percussive elements. I take great pleasure in exploring and blending various genres, avoiding confining my music to a specific category. My goal is to challenge people's perceptions and make them aware of its uniqueness while also inviting them to dance and perrear.
To ensure that my Chilean identity shines through, I incorporate phrases and expressions that are commonly used in Chile into most of my songs. This allows me to make a clear statement about my cultural background and share a piece of Chile with my audience. By embracing these elements and creating a musical fusion that reflects my heritage, I find a meaningful way to celebrate and represent my identity through my art.
Follow JUPiTA on Spotify | Instagram | Facebook | Youtube
DJ Smilez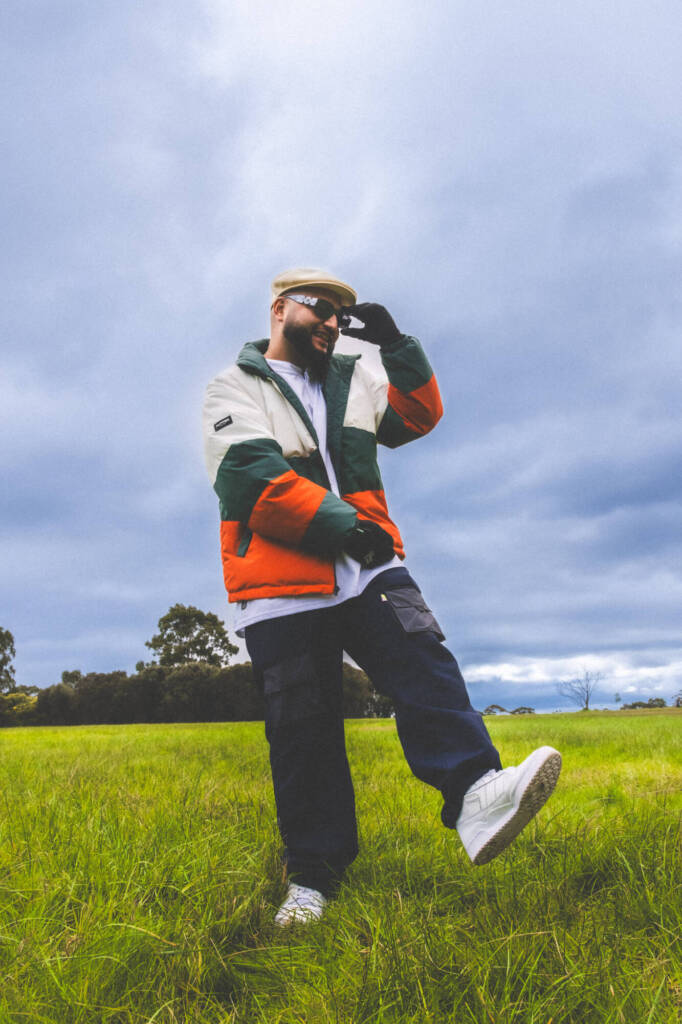 Melbourne artist DJ Smilez is known for his curated sets and infectious vibe, leading fans to label his live experience as "the Smilez effect". With a blend of Latin Rhythms, Baile Funk and Afrohouse, DJ Smilez ceremoniously transforms from a nightclub DJ to one of the most respected within the creative industry. He made a name for himself not only for his selection of music and innovative production but for the energy and euphoric-like experience he projects when performing. Adding to the hype of his creative storm; the alias to his brand image 'Smiliño' has evolved into a visual mixtape, multiple remixes and a monthly radio show which has had a combination of over 600k streams across his social platforms. The project has surged in popularity and has adopted a worldwide following. Be sure to keep an eye out for DJ Smilez as he continues to add to his accomplishments thus far within the industry, and pursue the path of a touring artist.
Check out DJ Smliez' latest project
What is your chosen medium and the main inspiration behind your art?
I'm a DJ/Producer. I'm inspired by so many things; my family, the music I listen to, my homies and digging deeper into my spirituality.
How do you celebrate your heritage through your art?
I use my art to tell stories of how I got to where I am, highlighting a lot of my childhood. I do this by playing the music I grew up on. I find different ways to incorporate my Salvadorian heritage into my music. When I released the Don Smiliño (2020) project we celebrated by selling pupusas (Traditional Salvadorian corn cakes) at our exclusive media release. We do this to help celebrate our Latinx community.
Follow DJ Smliez on Spotify | Instagram | Facebook | Youtube | Merch store
Jocelyn Montecinos 'Villacura'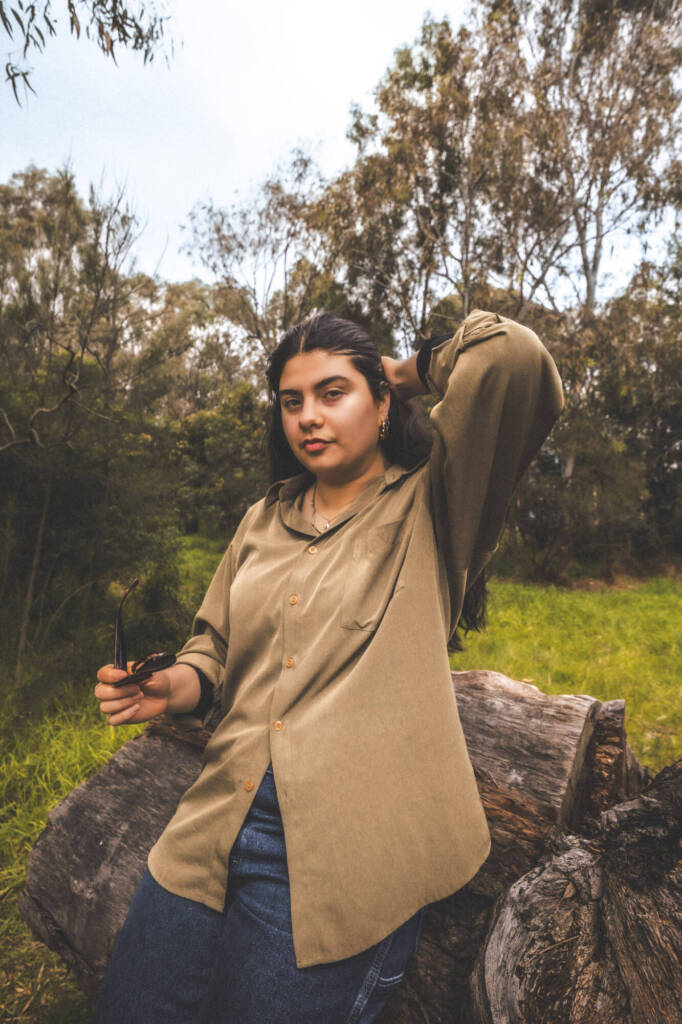 About the artist: Born and raised in South-East Naarm, Jocelyn Montecinos is a dedicated artist, jewellery-maker and business owner of 'Villacura'. Embodying a practice ingrained throughout her ancestry, she began her jewellery-making in 2015 under the name 'Bits By Jocelyn' and created pieces inspired by her Chilean culture and its correlation with natural and raw appearances. With 'bits' from markets, op shops and throw-out piles, Jocelyn eclectically creates one-of-a-kind jewellery that speaks volumes. Her unconventional pieces are a statement in favour of a decolonized world, challenging the ideology that jewellery should have a high end and boutique finish, or be made of certain materials. Jocelyn's innovative jewellery business 'Villacura' gives a second life to every material she collects and stands as an ode to her sense of responsibility to take care of the land that she is on, and honour her strong connection to community and ancestry. Stay tuned for Jocelyn's next exhibitions in November 2023.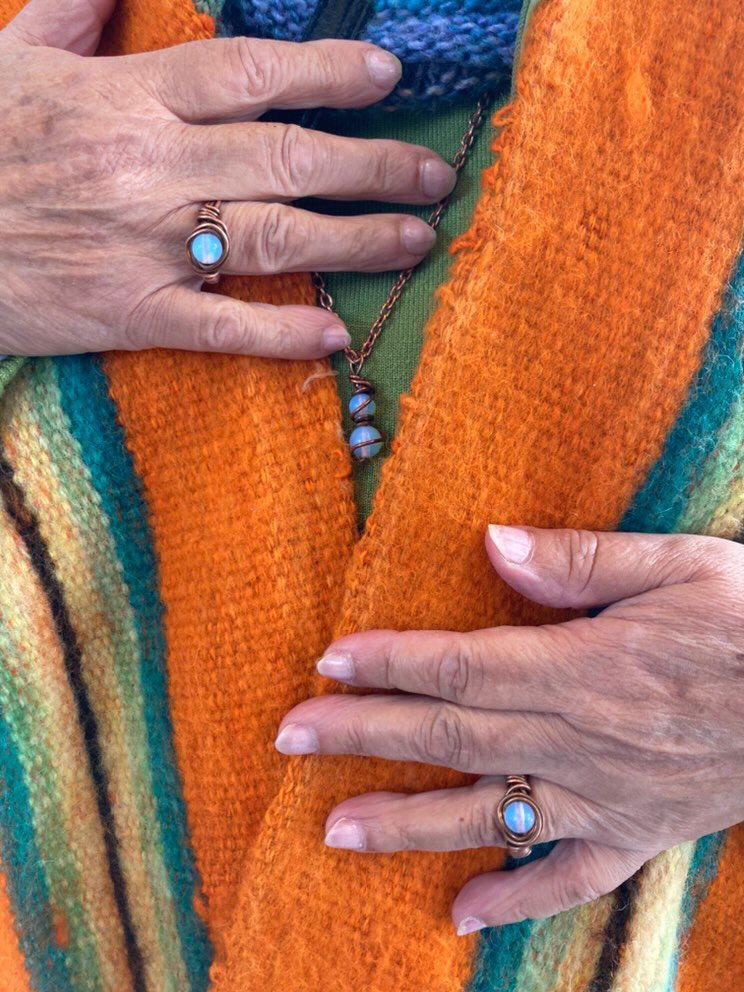 How do you celebrate your heritage through your art?
My heritage is always being celebrated but I think art expresses it the most. The art form I'm practicing has been practiced for many years.  My people are creators, I grew up watching my parents and grandparents always making something, whether it was sewing, knitting, cooking or building something. That's what I have always seen them do. I've been told multiple stories of ancestors of mine and what they used to create and do.  I think it's just what came naturally to them, and it's something that now you would call art. When I create my pieces I reflect on that and that's when I feel most connected to myself and them.
What is your chosen medium and the main inspiration behind your art?
I love working with all materials and consider myself as a multi-disciplinary artist. Anything I can get my hands on I will create something out of it, nothing is trash in my eyes. I was that kid creating something out of things I'd find lying around. It really comes from being raised in a resourceful family. They were raised like that because they had to, so that they could survive essentially, and that's where I draw my inspiration from.
Follow 'Villacura' on Instagram
ELAURA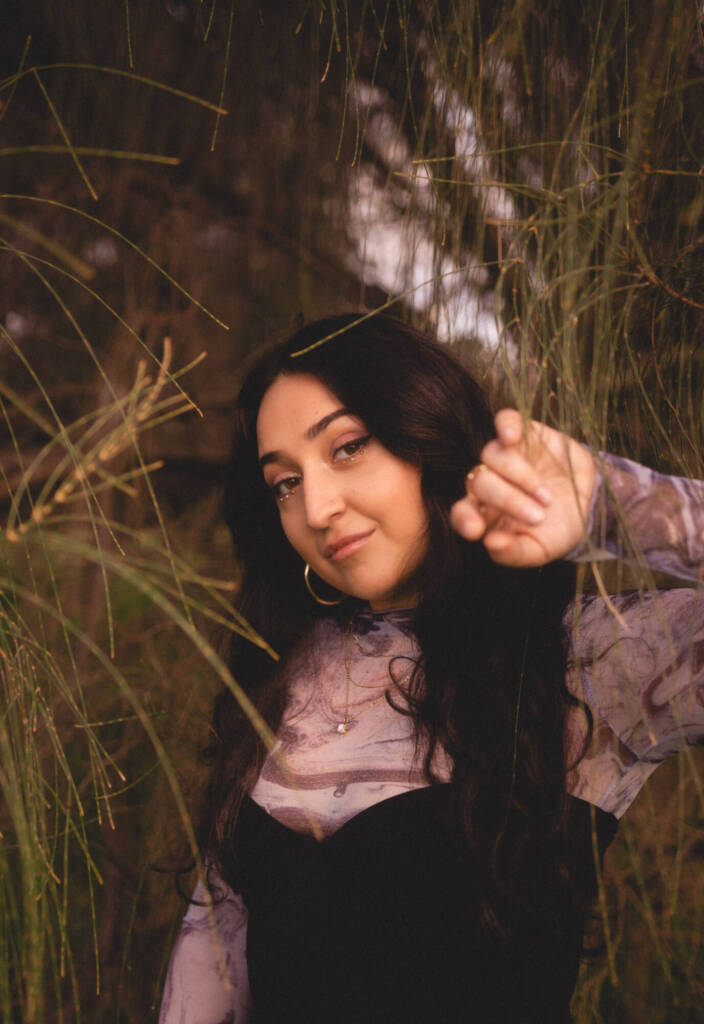 Chilean blooded and Australian born Neo-soul artist ELAURA grew up in a small town in the forested valleys of the Dandenong Ranges, Victoria. Her music now clocks over 20,000 Streams on Spotify and has caught the attention of the renowned Melbourne Symphony Orchestra resulting in a showcase at the Sidney Myer Music Bowl in February 2023. With an alias formed through a fusion of her great grandmother's names 'Emilia' & 'Laura', ELAURA is on a mission to use her voice as an ode to those that came before her. With a mix of catchy RnB infused neo-soul melodies, spoken word & her mother tongue spanish, ELAURA generously gives a unique performance with fierce purpose. "I want my audiences to come exactly as they are and by the end of the show be reminded that they are enough." Follow ELAURA to make sure you don't miss her next live performance and releases.
Watch ELAURA's performance at the Sidney Myer Music Bowl
How do you celebrate your heritage through your art?
It's been a ride embracing my heritage but now I wear my hips and hoops with pride. I love singing and speaking in Spanish throughout my sets, it makes me feel like my ancestors are with me up on stage. I think that sometimes the best celebration of who you are, can just be you doing you! So I'll continue being myself and taking up space as a latin/australian artist in an industry where I never grew up seeing myself represented.
What is your chosen medium and the main inspiration behind your art?
I am a musician and what inspires me is honesty. All the musicians that I love the most, Amy Winehouse, Erykah Badu, Lauryn Hill emanate honesty so powerfully that it transmutes things for people and unites us. The more honest I am with myself, the more honest I can be with my audience and the more united my community will be.
Follow ELAURA on Spotify | Instagram | Facebook | Youtube
Cris Gamble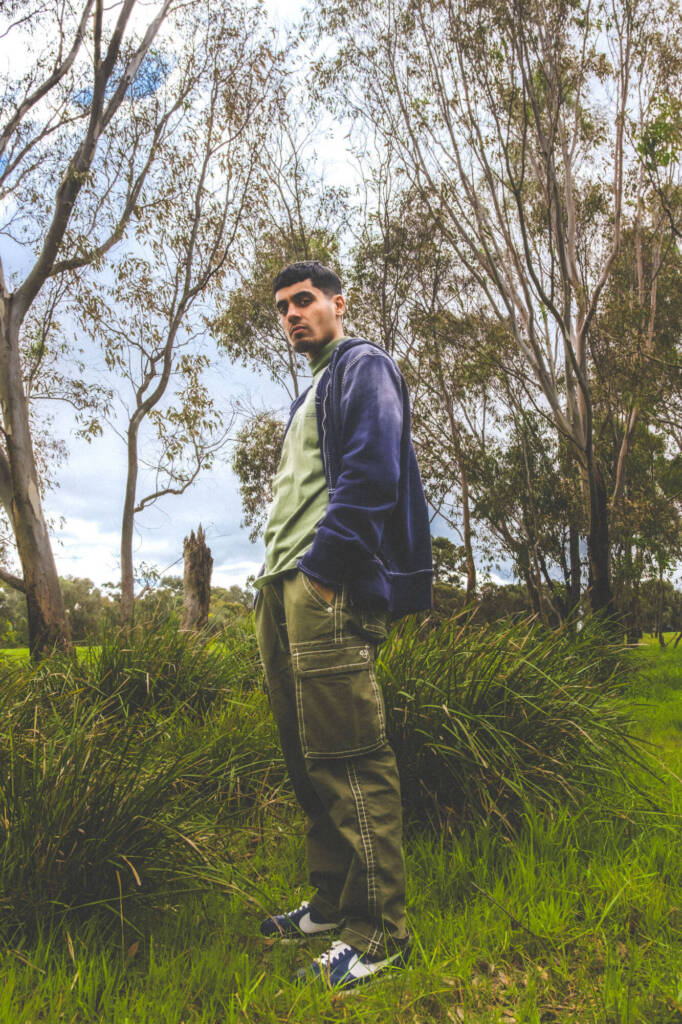 Meet Cris Gamble, a rising star in the realm of Hip Hop and Reggaeton/Latin Urban music, whose talent and passion is captivating audiences worldwide. Born and raised in the vibrant city of Melbourne, Australia, Cris remains deeply connected to his Chilean heritage, infusing his music with a captivating blend of English and Spanish lyrics, creating a powerful bridge between cultures. With a fusion of hip hop, reggaeton and latin urban music, Cris creates an irresistible musical experience that opens doors to new worlds, transcending language barriers and touching hearts across the globe. As Cris continues to reach new heights in his musical voyage, he invites you to join him on this extraordinary journey of self-discovery, cultural celebration, and the pure joy of music. Keep an eye out for his latest releases throughout all streaming services. Follow him on social media to stay connected and up-to-date with this trailblazing artist.
Check out Cris Gamble's 'Malita' video here
What is your chosen medium and the main inspiration behind your art?
I make music.. I have always had an interest with music. My parents and upbringing have played a really big part in my current musical influences, and have greatly nfluenced me as a person and an artist. To me, those two things go hand in hand with each other.. You as a person and artist should basically be the same thing, in Hip Hop and Latin Urban music.
How do you celebrate your heritage through your art?
I let my latin heritage flourish from all angles in my music. From the lyrical content, my Spanish accent – many, many Chilenismos – to the beats I use/create. I never forget that I'm half Anglo-Indian either though.. only thing is that there's just not really any other language to speak on that side for me. I guess I don't know enough about that side either. I want the whole world to know that the Chilenos are on their way up so I make all of that abundantly clear in my art.
Stream Cris Gamble's latest release here
Follow Cris Gamble on Spotify | Instagram | Youtube
Paulina Zamorano 'ZAM STUDIO'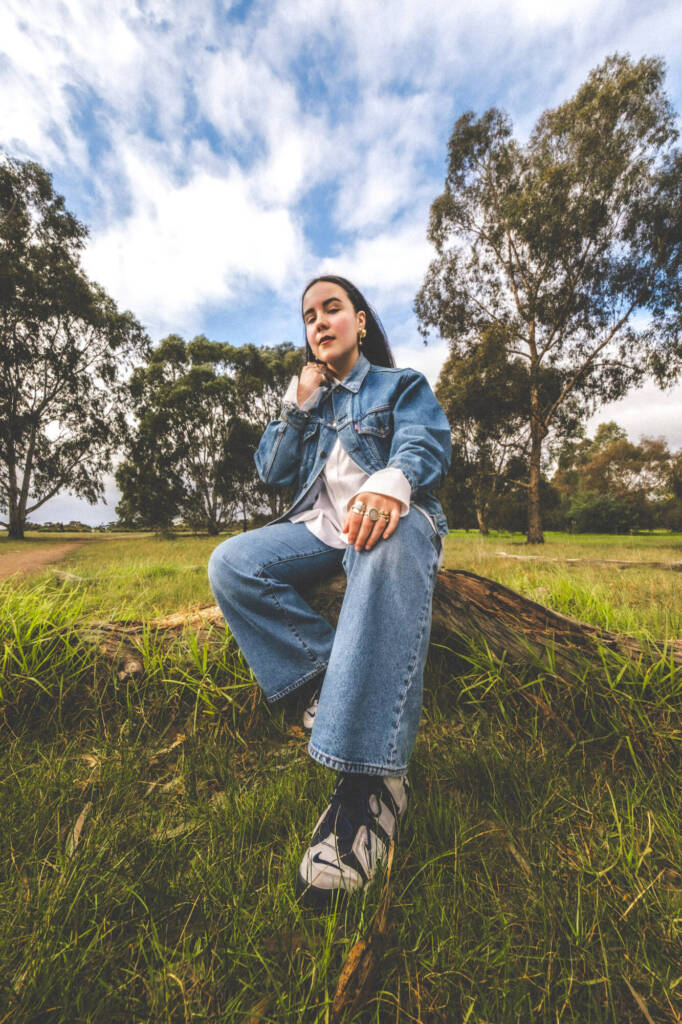 As a wearable artist based in Naarm (Melbourne), my creative practice is centered upon my passion for sustainability and community. Coming from an immigrant background, my Chilean parents embedded the value of community, sharing resources and creating space for others. This is why I invest my energy and creativity into my community's growth and flourishing. I've been able to witness the growth and shared knowledge that grassroots organisations provide for emerging artists of all genres and practices, where they're able to gain vital tools to begin their journey in this industry. My wearable art practice and exploratory work reside under the name ZAMSTUDIO. Each artwork explores the relationship between identity, culture and sustainability using post consumer waste material sourcing and low waste garment design techniques. Installations in public spaces invites viewers to interact with the artwork as each garment is made with the intention to hold space rather than a place in the everyday wardrobe. Injecting value into the wearable works, go beyond intentional design placement or choice of textile, it is also the desire to uproot the definition of waste into a level playing field of valued artistic beauty.
What is your chosen medium and the main inspiration behind your art?
My chosen medium and practice is creating wearable art and exploratory work under the name: ZAMSTUDIO and each artwork is inspired by the relationship between identity, culture and sustainability. These textiles were destined for landfill. Being exhibited in art spaces strives to challenge its predisposed journey from the commercial fashion chain and challenge its right to be valued in the art world.
How do you celebrate your heritage through your art?
Heritage and culture is celebrated through narrative that is embedded into each garment, a key example is my first collection in 2019: "The use of denim as the sole material within this collection, created a direct link to the relationship to the "workers wear", trustworthy fabric and everyday jeans that may be a staple in most individuals wardrobes. I relate to this material as significant as any uniform I have worn throughout my life".
Follow Paulina 'ZAM STUDIOS' here | Instagram | website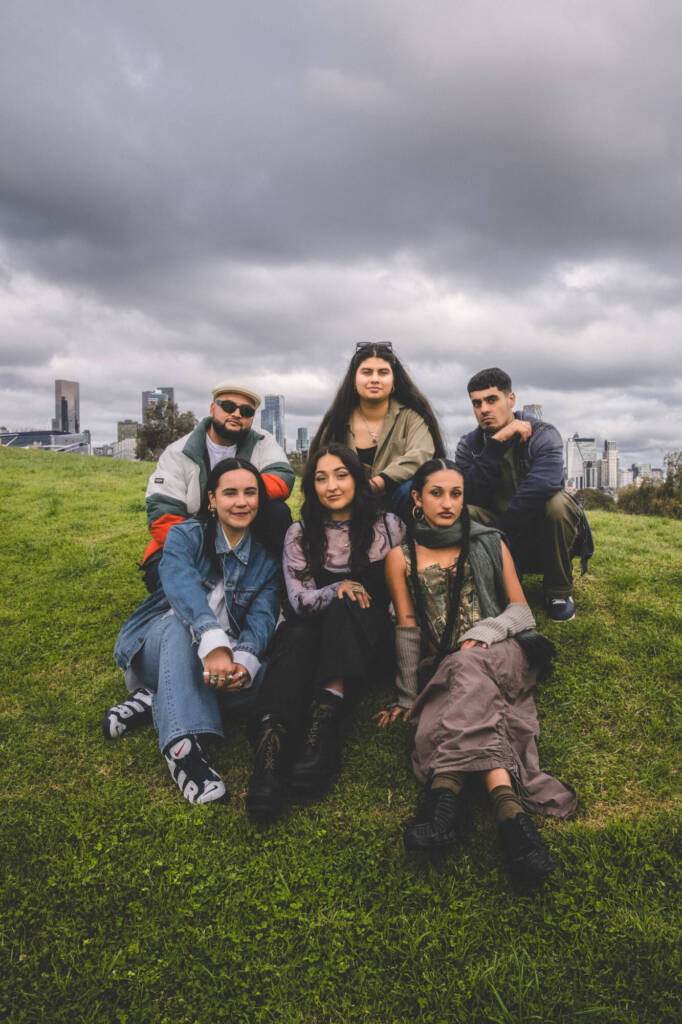 Latin-Australian artists make up a minority in Naarm's local scene, so let's make some noise for those doing the most to represent their heritage. Be sure to support, follow and engage with the artists you feel drawn to, so they can continue doing their important work for our community.