Interview by Isobel Knight // Photo by Caity Krone
Cate Canning is a pop singer with energy, new songs and ideas to spare. The Canadian-born, London-based singer is in Melbourne this morning, sitting in Gretta Ray's apartment before opening for her at Northcote Theatre as part of Ray's celebratory 'Positive Spin' tour. Cate put a snippet of her vulnerable and heart-clenching song 'Can't Wait To Be Pretty' on Tiktok in 2020 and, more than 10 million streams later, has now toured with Maizy Peters, played festival stages, released an album and several EP's and is now writing music she loves with friends who've been around from the start. She sat down with Ramona to talk songwriting, her new track 'One Hit Wonder' and the sound of distant cowboy boot-scooting that heralds what is next for the singer.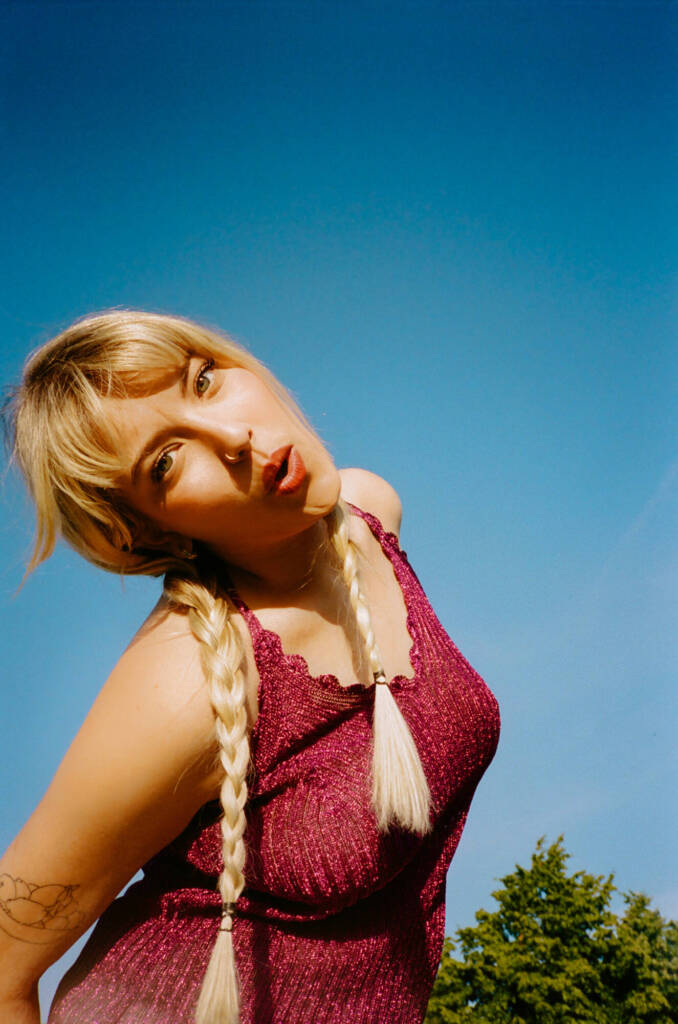 Cate! My favourite thing about your music is that you're such a smart songwriter. I wanted to ask, because you're an accidental expert in this – is there a 'one-hit-wonder' that you wish you'd written?
That's a good question! It's actually been kind of controversial because some of the songs we mention people will be like 'they're not a one-hit-wonder'… but I feel like 'Somebody That I Used To Know' [by Gotye and Kimbra]. That's such a good one-hit-wonder. I'm going to go with that.
It's a huge tune.
Huge.
I'm interested then; what's the song of yours that made you realise that you were a songwriter? 
I was thinking about this the other day – I did a whole bunch of talent shows when I was a kid and I remember I went to this one summer camp where we had to write our own songs and perform them, and I did this awful song! It was called 'Somebody to Love' or something. It was so bad. I remember my friend Rory was there, and it was the first time I sang an original and people liked it. It was so cool because my feelings as a fifteen year old were relatable to this whole camp! That was the first moment of 'Oh my God I love being a songwriter'. It's funny, I still write with Rory and we still talk about the songs from that camp because they were just so important to how we write songs now.
That's beautiful – and you got started on the co-writing early!? You've said that 'One Hit Wonder' started as a joke with friends and just sort of escalated from there; would you say that co-writing is your happy place? 
My god I love co-writing. I love writing songs alone in my room, but there's nothing better than when I have an idea and the first thing I do is send it to some of my songwriter friends. I just think it makes it so much more of a special process of writing, and if the songs come out on an EP or an album it means there's so many more people than me involved – it makes it this little fun community. I've been really lucky, a lot of the people I write songs with are my best friends, so I just love it. I couldn't imagine only ever writing by myself.
I love that. There's something great about you and your core people all going along for the ride together, because you're having a huge year – opening for Maizy Peters and for Gretta Ray is so cool.
It's so sweet because I met them both organically, which is really nice because I feel like that's what music is about. I feel like when I first got into music I thought it was going to be really scary and competitive, and I've been really lucky that it's just been the opposite in my experience.
That's really great. I feel like especially in the 'internet age' of the music industry it's pretty easy to be fed the narrative that you just have to compete, have to get ahead somehow. It's cool that, like your Instagram reels are great-
-Oh god.
I know, but I mainly mean that you have a great relationship with your audience, it seems pretty organic. What's something you love about being an artist in the internet age? What's something you wish was different?
I think TikTok is a blessing and curse. It's such a blessing with the people you get to meet; I have a lot of fun with it, which is nice, I really try to not take it too seriously when I'm promoting my songs. I guess it's a curse too because it's really easy to compare yourself to other people's numbers, because you can just see them, you can see what their songs do. I was really lucky, my first two songs that I really pushed on TikTok did really well, but the downside to that is that I will now compare every single song to those two songs that did really well.
That makes sense. There's something cool about those songs being the way people find you then there being heaps more to you as an artist once they do. I feel like touring really lands the plane on that – people get to see your whole set! Do you have a favourite song to play live? Is it those big hits?
I think 'Stupid' is one of my favourite ones, especially when I'm with my full band. The second verse where we all scream it is so special. I used to open my show with that song, for the past year and a half, which is really fun. I used to hate singing 'Can't Wait To Be Pretty' live because it was really scary, and I feel like now because of doing it so much it's not even my song anymore it's just handed over; it's become this really special part of the set.
I love it. 'Can't Wait To Be Pretty' has had its 'All Too Well' arc.
It's had its arc. I'll put out a longer version one day [laughs]. I do honestly need to do an actual version some day, but I've just been waiting for the right time. Right now it's just a demo that I made in my bedroom.
There's something special about that.
I love it. I just think it needs some strings; let's make it more sad.
You're playing a headline tour back in the UK once this run of shows with Gretta Ray are wrapped. Do you have a dream venue you want to play some day?
I do. I'm from a town outside of Vancouver, and I feel like everyone's dream venues are in their hometown. For me it's The Vogue in Vancouver, and obviously Rogers Arena in Vancouver, that's my dream. The Vogue for the next few years.
What's the thing about music that lights you up at the moment? What's the thing that's coming next that you can't sit still about?
I'm writing so many new songs. I've been going to Nashville for the past few months and writing the start of a new project, which is really exciting. I feel like the music that's going to come out next year, I have never been more excited for songs to come out.
'One Hit Wonder' is very The Chicks, very Speak Now era, and you've been going to Nashville to write – can we expect more of a country bent from you as things go on?
I definitely said that 'One Hit Wonder' is my soft-launch into my country era yeah. I grew up on country music, and now as I think of a different project I just definitely want to fully tap into that side. That's part of why I'm so excited as well, it feels like I'm making the type of music that I've always been listening to, which is really sweet.
Amazing. In regards to what you're listening to now, you're on the Positive Spin tour with Gretta Ray, can you give us some artists you listen to when you want to put a positive spin on things?
I love Chappell Roan, she is so good and I've been listening to her so much. A country artist I love is Carter Faith. Both of them are kind of up and coming artists in different genres. Carter is so country which I just love; she has a song 'Already Crazy' that's just best song ever. Gretta, also, is obviously on my positive spin playlist. So those are my girlies.
Do you have a favourite song off Gretta's album?
I was thinking about this and it's changed since opening [for her] and seeing the whole show. I feel like so many different songs have their own moment. I love 'Don't Date The Teenager' and I love 'You Already Won'.
You can catch Cate lighting up the stage at The Wardrobe in Leeds on the 10th of October as she kicks off her UK headline tour, and find her music so far, as well as all the adventures of what comes next, on any streaming platform you choose.