Writing and Photographs by Molly Mckew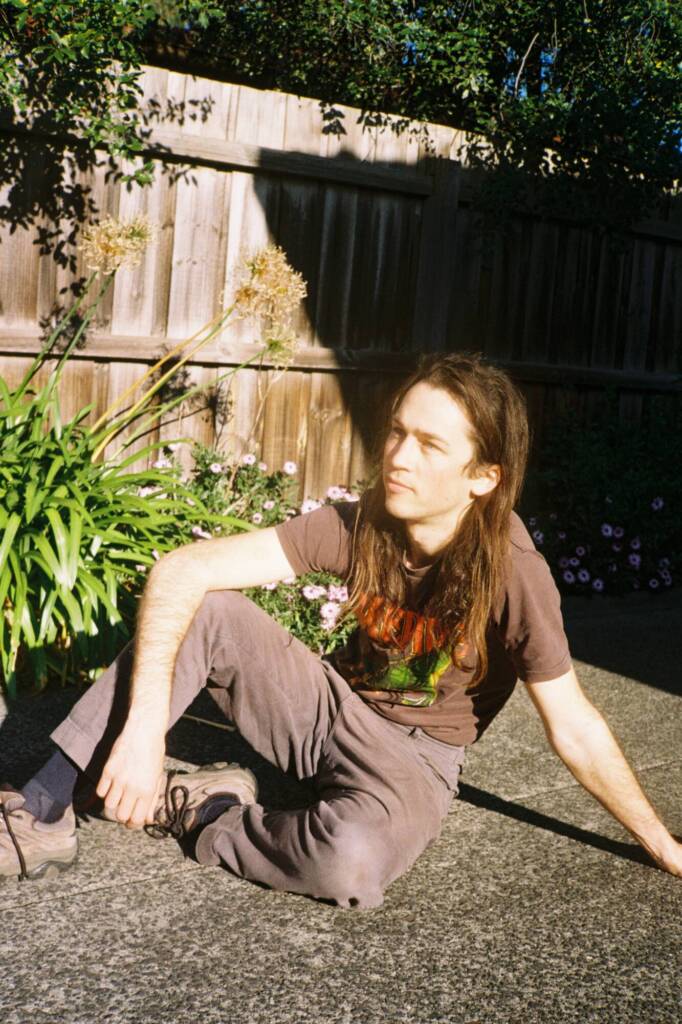 When I arrive at Didirri's 1960s style unit, nestled at the end of a sun-drenched driveway, we exchange niceties before the singer leads me to a green leather couch. It is arranged tastefully in an oil-heater heated lounge where Didi (for short) has been tinkering with a small amp made out of a Heaps Normal can. "My friend is one of those dudes who can just make everything". Didi is chatty and bright-eyed as he hands me a cup of tea in a stoneware mug.
The interior of the lounge is decorated with pot plants, a shelving unit packed with records, boxes of merch, and acrylic paintings (two of which, I learn later, were painted by his sister). A couple of colorful budgies, Henry and Philip, flitter around to create a wholesome sonic background of (pre-twitter) tweets.
"You seem peppy!!!' I accuse. "I am!!" he trills. "My life is bizarre right now….it's all systems go, then it's nothing, all systems go, then nothing". Today, he's in a happy period of nothing. He tells me about his addiction to trawling Facebook marketplace for bits and pieces to improve the unit he shares with his partner — this morning it's a bath for the backyard in anticipation of warmer weather.
We discuss where on earth to buy Zataar (the couple are hosting a dinner for friends that evening) for a while, before moving on to his album. "So, an album!! A big deal!! I state the obvious. "Yes!" affirms Didirri. He leans back in his armchair. "I feel relieved. It's so nice to not have it to worry about, or wake up thinking about it incessantly in the middle of the night".
Didirri's mellow, mature songwriting makes for an immersive listen. His single 'Blind you', released in 2017, resulted in 75 million streams globally and ARIA award success. His first debut album, Caught in the Act, released on August 4th, is an 11 track, wide-ranging encounter with lessons, stories and introspections. He started recording the album in January 2021 after coming out of lockdown and feeling a renewed impulse for action. "I seemed to have a lot to say at the time," he ponders.
I ask him what kind of stories or messages he is hoping to impart on the record. "A lot of the songs" he tells me, "touch on change and the nature of living a finite life. There are some political points of view in there as well. After the January 6 riots in America, I wrote 'Under Falling Skies' which is really about the rich and the things you can't take with you after you die."
And how has the singer's writing changed over the years? "I've become less precious about my songwriting", says Didirri, decisively. "Not every song needs to reach an audience, some songs are just experiments or just playing around and that's fine. It's all part of the process."
The first song he ever wrote was about a break up. Didirri recalls an instance where he made his parents watch him perform it. I wince. He agrees: "They must have been patient!"
So what inspires Didirri to write music — other than break ups? He tells me he's most inspired to write when he listens to an album by an artist that blows him away. "It always sets my writing on fire". I point to the record player and stand that occupies a corner of his living room.
"I'm listening to 'Absolutely' by Dijon right now, he tells me. "It's incredible"
We move on to a discussion of songwriting techniques and tricks. "What advice would you give a fledgling songwriter?"
"Just write!" he says, with an emphatic arm wave. "It's a bizarre process and you can only really learn how to do it on your own. Experiment and play with words and melody. Try!! Ask yourself 'do I like this?' not  'would others like this?'"
Didirri grew up in Warrnambool, the son of a children's performer father and an artist and occupational therapist mother. Throughout his childhood he went to the nearby Port Fairy Folk Festival every year and listened to folk "almost exclusively". "I was obsessed with story in music from a young age". The singer moved to Melbourne from Warrnambool in 2012 to study jazz piano, but quickly realized: "I am no good at academia". I begin to protest. "And I haven't looked back" he says happily. "I love learning", he explains, but the "arbitrary nature of assignments never sat right".
Finally, I ask him which three musicians he'd invite over for dinner.
Didirri's answers come quickly. "Blake Mills, Johanna Newsom and Adrianne Lenker".
And what would he make?
"I'd probably make Vietnamese rice paper rolls because I love food that you have to build"
(I chuckle at the boyish justification). "And what would you talk about?"
Didirri answers:  "Death is probably one of my favorite topics, so probably that."
—
You may not be able to wrangle an invite to the death-themed dinner party, but you can listen to Caught in the Act here, and keep up with Didirri on instagram. Didirri will return home this October after an impressive run of global touring, for a 10-date headline Australian album tour kicking off October 5. In celebration of his debut album, the Caught In The Act Tour will span capital cities and regional towns throughout VIC, NSW, ACT and QLD, with Didirri enlisting a full band to bring the album to life. For ticketing info, head to didirri.com/shows.
Thu 5 Oct | Belgrave (Wurundjeri Land) | Sooki Lounge
Sat 7 Oct | Anglesea (Kuarka-Dorla) | Sound Doctor
Thu 12 Oct | Melbourne (Naarm)  | Howler
Fri 13 Oct | Castlemaine (Dja Dja Wurrung Land) | Theatre Royal
Fri 20 Oct | Brisbane (Meanjin) | Lefty's Music Hall
Sat 21 Oct | Sunshine Coast (Kabi Kabi) | Solbar
Thu 26 Oct | Canberra (Ngambri) | UC Hub
Fri 27 Oct | Newcastle (Mulumbinba) | King St Bandroom
Sat 28 Oct | Sydney (Eora) | Mary's Underground
Sun 29 Oct | Woollongong | La La Las