Interview by Iris Smith
Georgia Green is a social media star, author, and expert cake designer. She burst onto the scene in 2014 after designing a cake for Cara Delevingne, quickly earning the nickname "the Mary Berry for the younger generation."
After completing her studies at the prestigious Le Cordon Bleu, she delved into classical French patisserie, gaining invaluable insights into both the culinary arts and the business side of the industry. Her signature style as a modern British baker, grounded in classical patisserie training, exudes a homegrown charm while maintaining high-end quality. Her exceptional skills have garnered recognition from industry veterans like Lorraine Pascale.
Following her graduation from Le Cordon Bleu, Georgia honed her skills at various coffee shops in London. Customers soon affectionately dubbed her the "cake girl." By 2014, she had amassed a dedicated clientele seeking bespoke cake designs, leading her to establish Georgia's Cakes.
We had a chat with Georgia about her debut book, YouTube success and where to from here.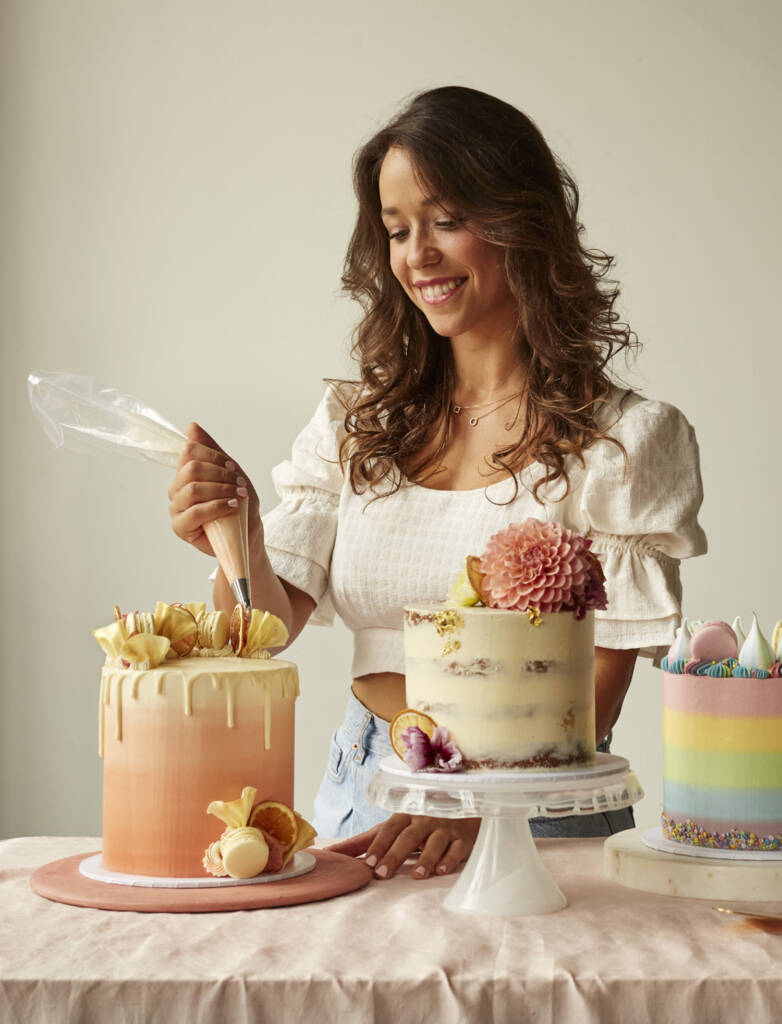 Your debut book 'Georgia's Cakes' has hit the shelves; can you tell us a bit about it and why there's nothing like it around?
Most baking books consist of pages and pages of different recipes with limited information on the actual decorating part. Cake decorating is a very specific and increasingly popular industry which is less about the recipes but more about the technique. Whilst my book does cover some of my signature recipes, the main purpose of the book is it provides a literal step-by-step guide on how to decorate cakes. From the way you should hold a palette knife, to the reason we use a turntable and until today, I haven't seen such a book on the shelves.
For those of us who don't know, what's the process of getting a book out?
Firstly, you need a written proposal. Something to sell the idea of your book – similar to a business pitch. Once you find an editor and publisher who believes in you and your concept (in my case Pavilion) you agree on a contract that covers an advance payment for you to write the book, what royalties you will receive once the book is out amongst other legal matters. The length of time that you have to write the book varies (mine was about 5 months if I remember correctly – I did a lot of writing for the proposal!), but once it's written it goes through various stages with an editor to get it perfect. You also have design meetings to develop your vision of how the book will look like, from the font that will be used to the style of photos. Once a photographer (if the book is to be illustrated in this way) is confirmed, the team will organise a photoshoot to take the relevant photos for the book, including the cover. After you receive the final digital layouts of the text and images, it's sent off to print and then it's about a 5-6 month wait until you receive the hard copy for the first time, which is usually before it's on the shelves at the stores. All in all, the whole process can take about 2 years!
How long have you been making and decorating cakes for and how did you decide it was the career for you?
I began my baking career after finishing my patisserie studies at Le Cordon Bleu ten years ago. I started off baking more generically for the cafe I worked in at the time, but over the course of a few months I started getting birthday cake requests from people I knew. Naturally, I pursued cake decorating as that's where my demand was and have ever looked back since. When I discovered baking and cake decorating, it made perfect sense to me as I have always been artistic but never knew exactly where I fit in in the art world. Cake decorating is my way to express my creative side, it's a bonus that it's edible too!
What advice would you give young people who are unsure of what career direction to take? 
I always felt that there was a lot of pressure to follow the "correct" career path, especially during school. Despite securing a place at university, I knew that a degree in architecture wasn't the right decision for me and I think that was the most important thing I had ever done – trusting my instincts. My advice is to understand that your career is not limited in any way. There are so many so-called alternative careers that can be pursued, find your passion and follow it!  
What are your thoughts about gender stereotyping in the food/chef/baking industry, is there much inequality and if so what can be done to close that gap?
I think that the food industry is very heavily male dominated. I do think it stems from the kitchen being a tough and physically demanding environment to work in. That being said, over the past few years especially as cake decorating has become more popular, women have started to dominate the scene. I think this also comes down to social media where in general, women are more active on it then men and feel comfortable sharing their work as well as learning from others. I myself feel that I can relate to other female bakers more than male ones (but that may just be me…!)
You have built up a large social media following. How are you navigating the changing world of YouTube and algorithms? 
I find that one of the biggest challenges is to keep up with the trends and chase the algorithms on social media. Just when I think I've got it, something changes. The way I upload content to platforms has drastically changed over the years, moving away from still photographs to short videos and reels, however, I have always stayed true to myself. I would never make something that doesn't feel natural to me just because a trend is proving to be popular. It's all about balance and finding my own natural rhythm with it.
What one piece of advice would you say to budding bakers starting out professionally? And what about home bakers wanting to try out cake building?
If you want to turn your hobby into a business, I think the best advice is be prepared to do a lot more than just baking. Running your own business requires a lot of admin, customer service and time spent on marketing yourself. I love my job and am grateful that I chose this career path, however I spend more time out of the kitchen than making cakes now! If you're already into baking and want to try cake decorating, remember it requires a lot of patience. It's a totally different skill set which may mean investing in new kitchen equipment specific to cake decorating and the most important thing…practise!!
You've baked for top a-listers, who would you like next on your list if you could pick anyone and why? 
I would absolutely love to make a cake for a member of the royal family. I would make it the most extravagant yet classy creation and it would be such an honour to present it!
What are your future plans? 
I don't like planning too far ahead of time because, as the past few years have proven, you never know what will happen tomorrow. However, I have always had a dream of owning a cafe of some sort so I would like to think that will happen in the near future! Until then I still enjoy creating content and teaching and hope to be able to travel more teaching people all over the world.