Writing by Nahomy Ortiz // Illustration by Billie Morris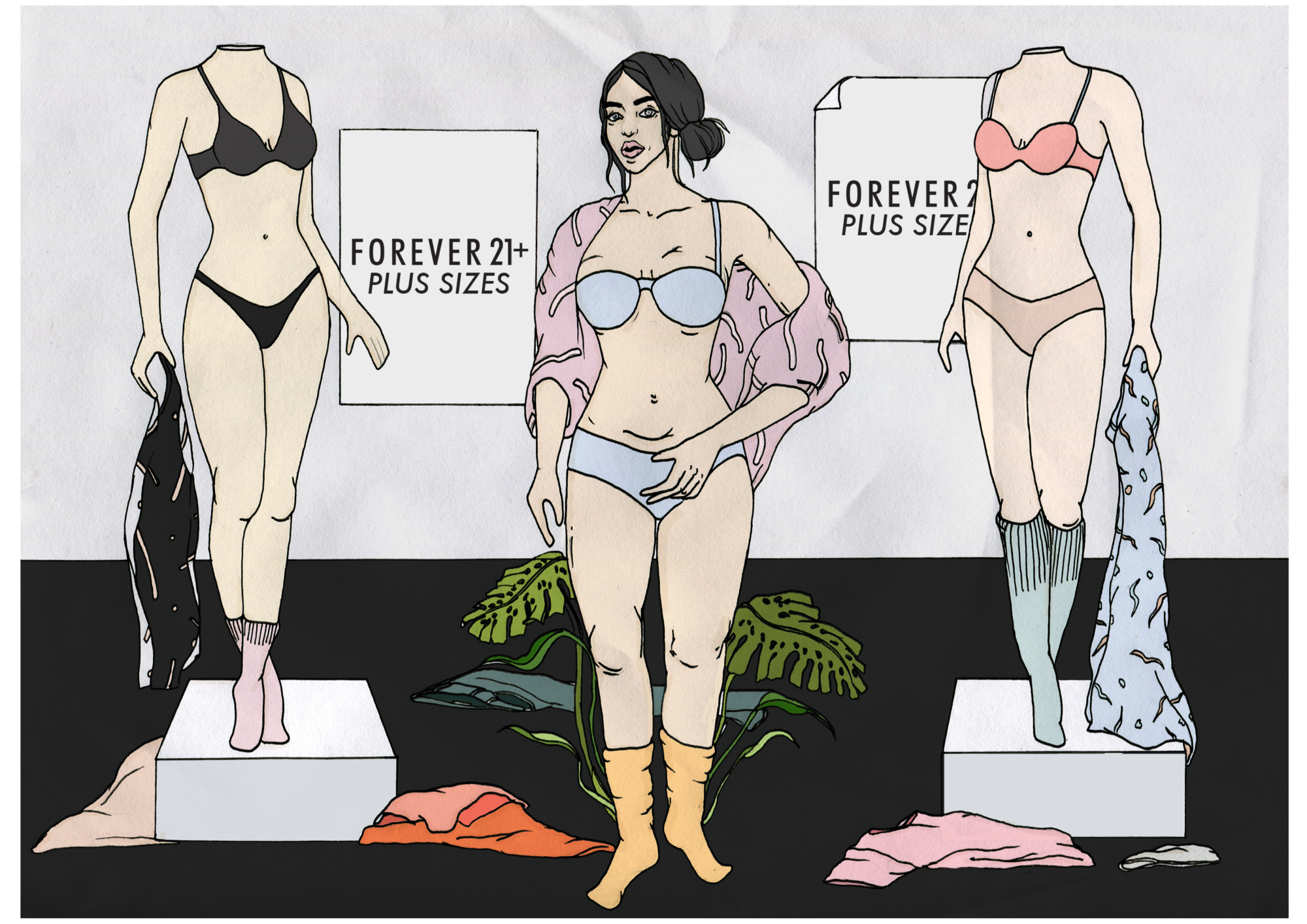 I'm not the skinniest of girls, but I still own a very large collection of crop tops which I wear with high waisted jeans, skirts, and shorts! And may I add, that I love wearing. When my favourite pair of high waisted jeans ripped, I decided to head to Forever 21 to purchase a new pair, as that was where I had bought the original pair over a year ago. But to my surprise, I could no longer shop in the normal junior section like I had previously. Although my size hadn't changed, I had to head over to the plus size section to find size 12 jeans, as the smallest size available in the junior section was now a 10.
While I'm still able to shop in the junior section for tops, apparently my waist and curves no longer fit what Forever 21 has determined "normal"–or whatever non-plus-size is meant to be.
I have shopped at numerous similar stores like H&M, Charlotte Russe, and Rue 21, none of which have considered me "plus size", but the one store whose brand is all about making clothes for youth (hence the name "Forever 21") had deemed 12 a plus size. I'm not entirely mad about this anymore, but it was astonishing to see how much clothing companies have changed their views to fit societies idealisation of normalisation of small sized clothing.
I have never seen the actual point of a plus size section. I strongly believe that clothing stores should not have different sections for different body types, but should instead just categorise and organise all of the sizes they stock in order. It doesn't help that the plus size section at Forever 21 isn't as neat or visually appealing as the junior section; the lack of care for upkeep makes it seem that larger-sized girls aren't as worthy as the smaller girls, which I found very disheartening. It feels like you are actually being looked down upon for shopping in the plus size section–and therein, for having a "larger than normal" body.
It was kind of disappointing to know that I can't shop for jeans in the same area as my older sister does, but it has also opened my eyes to realize that I'm not actually plus size and that these labels imposed by society don't matter. No matter your shape or size, you are one hundred percent beautiful inside and out.
[share]