Interview of Ngaiire by Molly McKew // I tell Ngaiire about the first time I saw her perform in 2010. I remember being enamoured by her meandering vocals and enthralled by her elaborate aesthetics.
Interview of Ngaiire by Molly McKew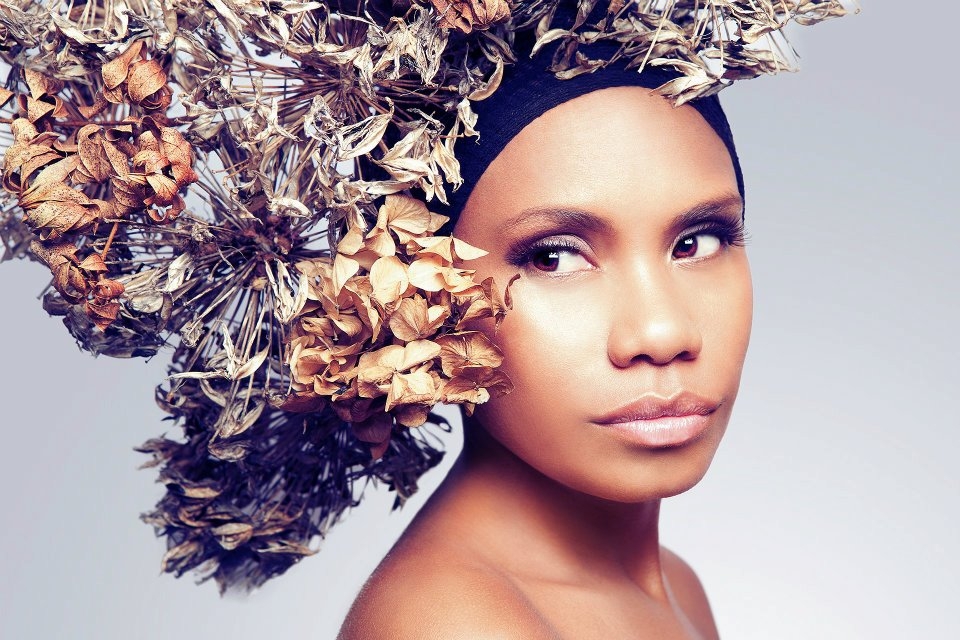 I meet Ngaiire and her manager in a city cafe on a frosty Saturday morning. Her manager keeps his sunglasses on while we make our introductions and promises to stay quiet while he eats "breakfast pasta" (it differs from normal pasta only in that it's eaten in the morning). Ngaiire is all red lipstick and wide smiles, but seems worn out. "This is the second of 6 interviews I have had today", she tells me when quizzed on her exhaustive tour schedule. I wait for my cappuccino as they tuck in to their respective breakfasts while we chat about the upcoming tour and the inventive musicianship that has led to the singers success.
Ngaiire released her first album, Lamentations, in 2013, and it straight away received critical acclaim. The singer soon could be seen on the line up of the big national and international festivals, a highlight being Glastonbury 2014, where she played alongside Metallica, Lily Allen, the Black Keys and a host of other international acts. Her genre-bending neo-soul was a much needed fresh sound, and since then Ngaiire has become one of Australia's most watchable and dynamic soul vocalists. After recently releasing her second studio album, Blastoma, named after the rare cancer she had as a child, she is commencing her first national tour since 2013.
I eagerly go straight for the obvious first question: how did Ngaiire actually get her big break? To my delight, I learn that Ngaiire was a contestant on the very first series of Australian Idol. Urged on by her uni lecturer, Ngaiire was excited. "It was a new thing for Australia at the time and everyone was around it". She made the top 13 on the program after an impassioned a cappella performance of the Indie Arie song Back to the Middle, but was voted out soon after. Spotted on the show by Carlos, he immediately said to bandmate Matt, "we are going to work with that girl one day". They rung Ngaiire at her call centre job where she worked flogging off bottles of wine and asked her to tour with them in Japan. She quit her job immediately, and soon was the third backing vocalist for the roots reggae band Blue King Brown, a gig which kick started a fruitful friendship with bass player and band manager, Carlos.
"When I toured with him he was really good at helping me and the other singer in the band figure out what we really wanted to do with our stuff and how to sustain ourselves as independent musicians. He mentored me to this point, for 15 years now".
Ngaiire eventually left the band to pursue her own projects with the support of initiatives like the Seed, a grants and mentorship program founded by John Butler and his wife Danielle Caruana (aka ukulele wielding songwriter Mama Kin). Ngaiire describes her as a "firecracker". "Its great to have a female role model like that, it helped me figure out what I wanted to do and gave me power within myself to do my own thing". It was really important, says Ngaiire, to surround herself with people that supported her in going at her own pace, rather than popping her on the hamster wheel of producing, producing, producing.
Ngaiire was not necessarily always going to follow a musical path. "I never really sang in front of people [as a child] –  it was more something I did for myself. I was going through a lot of things as a kid at the time so it was just a bit of an emotional outlet". Ngaiire spent much of her childhood in Papua New Guinea, where pursuing music professionally was more of a luxury than a viable career choice. "My mum said to me: 'you can't do this, you can't make any money off doing this', which wasn't untrue, as we were living in Papua New Guinea at the time and the music industry there is non-existent."
She kept her singing to herself for most of her teen years, until her mum first heard her sing at school assembly in her penultimate year of high school. "Mum was like OK I get it now. You can pursue music, but only if you take a science subject." Since then, Ngaiire's mother has been 100% a cheerleader for the singer. "She has been incredibly supportive .. out of my three siblings my parents have sacrificed a lot for me to get me to this place".
I tell Ngaiire about the first time I saw her perform in 2010. I remember being enamoured by her meandering vocals and enthralled by her elaborate aesthetics. Ngaiire is well known for her theatrical head-dresses, which are often tropically inspired.
"I think [dressing up] was always quite natural for me because people in Papua New Guinea are very colourful" says Ngaiire. "Some of the costumes are ridiculous, so I grew up around that". As it turns out, Ngaiire's mum is quite the costume aficionado. "My mum was into costumes in a big way, so we won every single costume competition at school… she's very creative, so I think I grew up enjoying the act of dressing up". Ngaiire is inspired by the words of the late Amy Winehouse: "the higher my hair, the better I perform".
Since her first album in 2013, Ngaiire's sound has evolved into a more spacey, electronic brand of soul. I ask the singer what kind of dress her music would be if it were a dress. "Gosh", she says. She is taken aback. "That's a hard question…I think it would be some kind of eclectic piece, definitely would be colourful… I would love a dress that could transform … that just kind of morphed into something else as you wore it".
To finish off the interview, and thinking of the average Ramona readership, I ask her: "what would you tell a 15 year old seeking inspiration to listen to?"
"I would never tell anyone to listen to my songs!" She straight away protests at the suggestion.
"Right now, I would probably tell them to listen to St Vincent, as a contemporary artist. In terms of old school artists, there are so many… When I was 15 I was listening to Jeff Buckley, a bit of Aretha [Franklin] and Donny Hathaway. The fact that I can still listen to Donny now is incredible when you think about how long his music has been around. It's timeless … I feel everything when I listen".