Writing by Freya Madders // Illustration by Franz Lang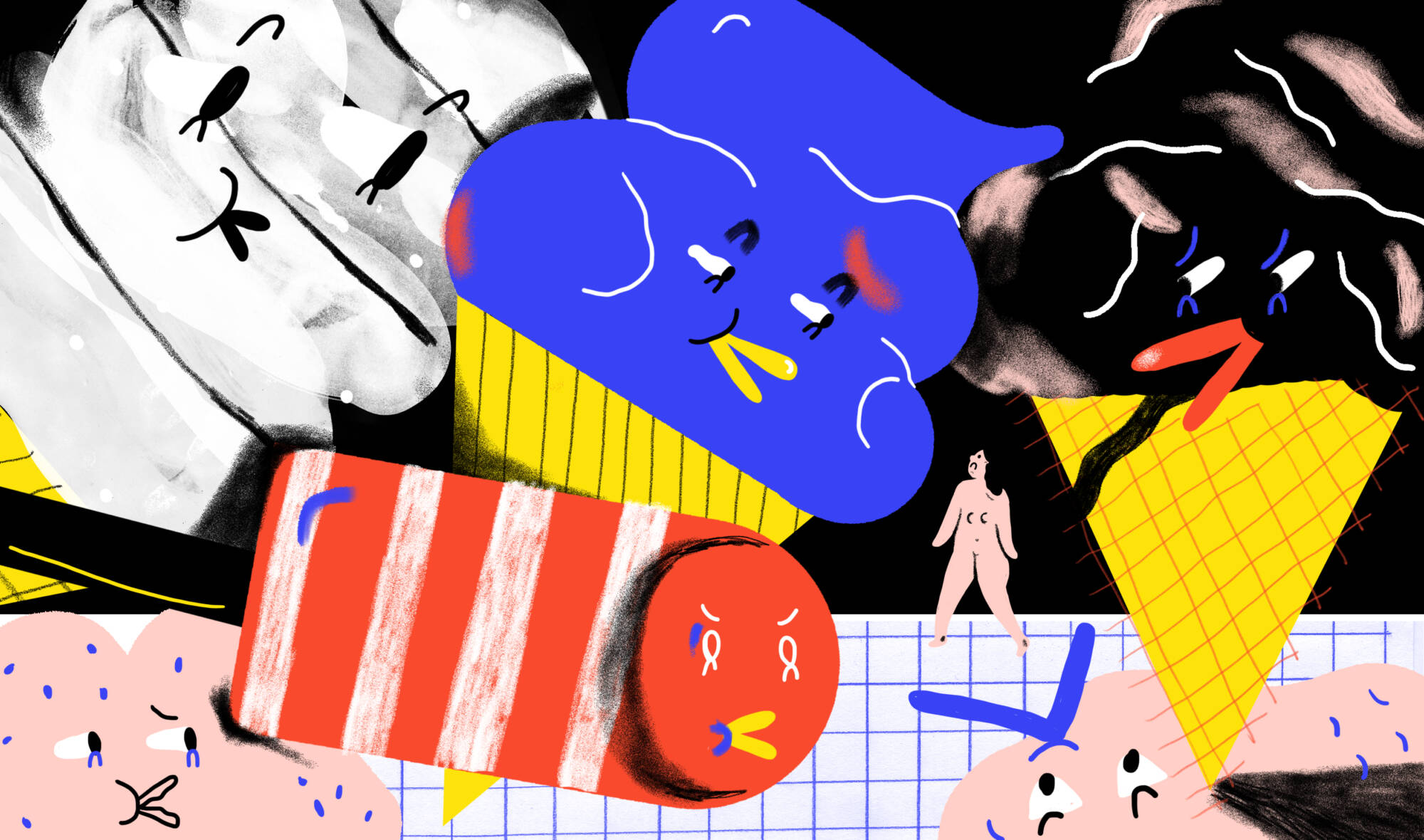 On the 4th of July, Mum, Dad and I packed ourselves into the car and headed down to Geelong to face Day 1 of the forty -day program.
The first day was more intense that I ever could have imagined. The moment I got there, a lovely patient passed by the lounge where my parents and I were waiting. She was so welcoming, friendly, kind and spoke of the program in the highest regard. I became very close with this patient throughout my stay. She was in the room opposite me and I looked up to her as an older sister during my time there. She told me about her story, having struggled for 10 years with her illness and how far she's come. She could tell whenever I was really struggling and feeling overwhelmed and she would come and talk to me. I felt like I could really trust her and having someone like this made such a difference to my clinical experience. But she also made me realise how important it is to get better now, at 19, with my life still in front of me. I can't be in here in 10 years.
After my brief encounter with this patient, I was then fetched by two nurses who showed me to my room. They unpacked my bag, checking to see if I had brought anything they regarded as unsafe. This was very confronting: they took my hot water bottle, my hair dryer, my tweezers and anything made of glass. They then asked me very confronting questions: if I'd ever had suicidal thoughts, if I'd ever self-harmed, if I'd ever purged. Getting a patient wristband solidified my worst fears: I was now a patient in a psychiatric hospital.
Every day there was traumatic in different ways. The food was overwhelming, both in the amount and the type. They made us try a variety of foods and I had difficulty coping with every meal or snack. As we had three meals and three snacks a day, it was mentally exhausting fighting the constant thoughts all day long and trying to remain calm. I didn't always succeed – there were multiple times where I would cry and nothing would be able to stop me, I would call Dad unable to talk, lying on the floor in my room thinking it was all too much and I couldn't last another minute. I packed and unpacked my bag to leave several times throughout my stay. But Dad has always had this extraordinary ability to calm me down and help me see the bigger picture. He helps me to rationalise my thoughts, he challenges my eating disorder and he always triumphs over it. Mum has always been incredible too. She makes me laugh, telling my eating disorder to F*** OFF and reminds me of all my hopes and dreams that I can achieve if I beat this.
Not only was the food a huge challenge, but we had multiple group sessions throughout the week that could also be confronting. There are only ever eight patients in the ward at any one time and the groups throughout the week were mandatory for all of us. We went through hand-outs with the psychologist, such as writing letters to our eating disorder as though it was an old friend and would then share our ideas and experiences with each other. We would have group learning about food, nutrition, digestion, physical changes within the body and changes within the brain that lead to irrational thoughts and body dysmorphia.We also took part in Art, Music and Movement therapy.
It was strange that I felt like such a failure and so terrible about myself after eating anything, yet the people who loved and cared for me would always tell me they were proud of me and that I showed courage and bravery for doing so. No matter how often they told me this, all I felt was weak and lazy.
Visiting hours during the week were tough for everyone but my closest friends all drove down from Melbourne to Geelong in peak traffic every week to see me. Mum and dad rented a house at Ocean Grove to be nearby. Weekends were more relaxed with visiting hours and I occasionally got granted permission by the doctors to leave and go to Ocean Grove for the afternoon with my family and friends.
I fought hard during the program, I tried to trust the people here and have confidence that they were trying to help and not harm me. They were trying to get me well and allow me to live a life free of an eating disorder. But although their support was commendable and I tried to listen, my eating disorder continued to overwhelm me. I would wake up early, keep my bedroom lights off and the blind closed, and exercise in the pyjamas in the dark. I couldn't help it. I felt obliged. There was a bully inside my head telling me all day, "You need to compensate. You are lazy. You need to exercise."
One day one of the nurses approached me and it was as if she had a sixth sense. I could tell the whole day she'd been watching me intently and that night she came up to me and hit a nerve inside me. She told me that she could tell I was struggling, she said she could see that I'd become very good as creating a façade and pretending that everything's okay when inside there are demons eating me up. She told me that she knows how insidious eating disorders can be, and that if I really want to get rid of it, I have to challenge it and I have to make the most of the opportunity I have here to get better. She told me that there's no point being here if I'm going to cheat the program.
In my personal experience, and I'm sure many others with eating disorders can relate, comparison has always been a huge problem for me. I compare myself to others around me as well as my past self. However, as I learnt in psychological sessions, I would only compare myself to people who I perceived as better than me, or things that I'd achieved in the past that I felt I never could do again. It was always negative. It was a way to further diminish my self confidence. As I would walk down the street, without even realising it, I would compare to the woman on the other side of the street and think, "Her legs are thinner than mine," and for some reason this correlating with the thought that, "She's better than me." At school, I was the same. When my VCE ATAR result came out and I opened the dreaded text message that morning, I was so happy. However, by the end of the day, having heard of all the outstanding achievement surrounding me, I felt like a failure. I didn't even acknowledge people who had gotten a lower score, all I compared myself too were the people who had been higher than me and therefore better.  Everyone around me seemed better. Thinner, smarter, fitter, prettier, funnier…. I was never good enough and never met my own expectations. I felt like a mouse running on a wheel and as if I was constantly going around in circles and never getting anywhere. Because that's the nature of this illness. It never allows you to feel satisfied, you always have to keep fuelling it and obeying it and until these ingrained behaviours stop, they never go away.
One night whilst in the clinic, after having a particularly hard day, Dad sent me a text saying, "I think you're very brave." I thought he was being ridiculous. How am I brave? For eating a scone? Because I cried for a good hour afterwards about it.
My eating disorder wouldn't allow me to see that what I was doing was brave. That this was just as much a battle as anything. I was fighting against an enemy, against something that had taken over my life and obtained all power over me. I wanted the power back. I wanted control of my life. This eating disorder is unforgiving. It shouts abuse at you. "You're bad! This is bad! Stop right now! You're going to get fat! Eat this, not that, exercise right now, before breakfast, hide that piece of food."
With every morsel of strength, every day throughout recovery, I would fight this enemy. At every meal and snack that I ate, my eating disorder would speak through a megaphone shouting, "NO! Don't eat that! You'll get fat!" but I had keep fighting back. I had to find that small part of myself that actually wanted to get better and say, "No, you're wrong. I need to eat this because I need to restore weight. With every bite I take, I get closer to getting my life back." Over and over again, day after day. Even though I didn't believe it, I said it to myself anyway. I kept on repeating it.
I finally woke up one day and realised – my family, the most supporting, compassionate and caring family anyone could ask for, my mum, dad and two older brothers, the four people that loved me more than anyone in the world ever could, rejoiced when I would restore weight one week and would genuinely smile when they saw me eating a bowl of pasta. And they would be distraught when I had lost weight. It became clearer the more I learnt about my illness that food had never been the enemy – the disorder had. It has stopped me from doing all the things in life that I loved – spending time with my family and friends, studying and learning, exercising, travelling, working, laughing, smiling. My illness had made me a sad, guilt-ridden, fearful person who is terrified of leaving my health and exercise-obsessed world.
During recovery, I constantly feel like a failure and that nothing I have done was ever good enough. If I restore weight, I feel bad because I feel fat. If I lose weight, I feel bad because everyone is so disappointed in me. I remember when Dad, my constant rock throughout this whole process, said to me one night that he honestly has never once doubted that we, as a whole family, would beat this and I would live my life, rid of this debilitation. He had never said that to me before so plainly and it gave me hope but also made me realise how deflated I can be sometimes. I can completely give up on believing in myself, that I am able of finding the strength to get better, that I could fight and continue to fight everyday until I was over this mountain. I told him that more and more I was losing any morsel of strength that remained within me as it all seemed to be taking too long. I was becoming so impatient and I just wanted to click a button and be better. I was worn out by the process.
[share]