Interview of Hannah Driscoll by Freya Bennett // I find it really important to educate myself on the inequalities that exist and to then actively cultivate peace and do what I can on my part.
Interview of Hannah Driscoll by Freya Bennett
Hi Hannah, how are you?
Hi Ramona, I'm really good thank you.
Where do you call home?
London.
Tell us a little bit about yourself:
To put a label on myself (or many), I am a queer, vegan, mixed-race Muslim studying graphic design. I spend most of my time reading, designing, observing and being in nature. My energy is mainly focused towards spirituality, feminism, unity and my purpose. I find it really important to educate myself on the inequalities that exist and to then actively cultivate peace and do what I can on my part. I cherish every single day given to me and strive to be all that I came here to be; to do all things in love and make a difference in this world.
You're newly 20, how do you feel about entering adulthood?
I feel serene and joyful. There has been a huge shift in me since turning 20. I feel as though everything has aligned and is presenting itself to me in the most delightful ways.
What did you love about your teen years?
I love how my teen self was so enthralled by the zeitgeist of 'coming of age'. My nights were envisaged with kaleidoscope adventures and dreams of very American themed teen years. I had a lot of expectations as to what I was supposed to experience in my teens, and those were characterised by a dreamy, magical sense of possibility. I think PEACE's album In Love holds that sweet, electrical air of wonder that I carried with me. I am very grateful for all the experiences. The reckless, and rather selfish choices I made because they all set the foundation for the peace and honesty I live in now.
What did you find difficult?
Relating to people. Since my family has remained settled my entire life I have been in the same area, around similar groups of people for all of my teen years. And for whatever reason, most of these people did not share the same views and interests as me. I did make several wonderful friends who I'm so glad I found — they were gems, but I think not having a community really affects me. When I ventured into different parts of London I certainly felt that I could relate more to these bold, expressive young people I saw. But generally not being surrounded and uplifted by people with similar interests and views of the world gave me little inspiration and passion towards anything, which I think is why it took me a little longer to find my love of graphic design.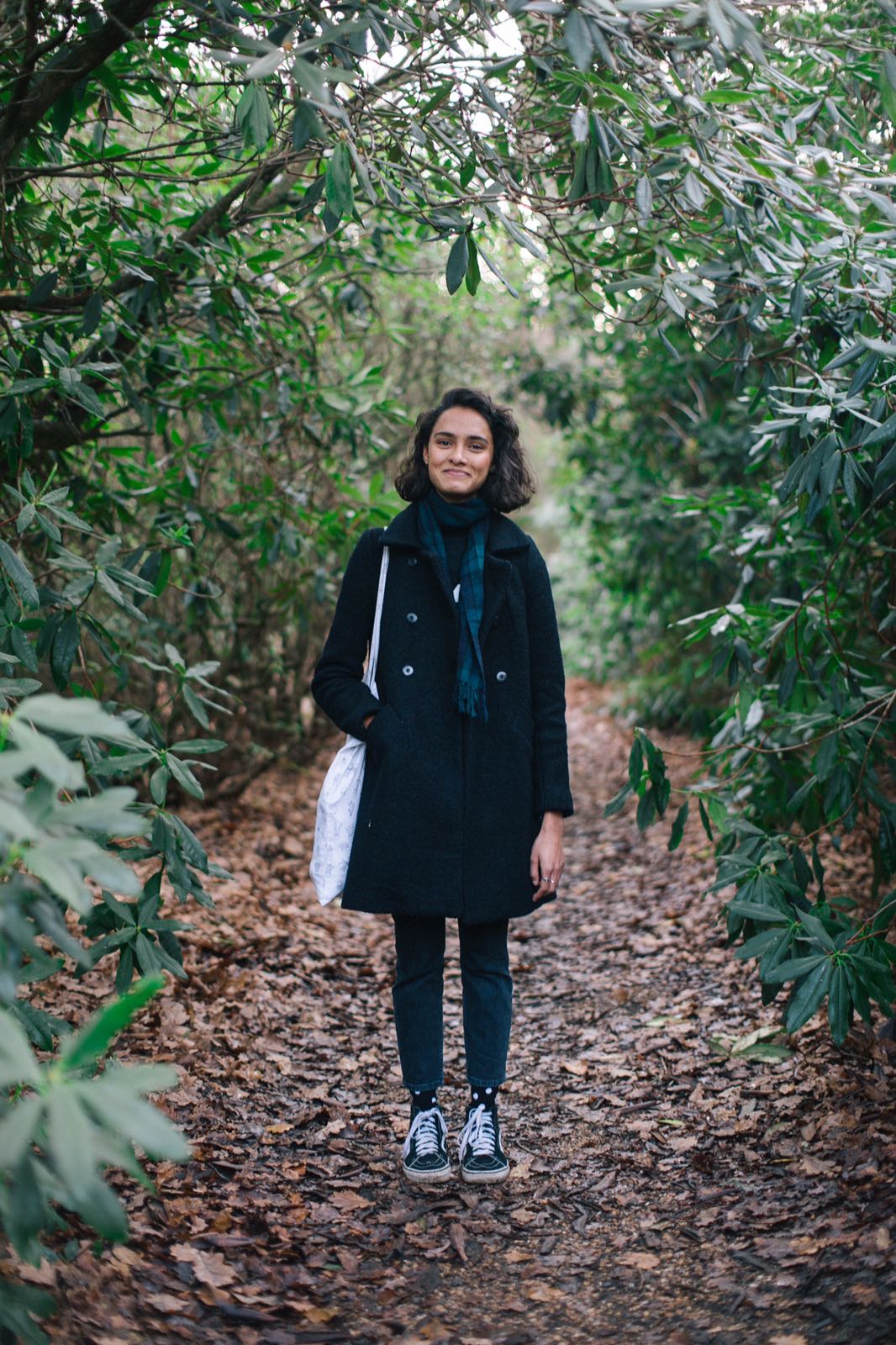 Tell us a little bit about what you're passionate about:
I am passionate about connection; to one's self, this vast family on earth and to all that is. To living in the most honest, pure way that is in connection to the divine, and connecting with others who only want to bring others up and live in this stream of love and truth. I want others to realise how powerful it is to connect back to ourselves and to feel how much power we hold. Urgyen Sangharakshita, a Buddhist teacher and writer said: "Awareness is revolutionary". For me, this applies to awareness of our purpose and the reality that we are all one. We all gotta start from within. So many people are doing good because they know what matters and have cultivated love for themselves which has allowed them to love others!
In terms of 'work', I am so grateful that my love for design also feeds into this. Learning more about myself every single day guides me to my purpose of learning and growing with everyone. And I know that one of the ways I am supposed to connect and bring people together is through creative activism, alike to craftivism by Sarah Corbett (which is a gentle form of protest that uses art to bring change) such as using print as it is very much an instrument of social change. Though craftivism specifically involves the method of craft and needlework as the method of creating, I relate to it on my own terms and I use my design skills to do such.
What is your dream career?
To design and publish spiritual, feminist zines/magazines. I love print and think it is so powerful. Its tactile, physical presence is so pure. It encourages reading uninterruptedly and gives one time to oneself, which as Proust (1989) said produces "that fruitful miracle of a communication in the midst of solitude." It creates connection but gives you space to be with it in your own way.
I would also love to design my own cards and prints as I love hand lettering and patterns. Overall, I want to use my skills and abilities to both gently and powerfully create social and political change, for a more accepting, compassionate and loving world.
Where do you see yourself in 5 years?
Wherever the universe takes me, I see myself flowing, living in truth, sharing, connecting, creating, and uplifting.
If you could have a porthole to anywhere in the world, where would it go?
Somewhere not taken and destroyed by human beings. Somewhere to silently observe nature and animals and just be.
Why is intersectional feminism so important?
I think that Sisters Uncut, a feminist direct-action collective that fights for domestic survivors rights, perfectly sum up why intersectionality is so important:
"our activity against sexism is not going to be effective if we don't also fight the other forms of oppression and exploitation that reinforce, interact with, shape and are shaped by sexism and misogyny."
They really recognise how one's experience of being a woman is continually affected by individual social, political and cultural factors. All women are unique and so fricking special. We must value and listen to one another in order to understand whether we are all progressing as one. Fundamentally, whether we are 'freeing and unchaining ourselves together', as Rebecca Campbell in Rise Sister Rise says in sharing how women are supposed to support one another and we have got to, to balance out the stagnant masculine energy present in patriarchy.
Intersectional feminism brings us all together and ultimately sees that there is no single 'woman' to be freed. We all experience oppression in many different ways and intensities, but it all stems from the same root. As it is, we are all connected so must the approach in de-weeding and restoring peace, justice and balance to the world. We all have an integral part to play and we are all the keys to freeing ourselves.