Interview of Overcoats by Sophie Pellegrini // Review by Molly McKew
YOUNG, the debut album from female duo Overcoats, is a rich offering from the East Coast-based band, who since their first bedroom jams at Wesleyan College have achieved success across the US and UK. The electro pop-soul duo get the most out of their velvet voices in their first album, which utilises synth-pop vibes, ethereal beats, and good old fashioned hooky songwriting to create an incredibly listenable piece. The pop elements shine, with intimate vocals reminiscent of NZs indie pop princess Lorde — particularly in the spacious and ebbing "Fog," a track about an energy-sucking relationship ("freedom, is when I'm without you," soars the chorus). Throughout the album the harmonies are perfection itself, with the two voices blending as if they have been together since the womb. The opening track, "Father," is an outstanding example of this, harmonies and vocal effects woven together to create a suspenseful intro to the album.YOUNG also features some standout upbeat tracks which couple together catchy songwriting with the momentum of pumping electro breaks — "Leave the Light On" is one I would definitely keep those lights on all night for.YOUNG is on the whole energising, but with some mellow and more nurturing moments. The songwriting speaks candidly of love, growth, and memory, which makes you feel as if you are hanging with your most understanding and positive of gal pals. This is an impressive first album offering from a talented duo — a perfect musical hug and endorphin lift for a rainy day.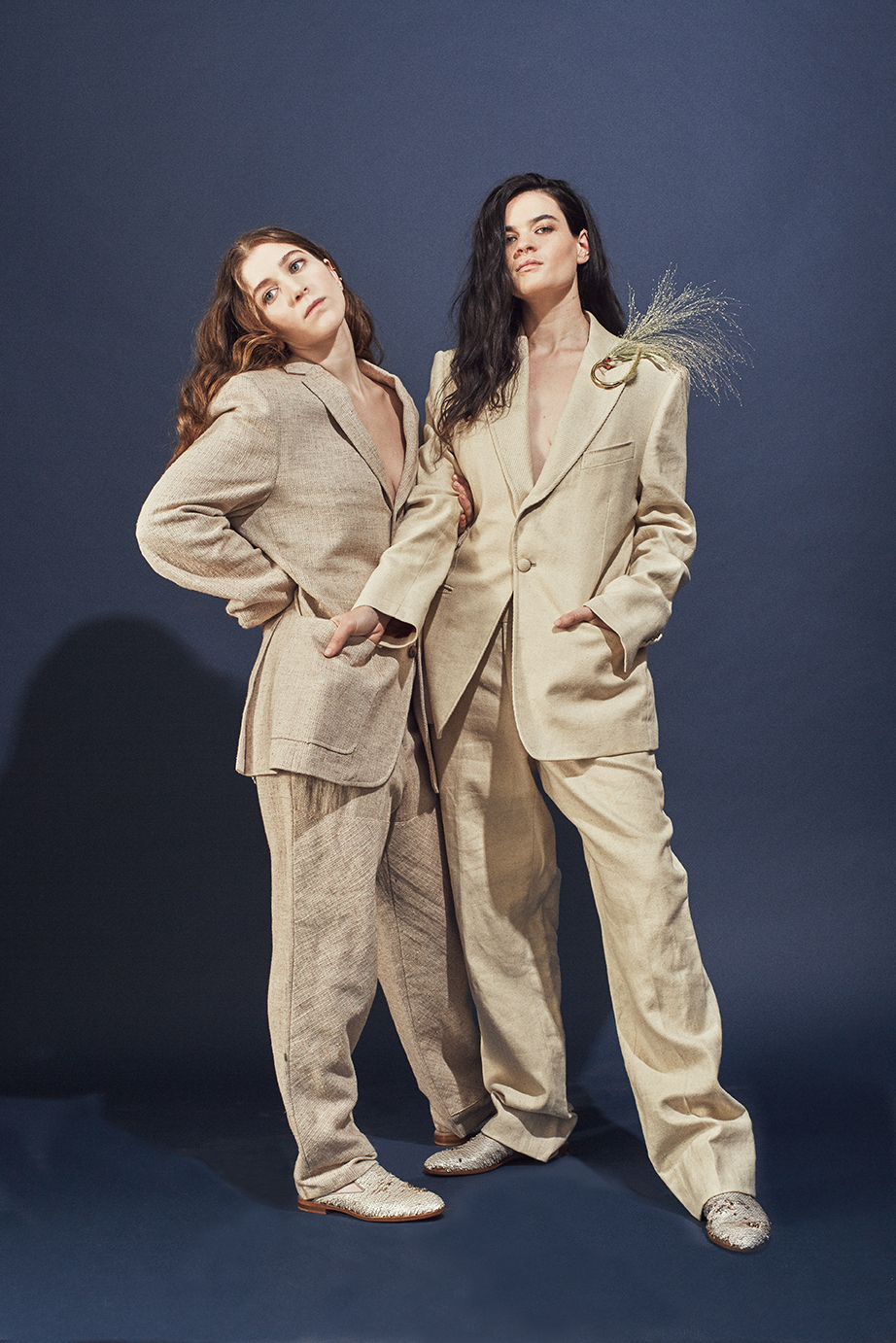 Hi Hana and JJ! How are you?
Hana: Hey! We're great, thanks.
JJ: Thanks so much for talking to us!
So much has happened for Overcoats in the past year! Can you give us a highlights reel of what you've been up to?
H: Wow, where to begin…in the summer/fall, we got the opportunity to make our debut album. It was an amazing experience that we've been working up towards for about 2 years — we feel so excited to have a body of work to release out to the world.
J: We've also been doing a lot of touring! This year, we went on tour supporting Tennis and Maggie Rogers, played SXSW, and now we're heading out on our headline tour for our album.
There's been so much amazing press and high-profile performances, from NPR to NYLON! What's that been like?!
H: It's been a surreal experience. It was always my dream to play a Tiny Desk concert, so seeing that come out was so special to me.
J: We're so lucky to have such a great team of people working with us and setting up these performances — it's been so much fun.
Congrats on releasing your debut album! What was the process like of putting this album together? What's your work process like? 
J: Thank you! We've been writing these songs since we started playing together; the first song we ever wrote together [Little Memory] is on the record, as are songs that were written right before we got into the studio. We work completely equally, and often trade roles: sometimes, Hana brings in a lyric, and then I think of a melody, and then she thinks of a piano part, sometimes it's the other way around.
H: It's really fun for us to switch things around because it always creates a new product!
Do you have a favorite track from the album?
H: Wow…that's a tough one. I really love them all. Recently, "Kai's Song" has been feeling true to my life right now. I also love "23."
J: I love the intro and outro, "Father" and "Mother". Also love "Siren." But we love them all!
What have you learned since we last interviewed you last year?
J: This past year was one of the hardest and yet most exciting years of our lives. We learned so much about the music industry, about self-care, being away from home, performing live, so many things.
H: Yeah it was a year of growth. And with it came growing pains.
As you mentioned earlier, you recently finished supporting on one tour and now you're starting in on your headline tour alongside the release of YOUNG! What's your favorite thing about touring?
H: My favorite thing is performing for a new crowd every night and having the chance to connect with folks from all walks of life. Each night we're challenging ourselves to give more and more, sing louder, dance harder. It's a catharsis for JJ and me and hopefully a catharsis for all those in the crowd too.
J: I agree, the stage is now such a comfort zone for us, it feels so right. I also love going to a new city everyday. I'm seeing parts of the country that I've never been to before, and perhaps wouldn't have the chance to visit otherwise. We have such a wonderful team and are surrounded by great people..the nomadic lifestyle becomes an adventure.
Any pre-show rituals?
H: We try to copy Teyanna Taylor in the video for "Fade"… it's rather embarrassing.
J: Yeah it's quite ridiculous, we pump up as if we're about to go DJ a dubstep set and then we get on stage and sing sad songs about our feelings. It's great.
What are your hopes and dreams for Overcoats over the next year?
J: It's our dream to learn how to do a back handspring and run on stage like that.
H: No but really. We'd love for YOUNG to reach a lot of ears and for it to make a difference in people's lives.
J: We want to tour the shit out of this album, meet a lot of listeners out there…and start working on album number 2!
And finally, how can our readers get their hands (or rather, ears) on YOUNG?!
J: You can get a hold of YOUNG on all streaming platforms as well as purchase it on iTunes, amazon, and bandcamp. The digital download is available as well as CDs and Vinyls through the Arts & Crafts website.
H: The full album is streaming on Spotify now too!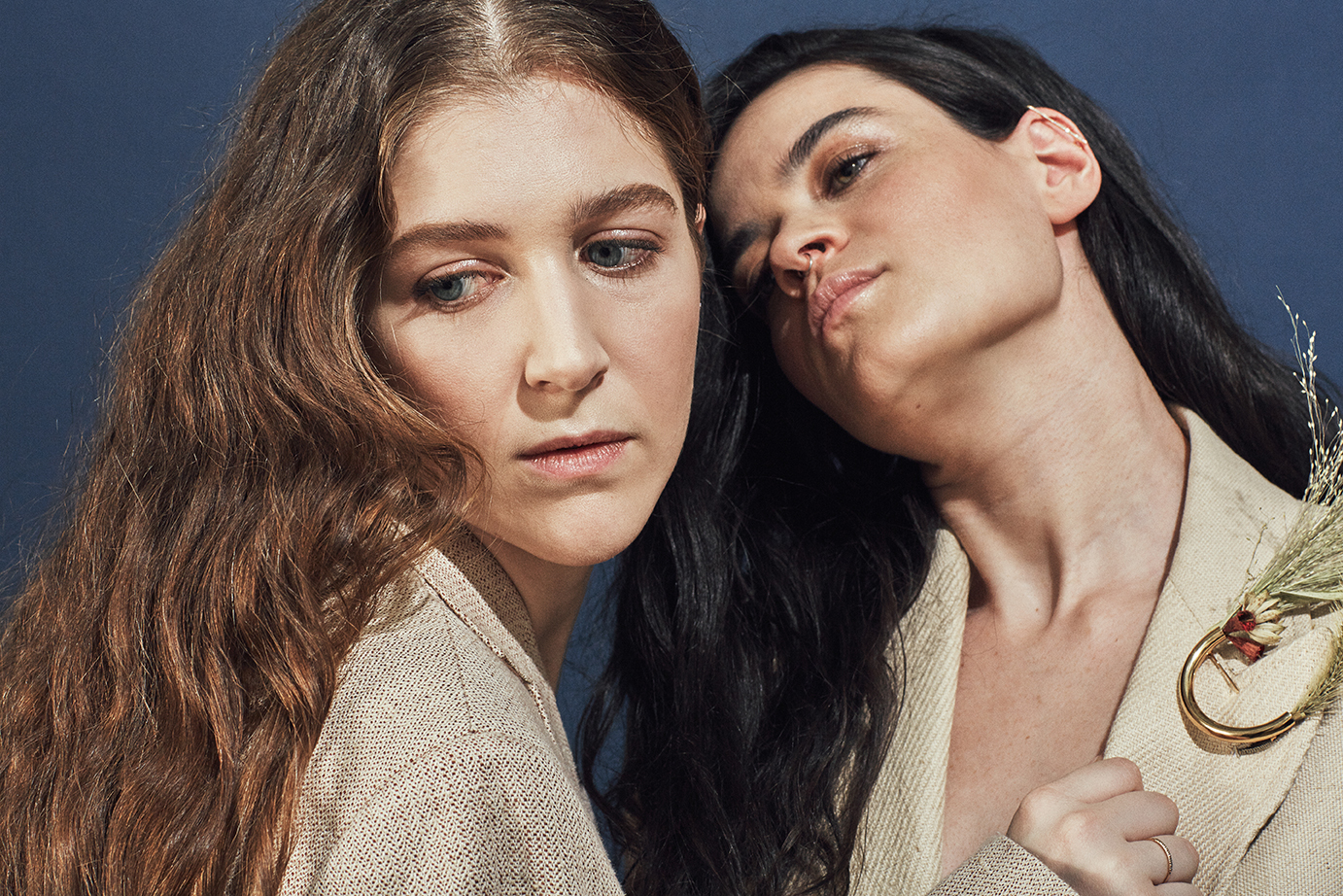 [share]