Interview of Katherine Hymer by Astrid Hickey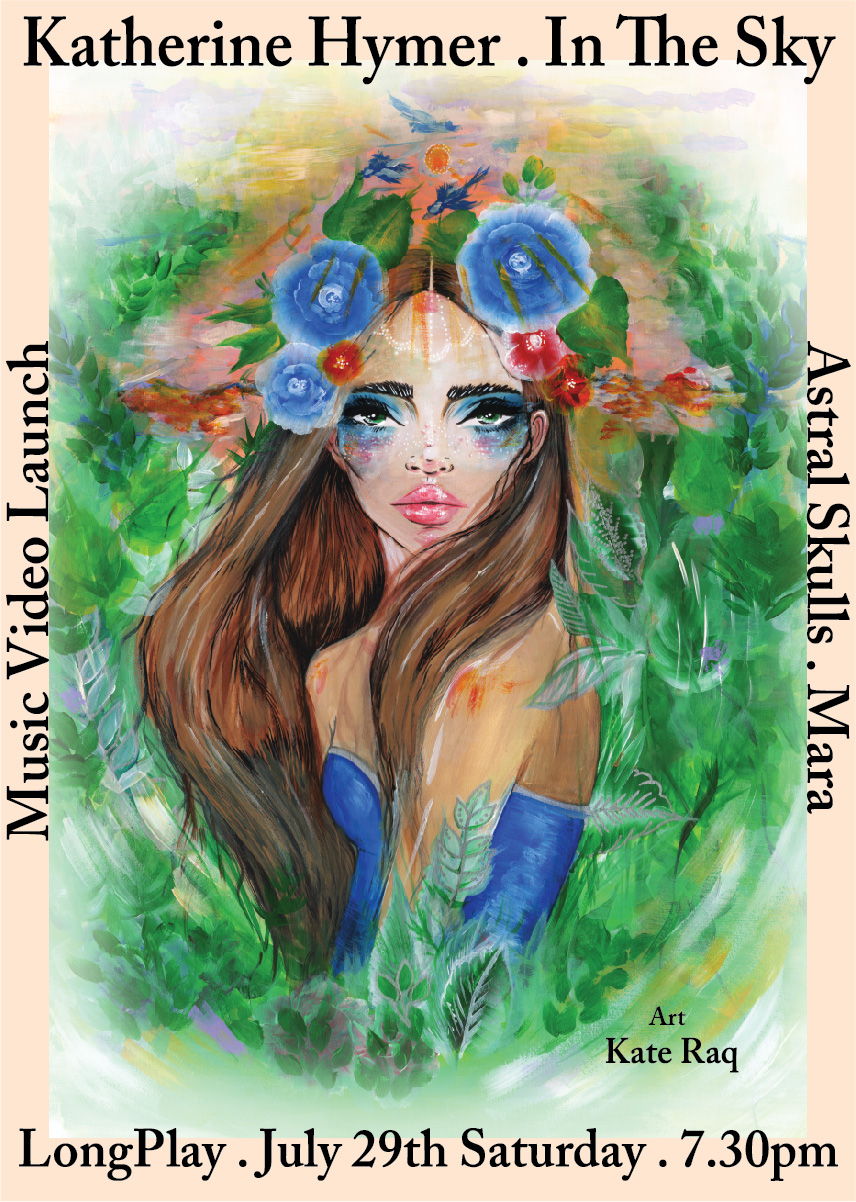 Hi Katherine! How's your day been?
Good so far, thank-you.
Can you tell us a bit about your upcoming video launch and the reason behind its unique location?
The next event will be an audio-visual show held at Melbourne's underground cinema/bar LongPlay in Fitzroy North. The show will be a celebration for the music video release of my new single, In The Sky.
I chose this space as I wanted to exhibit the music video, but I also wanted to orchestrate both visuals and audio to create an immersive experience for audiences.
The music video for your new track, In the Sky has such an abstract, dreamlike quality. What inspired the visuals?
The song and video's theme is escapism.
For the video, I wanted to create a beautiful dreamland where the audience is invited to watch 'a day in the life of a fairy'. In the video, she wanders through a forest, visits a little creek, and at night time she dances in a fairy circle, occasionally flirting with the camera and enticing the audience to join her. But the dreamland is interrupted by flashes of 'horror' throughout, reminding audiences that they cannot live in the dreamland, or ever truly escape the horrors of reality.
What are some of the things that help you to come up with songwriting ideas?
The pursuit of trying to capture something; a sentiment, a feeling, a sound, a concept.
You were originally trained as a classical pianist; how did your musical style develop into the dark, theatrical sound it is today?
My love for both classical and alternative music results in the amalgamation that is my work. I recognise that the two aren't so different from one another. I have always been drawn to passionate music, and passion is abundant in both genres. I think it is important to draw from a wealth of inspiration sources to find your own artistic expression.
Which other artists have inspired your musical style, and why?
Classical composers, especially Romantic, such as Chopin, Mendelssohn, Tchaikovsky as well as contemporary artists including Electric Light Orchestra, Pink Floyd, David Bowie, Nick Cave and The Bad Seeds, The Dresden Dolls, Amanda Palmer, Muse, Radiohead, The Dø, and Trentemøller– to name a few.
It feels good to listen to their music, it's greatly inspiring. Music has to feel good.
If you hadn't chosen to pursue a musical career what do you think you would be doing now?
I am pursuing a musical career as well as studying law. The two complement each other as the theoretical framework allows me to examine the struggles of power that pervade our society. I also like that the law is highly theatrical with its symbolism, tradition and performance.
What does being female in the alternative music scene mean to you?
For me, being a female is greatly empowering and I truly love being a woman. As a female artist, I believe that as long as there is inequality, we need to celebrate female artists and give them an opportunity to showcase their work. I hope that we, as a music community and society at large, can arrive at a point where gender is no longer an advantage; the priority is and should always be the quality of the art and music produced, regardless of gender.
Do you have any advice for young females wanting to start a career in music?
I feel I am very much at the start myself, so I am not sure if I have the authority to answer this question… But the advice I follow is this; what you create must have integrity.
Finally, if you could invite any 5 people to dinner who would they be?
Frédéric Chopin
David Bowie
Nick Cave
Leonard Nimoy
Amanda Palmer
In The Sky hits LongPlay cinema/bar this Saturday July 29th, with special guests Astral Skulls + Mara
Doors open 7pm
Bookings here
View show trailer here
Follow Katherine Hymer on Facebook, Instagram and SoundCloud
[share]