Interview of Alanna and Alicia by Molly McKew // Twins Alanna and Alicia Egan have been singing together since they could barely utter the word 'folk', and have four studio albums under their belt. Their jazz/folk songwriting laced with beautiful harmonies have charmed audience members at folk festivals all over Australia.
Interview of Alanna and Alicia by Molly McKew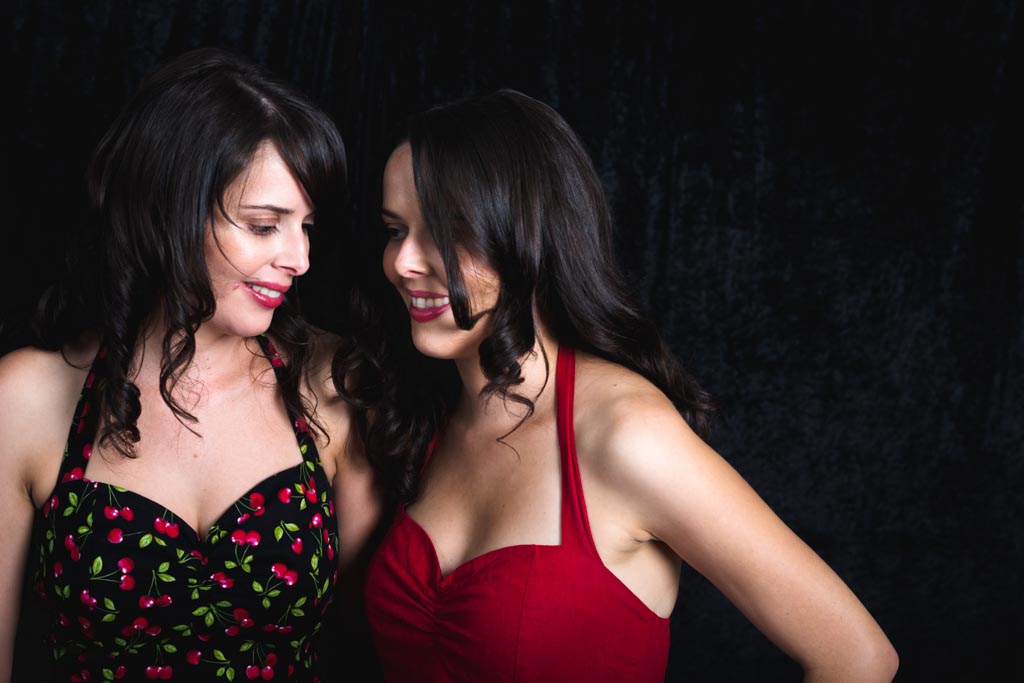 Hi Alanna and Alicia! Tell us a bit about your sound! If your music was a meal, what cuisine would it be?
Alicia: Our music uses organic, fresh, home-grown ingredients. It is slow roasted, nourishing soul food. We use an old family hand-me-down recipe spoken through the generations, but add our own herbs and spices to give it our unique flavour. It can be washed down with a soft, mellow glass of pinot.
The fact that you are sisters mean your voices never conflict – they blend as smooth as very expensive honey, in fact – but on a personality level is this the case? What are the challenges of working so closely with a family member?
Alanna: Alicia and I share a unique creative bond and there is no one in the world with whom I have such an intuitive and natural musical rapport, but working with your identical twin definitely does have its challenges.  I perhaps describe these difficulties best in a song I wrote called 'Double Trouble' which satirises twin identity issues and society's tendency to mythologise and make assumptions about twins.
And tell us about your latest album: why did you decide to base it around the music of your family friend John?
Alicia: This project is close to our hearts and we have been thinking about making this album for a long time. Our hippy parents used to sing John's beautiful songs to us when we were three years old. They first heard John Beavis play at the Port Fairy Folk festival in the early 80s. They started singing his music around town and then John tracked them down and became a lifelong friend. John was the first real songwriter we ever met. He really inspired us as young songwriters and even gave us his beautiful guitar, insisting he was passing on the song writing torch to the next generation. He is still one of the best songwriters we know. But due to his ongoing battle with mental illness, he is no longer able to perform and tour. We think John's fine songs deserve to be heard, so we have made this new album of his work and can't wait to tour and share his music with audiences again.
If you could throw yourself into another genre entirely, which would you choose? Is there a rock chick or classical muso lurking inside either of you?
Alanna: As well as folk music I have a deep love of 1920s, 1930s and 1940s jazz and singers like Billie Holiday, Nina Simone and Julie London.  I have a swing band called 'Old Hat' that brings to life the vintage dance music of the roaring twenties' flappers; timeless, romantic jazz ballads; hot swing and sweet New Orleans' blues.  You can check us out here.  
You're both well and truly immersed in the folk scene – what do you love about folk music?
Alicia: We love the story telling and emphasis on quality lyrics. We love the soft, genuine sound of beautiful acoustic instruments. We also love the authentic sense of community with folky like-minded people of all ages. Folk musos are always jumping up on festival stages and jamming and supporting each other. It's wonderful to be on the festival circuit and catch up with muso friends in gorgeous locations all over Australia.
You have shared the stage with some amazing artists – what has been a performance highlight in your career so far?
Alicia: The Waifs were a huge sister band inspiration for us growing up. It was such a thrill to support them when they played in our home town of Bendigo. The next time they came to town, Donna Simpson gave us a mixed tape of music she thought we just had to hear. They were so generous and encouraging of our music. I still have that warped old cassette tape kicking around at home somewhere, with nothing to play it on anymore!
We have performed at the Women Out Loud concert at the Port Fairy Folk Festival twice. It is always an exciting and terrifying gig in front of the huge Stage 1 crowd, standing alongside the formidable line up of female artists like Kate Miller Heike, Christine Anu and Ruthie Foster. The first song we ever performed in public was 'Even When You're Sleeping' by Abby Dobson at a school concert.  Then years later, we found ourselves performing next Abby Dobson at Women Out Loud. Abby came over to me back stage. 'Did you talk to her?' Alanna asked me, excitedly afterwards. 'No, but she borrowed my lipstick!'
Supporting Scottish folk singer Eddie Reader was also another highlight. Her sage advice to us was, 'When you go on tour, don't pack too many clothes! You think you need five dresses, but you really only need two!'
Touring in America through Kansas, Nashville and New Orleans was another wonderful musical highlight for us.
Do you have any advice for young female musicians looking to get their music out there?
Alanna: The music industry is still very male dominated so it's really important to build a supportive musical community and to celebrate women in music.  Alicia and I put on a show called 'Sing out Sister' every year on International Women's Day at the Lomond where we feature the talents of different female artists.  Play the instrument you want to play – if it's the double bass or the drums just go for it and don't let that guy at the party take your guitar out of your hands and hog it for the entire night.
Which artists influenced you growing up?
Alicia: We loved the word-smiths like Joni Mitchell and Leonard Cohen. We also loved the trad jazz ladies Billie Holiday, Nina Simone, Ella Fitzgerald and later, Madeline Peyroux. The Indigo Girls and the Waifs for their close harmonies. And of course, John Beavis also had a profound influence on us as baby songwriters! Our new album is like a gift of musical thanks to John!
Looking back, is there any advice you would give your 14 year-old selves?
Alanna: Don't worry,  trigonometry, fun runs, that squashed pear in the bottom of your school bag, your Crimson Lake Derwent pencil that Bianca stole, your long navy school socks that keep falling down, your parents still not letting you have a horse even though you continue to share your recently acquired knowledge about the concept of agistment with them daily, not being able to grow big enough to progress from crop tops to that 10A hot pink lace bra from 'Bras & Things'….very soon none of this will matter and you will find music, love and laughter.
Finally, imagine we are at a fun confessional sleepover!! What are your hopes and dreams for the future?
Alanna: We are working on songs for our fifth album of original songs which we will start recording next year.  We would love to go back to the US and to tour in Canada – there are some amazing folk festivals over there in the summer.
We're looking forward to playing at the Turning Wave Festival in Yass, NSW in September, launches in Canberra, Maldon and Bendigo in the next few months and NSW in the new year.
Alanna and Alicia Egan launch 'Songs I'm Singing With Me' at the Thornbury Theatre on September 2nd. You can buy tickets here: https://tickets.oztix.com.au/default.aspx?Event=75771
Further tour dates:
Sept 15th – Smith's Alternative, Canberra
Sept 16 –17th – Turning Wave Festival, Yass, NSW
Oct 21st – Old Hat, The Paris Cat, Melbourne
Nov 4th  – 5th– Maldon Folk Festival launch
Nov 25th – Bendigo launch at Old Church on the Hill.
You can listen to their music on Bandcamp: https://alannaandalicia.bandcamp.com/