Writing by Cecilia Nguyen // Illustration by Arielle Jennings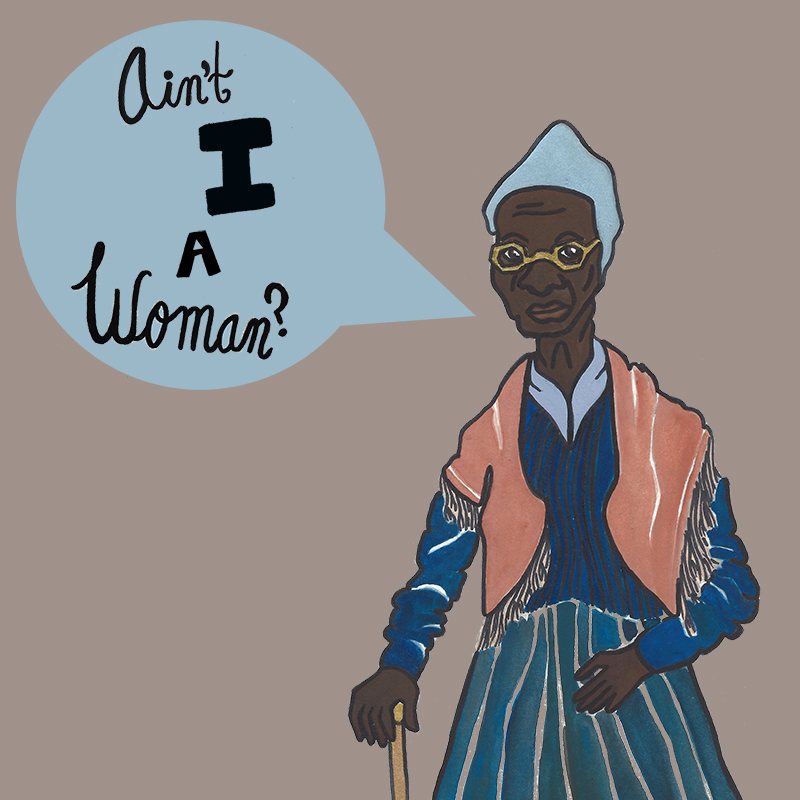 Sojourner Truth, originally named Isabella Baumfree, was born into slavery in 1797, but escaped to freedom and later became one of the most famous African-American women speakers on issues of civil rights and abolition.
Truth originally grew up in a town called Espouses (95 miles north of New York) with as many as 12 siblings. As life went on, she was sold and beaten by slave owners. At around 1815, she began a forbidden relationship with a nearby slave named Robert. The relationship was so forbidden that Robert's owner severely beat him, which eventually led to his death. Later, Truth was told to marry an older slave named Thomas, with whom she'd have four children.
On July 4, 1827, slavery would legally end in New York. A year prior to this, Truth grew restless for freedom and was fed up with the injustice, so she took her daughter Sophia and left her current slave owner (Dumont). She then found work as a domestic servant for the Van Wagenen family.
Despite the end of slavery in New York, Truth had found out that Dumont had illegally sold her son. She took Dumont to court, won the case, and freed her son. This was a big step, not only for Truth, but also in history because that was the first time a black woman had won a court case against a white man.
Not only was Truth an abolitionist, but she also became more active in supporting women's rights, religious tolerance, pacifism, and prison reforms. She eventually joined the Northampton Association of Education and Industry in Northampton, Massachusetts, which pushed for the abolition of slavery and women's rights. Throughout her life, she continued to speak on political issues. As well as using her voice, she used her actions by riding 'white-only' street carriages to push against segregation, and she carried many petitions to urge people to sign for various causes.
Sojourner Truth was a marvellously strong woman. She took her unfortunate upbringing and spun her life into gold by fighting for change. She always sought to make the world a better place by never settling for anything other than justice and equality. Sojourner Truth was a beautiful woman: always helping, always fighting, and never settling.
That is Sojourner Truth, and that is why she inspires me each and every day. Her grace and strength will never be forgotten, for beautiful humans, like herself, may never be gone with the wind.
[share]