Writing by Rose Sejean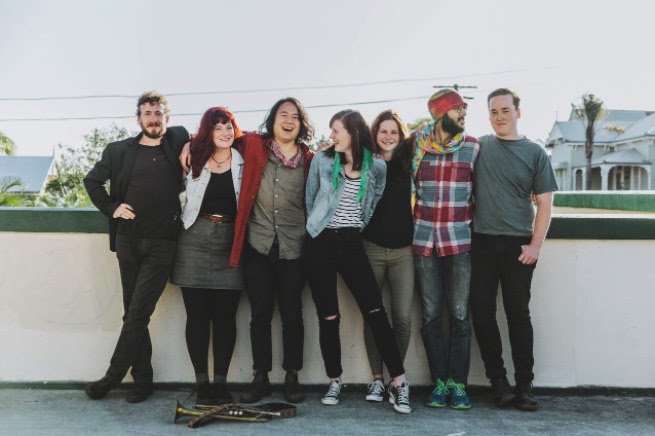 Hey Kat! What have you been up to today?
Hey! I am currently in the Mucho Bravado office in Brisbane (Australia), working hard on some very cool stuff for some awesome bands.
You play baritone sax for The Mouldy Lovers, but you're also the band's manager! What advice can you give the DIY artists out there on juggling both their creative and business hats?
Yeah, it can be pretty full on at times. One thing I always try to remind myself is that there are only a certain amount of hours in a day, so you have to find the right balance between being a badass business boss and a musical creative – I'm constantly struggling to find this balance so don't stress if you're finding it hard as well!
My advice is to set yourself/your band realistic and achievable goals. If you want to get out on the festival circuit, create yourself a spreadsheet of all the festivals that suit your genre and their locations/times of year and get applying! If you want to tour overseas, start looking at grants, research when the best time of year to tour is in each country and get chatting to all your musical friends who may have already toured to where you want to go. All these things can be a big help to get you and your band out and playing shows in new places.
Finally, always try to surround yourself with a good support network of friends and family. Managing and playing in a band can be an incredibly physically and emotionally draining process at times, so make sure you always find time to sit down and have a good chat (and a good old rant if needed) with your friends. It can make a world of difference!
Tell us a bit about the band's wicked new single, Boondock:
The word is an American expression that stems from the Tagalog word bundók ("mountain"). It originally referred to a remote rural area, but now it's often applied to a small town considered 'backward' and 'unsophisticated'. The song itself is concerned with how environment has an effect on people and how people, in turn, have an effect on their environment. Boondock was instigated by the rising tide of gentrification around our home suburb of West End (Kurilpa) in Brisbane, and explores colonisation, domination and resistance.
We went with a new set of producers for Boondock (Jared Adlam and Zachary Miller) and they really pushed us in the studio to experiment with some new ideas and sounds for the track. It was a welcome change to be able to try new ideas out in the recording process; I think it really paid off in the finished version.
The Mouldy Lovers have a knack for blending multiple genres to perfection; we're talking folk to punk! What are the band's biggest sound influences?
Yeah, it's always hard to describe our genre when we're asked because it's so diverse now.  We've got a few! We love Gogol Bordello and Squirrel Nut Zippers. Barons Of Tang are also a killer band and a big influence on the band's sound.
Ok, pretend we've scored a dinner with The Mouldy Lovers; what will you guys be serving up for us?
Hmm, that's a tough one! The Mouldys are a food loving band, so we can all cook up a storm. I'm gonna have to say lentil and sweet potato curry for dinner tonight.
Yum…And for dessert?
Choc fudge brownies made by our accordion player, Louis' girlfriend Stella. Actually, pretty much anything Stella makes really – literally everything she makes is good.
Now let's talk tours! If we could be a fly on the wall, what would The Mouldy Lovers' pre-show ritual look like?
Usually, it starts with asking what the rider is (artist rider), followed by beers, a band cuddle and then more beers.
And dare we ask; the post-show ritual?
The sweatiest band cuddle ever, at least one member in their underpants (usually Matt) and more beers.
You lot are known around Brisbane as total 'festival rats'; what is it about the festival circuit you love so much and what can we expect from the remainder of your current single tour?
Festival Rats! Ha, that's a new one – but I love it, it's very accurate. I always try to get The Mouldys on as many festivals as possible because we just love playing them. We've actually met a lot of good friends through the festival circuit who we've then gone on to tour with. We did our first international tour to Japan this year with the help of Kenta Hayashi (Japanese loop pedal guitar wizard), who we met at Wallaby Creek Festival outside Cairns last year.
We also recently played Island Vibe Festival on Stradbroke and then Tablelands Festival in Cairns on the same weekend which was a heap of fun. We'll be rounding out the tour with Jungle Love Festival on the Sunshine Coast on Nov 30 – Dec 1.
Finally, if you could give a present to your 14yr old self, what would it be?
A bit of confidence and grrrl power, I think… At 14 years old, I was playing clarinet in my high school concert band and was probably unsure about pursuing music as a career and in my ability to be creative in general. So, I would gift a box of creative zest and drive to 14 year old me and tell myself that if I love what I do and work my butt off, I can achieve my creative goals.
Yeah, that'd be a nice… And maybe some fashion sense as well.
THE MOULDY LOVERS' SINGLE TOUR: REMAINING DATES
17th November |The Homestead | Hobart, TAS
18th November | The Royal Oak | Launceston, TAS
30th November – 2nd December | Jungle Love Festival | Imbil, QLD
[share]