Interview of Aurélia Deschamps by Sophie Pellegrini // My images show a world half-way between the real, everyday and a more dreamlike one, with elements that have symbolic meaning. 
Interview of Aurélia Deschamps by Sophie Pellegrini
Hi Aurélia! Tell us a bit about yourself.
I am a French illustrator living and working in Brussels (where you can eat the best fries in the world). I do illustrations for newspapers, magazines, zines, and children's book projects, and I also give art classes to children and teenagers.
How and when did you get started in the arts?
I have been drawing since I was a little girl. When I was 14, I decided that I wanted to make art for a living. I went to a very good high school in Paris specialised in graphic design where half of the classes were art classes. I experimented with a lot of techniques, and especially loved working with colours. This gave me the desire to go further in that direction, so after high school I did a prep school to apply for some art schools. I finally decided to go to Brussels for a school specialised in illustration, and I loved it so much that I never left!
What is your favorite medium to work in?
I actually have a lot of media I like to use and I love jumping from one to another, and sometimes mix them. The one I used a lot in the last few years is monotype – drawing (back-to-front) on a plate of glass or plastic inked with a oily ink, and then printing it (only once) with a roller. The result is very smooth and gives a really satisfying texture. Recently I came back to painting, and I have to say I really enjoy it. I also love doing collage, with elements I paint or draw before assembling.
And what type of imagery do you like to create? How would you describe your aesthetic?
My images show a world half-way between the real, everyday and a more dreamlike one, with elements that have symbolic meaning. I often get inspiration from the natural world, particularly vegetation, so a lot of my work has a very organic look.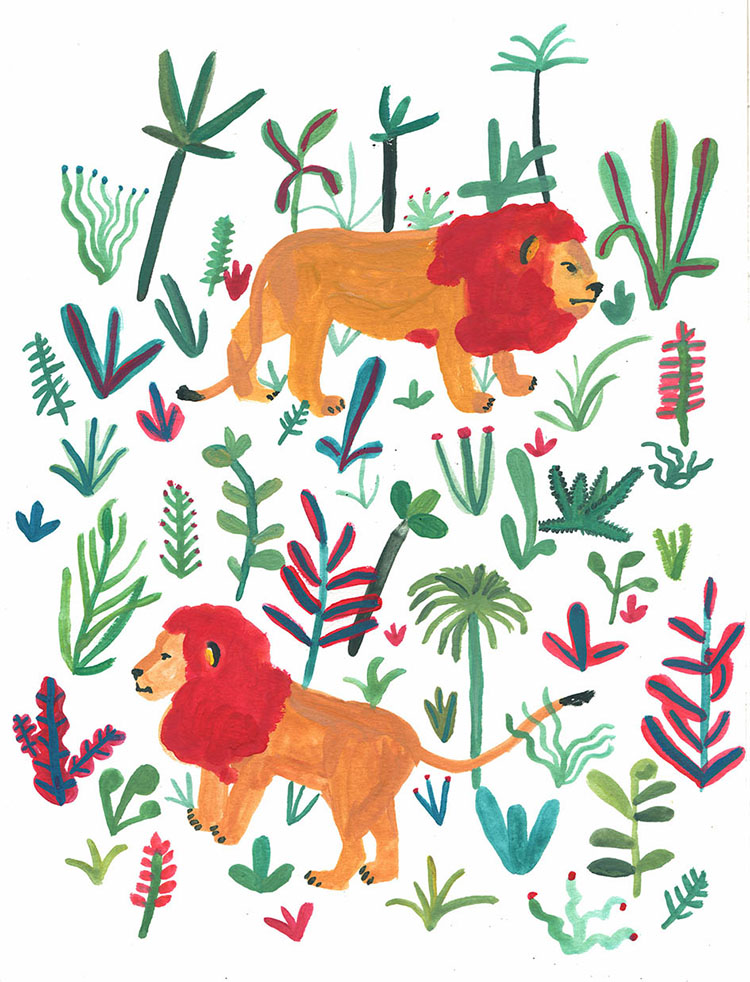 Tell us a little about your artistic work process.
I like to not think too much about the picture before I start. The best way for me is to do a lot of tries, drawing a lot of elements quickly and freely and then deciding which ones I am going to use or not. When I know more what direction I want to go in, I add others elements and then cut them out to arrange the whole picture on a sheet of paper. Sometimes I also like to scan the drawings and compose the picture on the computer; this helps me to work a bit quicker and have different possibilities, like superimposing them and playing with the transparency.
Highlights of your creative journey so far?
Strangely, I am sometimes happier about the unpublished drawings and work I do, because they are made in a very fluid way and they are more personal. I should think about assembling them in an exhibition some day, because they're all linked together and part of the same world.
Besides this, I am very happy about the success of a big collective exhibition of illustration and photography I curated with a friend in 2016, on the theme of the forest.
What other artists do you particularly admire?
I'm really inspired by Henri Matisse, David Hockney, and Paul Cox, a French artist and illustrator. I also love the work of the Spanish illustrator Jesus Cisneros, and thousands of other amazing illustrators I discovered on Instagram.
Are there any projects you're currently working on that you can tell us about?
Yes, at the moment I am working with an author on a children's book about a lion, and I'm planning to work on an illustrated recipe book.
Are there any songs/films/books that have had a real impact on your creative processes or work?
Without thinking about it too much, because there is probably hundreds of them, I would say The Jungle Book, as much for the wildness of the nature, the relationship between humans and animals, and the captivating music as the animation itself.
How can we best keep up with you and your art?
You can visit my website and follow me on Instagram @aureliadeschamps.