Interview of Kat from Rackett, by Rose Sejean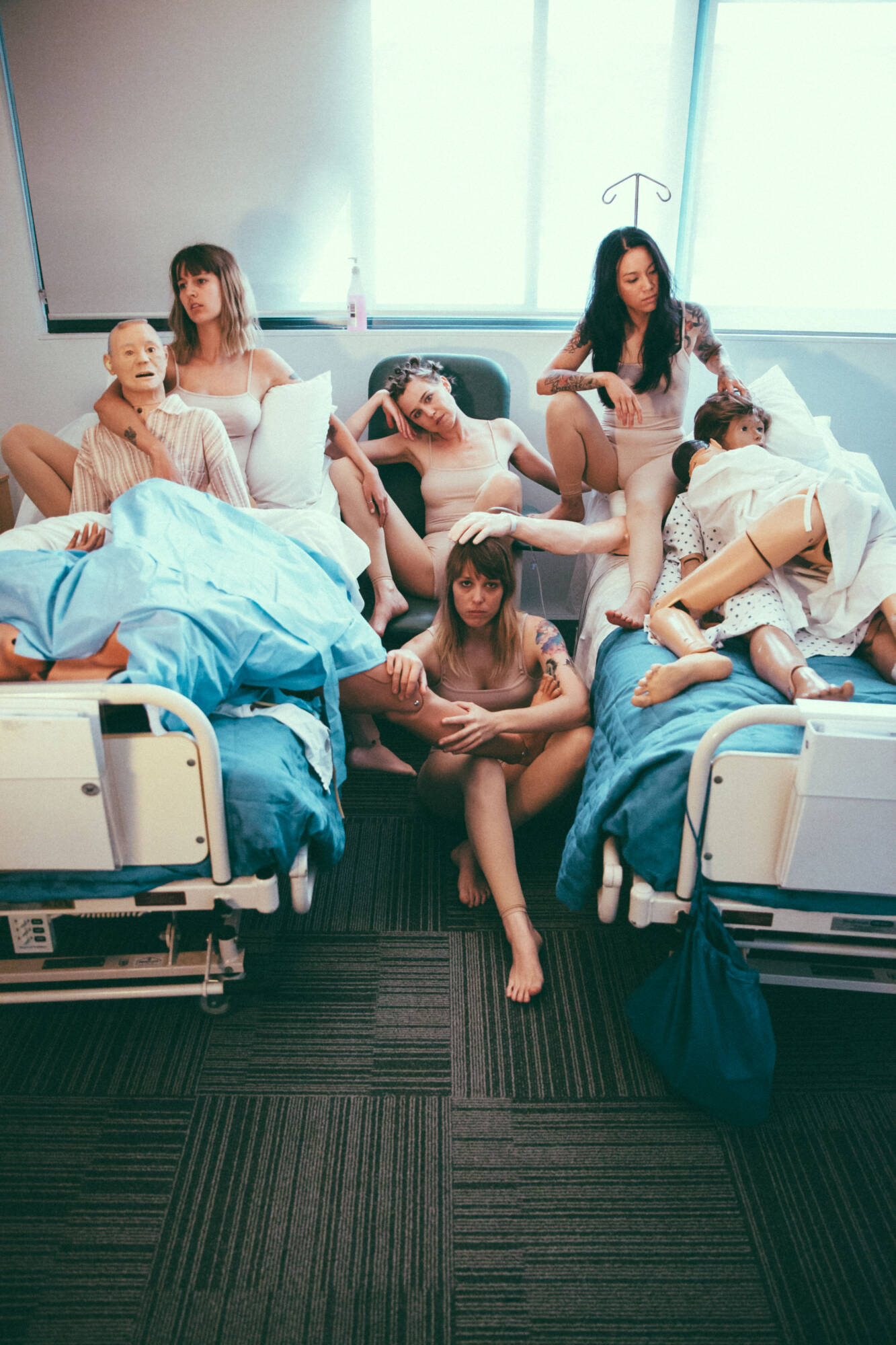 Hey Kat, thanks for taking the time out of your tour schedule to chat with us! What's up?
Hey team! That's no worries at all, I'm always keen to connect with fellow creative minds such as yourselves; It's inspiring!
We're absolutely loving the new single 'Alive'; can you give us some background on the track?
The track has developed over a year of playing it live, testing out different drum patterns and riffs, to create a psych-rock track in 7/4 that feels like a standard 4/4 pop song. The song itself is about material reincarnation; the life and death cycle of an identity. It's about the never ending possibilities of becoming a new person, redefined by style. When you hear the lyrics, "die to come alive," that's not talking about the reincarnation of Jesus… It's about intentionally killing an adopted identity that you're projecting by the clothes you wear, and becoming reborn into something new – like how a haircut can redefine you.

'Alive' kind of eventuated into a DIY project, with the band members doing most of the recording and production themselves; how do you ensure you're getting enough feedback from outside ears when DIY-ing?
Outside feedback is so important, but we make sure we're ready for it first. We give ourselves the opportunity to be creative and adventurous, and run with our ideas until we feel we have articulated them as best as we can. Only then do we share our work with a select circle of friends and colleagues. We take the feedback into the studio and rip our work apart as a band. Whatever changes or survives in those sessions is what makes it out into the world.
You lot have recently kicked off your national tour; what have been the highlights so far?
There is so much that we love about touring. We visit new places, play music, and meet like-minded people.
During this tour so far, we especially got along with Port Royal, Elegant Shiva, and The Psychedelic Porn Crumpets, whom are some of our favorite bands. They're positive, supportive, and freakishly talented musicians. We have so much love and respect for those boys and the work that they do
A highlight of every tour is spending time with the girls. It gives us the opportunity to bond, and while it does get stressful, we make each other laugh A LOT. The closer we get, the more chemistry we have on stage, and the more rewarding the experience. To top it all off, I get to share this with the love of my life – Astrid, our drummer. There really is nothing better. Actually, wait – if we could bring our dog, Cassidy, on tour then THAT would be the best
If we could be a fly on the wall, what would the Rackett pre-show ritual look like?
After load in, Bec and Ally sort out the merch while Astrid and I get our rigs ready. We generally have a meal and hang out with our friends, then eventually reconvene for warm-ups and a round of vodka martinis. We get into wardrobe right before show time.
And post show ritual?

Bec is straight off the stage and to the merch desk with Ally not far behind her. They're great like that – so dedicated and available to the fans and the Rackett cause. Astrid and I take a little longer to get off stage as we have a bit of gear to put away. I love my gear a lot, and am compulsive about the way I set up and pack down, so I take my time and tend to my anxieties. We eventually join the girls at the merch desk, drinks in hand, to hang with the crowd and enjoy the other bands.
Ok, let's pretend we've scored a dinner with Rackett, what will the band be serving up??

A vegan and gluten-free feast! Ally is vegetarian, Bec is vegan, I'm intolerant to dairy and gluten, while Astrid is keen on healthy eating. We love food, so we guarantee it'll be tasty!
Yum! And for dessert?
Over The Moo ice cream with berries and mango!

If there's one thing Rackett has in bucket loads, it's GIRL POWER; what advice do you wish you were given as a 13 year old?

I wish I had been advised to focus on music so that I'd be a much better player by now. But I probably wouldn't have listened anyway! I was way too independent and into so many things.
And as a female artist, what advice would you give to our readers wanting to pursue a career in music?
Pursuing a career in the creative arts is not for the faint-hearted. But if you love it like I do, you won't be able to help yourself. I wish I had come to terms with it sooner and not wasted time trying to do other things. Be yourself and give it all you've got! Develop your craft, get involved in your community, study business, create your opportunities, become comfortable with crippling self-doubt, be as kind as you are fierce, and surround yourself with positive, progressive friends. Get it, girl.
Check out Rackett's new single, Alive:
[spotifyplaybutton play="spotify:album:3G84958pZzoSYg9527tJYJ"/]
TOUR DATES
Thursday, March 1
Moonshine, Manly, NSW
Friday, March 2
Waywards, Sydney, NSW
Friday, March 9
O'Donoughues, Emu Plains, NSW
Saturday, March 10
Daisy Went Crazy, Gold Coast, QLD
Saturday, March 24
Dicey Rileys, Wollongong, NSW
Thursday, March 29
Gateway Hotel, Newcastle, NSW
Saturday, March 31
Captain Cook Hotel, Sydney, NSW
Saturday, April 7
Frankie's Pizza, Sydney, NSW