Interview by Rose Sejean // 19 year-old indie pop artist Natalie Shay is generating a lot of buzz around the UK, from winning awards to selling out some of the hottest venues in London. She chats to Rose Sejean about her awesome new music video, attending the same music school that produced superstars like Adele and Jessie J, and her favourite tunes of the moment.
Interview of Natalie Shay by Rose Sejean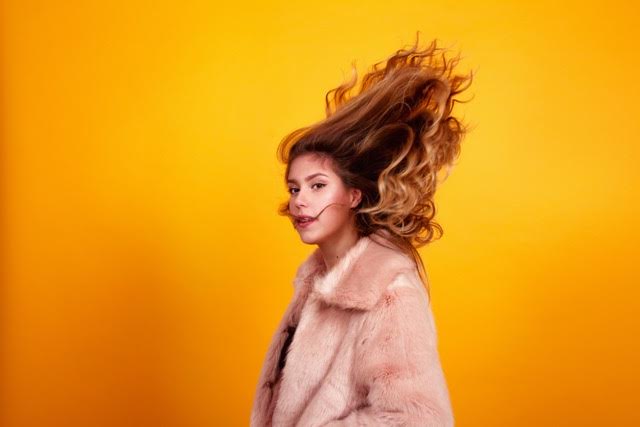 Hey Natalie! What have you been up to today?
N: Today has mainly just been replying to emails and general admin, including this interview haha!
At just 19, you're already a multi-award winning singer songwriter, lauded as one of the UK's most exciting emerging artists; what has been your biggest career highlight to date?
N: Highlight has definitely been this single release for This Feeling. I suppose it was coming for a long time, I first began on the project over a year ago, it was just so lovely watching everything fall into place and getting the recognition I received from the release. I definitely did not expect to reach number 4 in an iTunes chart!
It seems rare to meet young, contemporary guitarists who were classically trained; tell us about what first drew you to the guitar?
N: When I first began playing the guitar, I don't think I had a say in starting, haha! In year 1 they sent out a form asking who would like to learn an instrument, pretty much everyone chose violin or piano, my parents chose me guitar and I remember being upset I wasn't learning violin. But as things turned out it was the best decision.
You trained at the prestigious BRIT school, the same college that produced artists like Adele and Jessie J! What have been the positive and/or challenging aspects about that on your artistic development?
N: Studying at BRIT comes with great responsibility I think, you feel obliged to work hard and to start a career as soon as you graduate. I feel there is a lot of pressure to be successful in your chosen field. But these are also huge positives. BRIT gives people the chance to develop both creatively and socially, so that when they do graduate, they are prepared for the world and their chosen path. It's such a magical place and I'm so grateful for the experiences I had there.
The new video for your super fun single, This Feeling  gave us such warm, fuzzy feelings! How did it all come about?
N: George O'Regan, is the brains behind it. He came up with the ideas and the storyline, he also produced and directed it beautifully.
You're quite passionate about empowering other girls to be the best artists they can be. What are your top 3 tips for young females navigating a career in music?
N:
Girls can play instruments too.
Make the music YOU want to make, not what you're meant to make or what someone tells you to make.
You're never too young to start a music career.
Pretend you're stuck on a desert island with just a Discman for music; what's the one album you couldn't live without?
N: Fearless – Taylor Swift, or the Soundtrack to The Last Five Years…Fave musical.
Ok, you're at a karaoke bar with one of your all-time favourite artists (past or present); who is it?
N: Taylor Swift.
And which song will you duet to?
N: We will sing 'Breathe' by Taylor Swift. Everyone will love it!
And finally, who are you listening to right now?
N: George Ezra, The Vaccines, Little Comets
Check out the video for This Feeling below!