Interview by Molly McKew // Melbourne based mostly-family band Perch Creek have just released their vibin new single 'Gold Shop', a very funky single about a gold shop heist in Dubai (obviously). We chat to them about their beginnings as wee kids singing with their father on stage, their upcoming Australian tour, and how on earth five people manage to write songs together (hint – it takes a really long time).
Interview by Molly McKew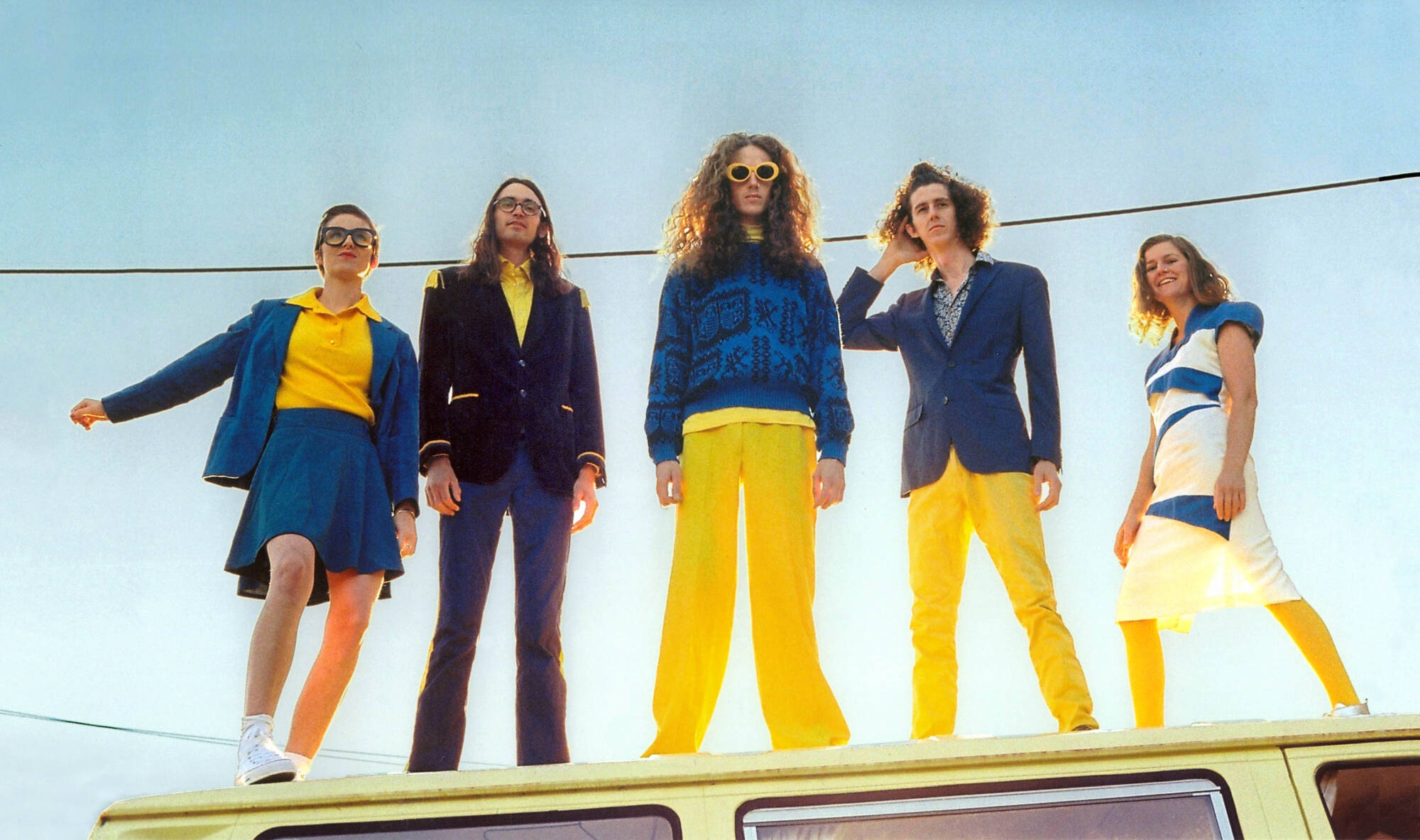 Tell us about your new single Gold Shop – what's it about?
Gold Shop is a pop-funk-soul jam all about a totally crazy heist of a certain gold shop in Dubai, the world's capital of bling. [watch the video here!]
When did you guys make the move from just siblings to family band?
Back when our eccentric dad had inspired enough of us into learning a musical instrument so we could join him onstage.
Can you tell us about your first ever gig as a band? (beyond your family living room that is)
Would've been when we played a local festival (just around the corner from Perch Creek) back when almost all of us were in the single digits.
You have mentioned that this album marks a big change in sound for you guys – from a more trad folk to a more electric sound – did this come naturally or was it a conscious decision?
It was conscious in the sense of leaving the "family jugband" off the end of our name, which enabled us to be less conformist to a certain genre and sound. And it was natural in the way that we wrote the songs off the album. Our approach was to just jam a lot and write a lot and choose the best ideas regardless of whether they were fitting into any sort of genre or style.
How do you go about the writing process and what kinds of ideas do you draw on for inspo?
We write the songs as a collaborative group of five. So let's just say there's a lot of cooks in each meal! We generally start with a chord progression or some kind of musical hook. Each of us have certain favourite styles/genres, so it can be quite varied in how a song will present itself.
We then nut out a vocal melody for the verse and the chorus. Once we have a bit of an idea of the form, we will discuss what sort of a vibe we want for the lyrics and story. Most of us are siblings, so we can be quite brutal in how we feel about certain parts and musical/ lyrical ideas. This can have it's upside, as the finished song is seen by all five members/writers, as the absolute best that it can be.
Did I mention it took us three years to write these ten songs?
And do you have any songwriting tips for our readers?
Create a time and a space dedicated to the soul purpose of writing – preferably out of your normal environment. Then write, jam, write, jam, then write some more. Dedicating a couple of days away can also be super worthwhile.
Can you tell us about some artists we should be listening to in 2018?
The Harpoons
Masco Sound System
Borns
If Perch Creek were an ice cream, what three flavours would it be?
To start it would be 'Totally Nuts'
In the middle it would be 'Rocky Road'
And finally to finish, it would be 'Very Berry Bliss'
[yum!]
Finally, what's next for you guys? World tours/domination?
An epic album tour around Australia [dates below! I was lucky enough to see a gig a few months ago, and I can definitely recommend putting on your comfiest dancing shoes]
***
PERCH CREEK AUSTRALIAN TOUR
With special guest Jumpin' Jack William (excluding *) plus more TBA
All tickets available from www.perchcreek.com
THU 31 MAY | FLY BY NIGHT, FREMANTLE WA | 18+ *
SAT 2   – SUN 3  JUN | DENMARK FESTIVAL OF VOICE, DENMARK WA | ALL AGES *
THU 7   JUN | LIZOTTES, NEWCASTLE NSW | ALL AGES
FRI 8 JUN | THE METROPOLE GUESTHOUSE, KATOOMBA NSW | ALL AGES
SUN 10 JUN | SMITHS ALTERNATIVE, CANBERRA ACT | 18+
THU 14 JUN | BLACK BEAR LODGE, BRISBANE QLD | 18+
FRI 15   JUN | MIAMI MARKETTA, GOLD COAST QLD | ALL AGES * FREE SHOW.
SAT 16   JUNE | STAR COURT THEATRE, LISMORE NSW | ALL AGES
SUN 17   JUNE | PELICAN PLAYHOUSE, GRAFTON NSW | ALL AGES
THU 21   JUNE | THE WORKERS CLUB, GEELONG VIC | 18+
FRI 22   JUNE | THEATRE ROYAL, CASTLEMAINE VIC | 18+
SAT 23 JUNE | THE EVELYN, VIC | 18+
FRI 29 JUNE | JIVE BAR, ADELAIDE SA | 18+
SUN 1 JUL | THORNBURY BOWLS CLUB, MELBOURNE VIC | ALL AGES
FRI 6 JUL | MAJOR TOM'S, KYNETON VIC | ALL AGES
SAT 7 JUL | SANDY POINT MUSIC CLUB, SANDY POINT VIC | ALL AGES
[spotifyplaybutton play="spotify:album:3rf0VFSL4Z53UK6uxzuKm6″/]