Interview by Molly McKew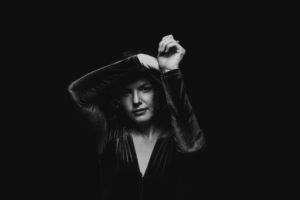 Hi Eliza! Tell me about your latest single 'Hard way'?
'Hard Way' is the first song off my forthcoming EP 'How We Disappeared' which is due out later this year. I remember when I wrote it I had to be really quiet because my family were sleeping, so it started off as a melancholy ballad – and then producer Jono Steer and I ended up workshopping it and turning it into a bit of a faster, rockier song. We recorded it live with a five-piece band in Melbourne's New Market Studios. It's about a relationship ending and learning the hard way that it was wrong and toxic all along.
Can you describe your sound for us?
A lot of my previous music has been ethereal and dreamy; it's lent itself to being in TV and film because of its textures. This EP was a bit different though as I recorded it live with a band, so there are more guitars and piano, and acoustic drums instead of electronic drums. I write all of my music first on the piano so it felt right this time to make an EP live with a band, where we could record the songs in two days, add some overdubs and then release it. Lyrically the songs are mostly about relationships beginning and ending, growing up, and the changes that come with that.
How do you find inspiration for your music?
Mainly just from life! From my experiences, stories I hear, things I read, movies I watch and from other artists music as well. I love to listen to a song I wrote years later, because by looking back I suddenly realise what I was writing about at the time. Sometimes it takes time to pass to understand what I was going through.
When did you start writing your own songs? Can you remember your first ever gig?
I started writing my own songs at the age of fourteen. I got given an old piano by a family friend who passed away – and so the writing begun. I used to use songwriting as a sort of therapy in high school. I look back at those times with such fondness because it was such raw energy; I wasn't worried about where those songs would end up. My first ever gig was when I was fourteen at a restaurant in a small town in Rutherglen called Rendez Vous, I am still very thankful they gave me a go back then. I was so nervous!
You've recently spoken out about no longer hiding your disability in your musical endeavours – and we applaud any attempt to make the music industry a positive and diverse space for everyone! What prompted you to speak out about this?
I was tired of hiding it! And even though a lot of people knew about it, like my friends and family there were so many people that didn't know, and I used to hide it from them by not walking in front of them, or sitting down when they arrived, this included people within the music industry and others who followed my music. I realised that a lot of it was coming from fear, and I didn't want to live my life based on fear.
I also wanted to do it for others, and I have had so many incredible messages that have come from people with disabilities who read it and have now been inspired to openly talk about their experiences. There needs to be more conversations about disability, it shouldn't be something that's stigmatised, we need to have more diversity in all artistic industries, and I think that begins by awareness.
What have the highlights been of your music career so far?
Singing at the London History Museum was huge! Just because of how grand the space is, the reverb was amazing and it was incredible singing with the dinosaurs! Also studying at Berklee in Boston in America, and having my music used for TV was also pretty special, that was like all my teenage dreams coming to fruition.
Do you have any other secret talents? If you weren't a musician, what sparkling career would you be pursuing right now?
I would be a writer. And I am actually going to write a book, I have been putting it off for so long because I have been focused on music -but now I have a very solid idea, and a real urge to make it happen.
Finally, what amazing female musicians should we be listening to in 2018?
Batts, Ainslie Wills, Angie McMahon, Cloves, Coda Chroma, Lissie and Haarlo. Just to name a few!!
***
Listen to Eliza Hull's 'Hard way' on Soundcloud or Spotify
[spotifyplaybutton play="spotify:album:07WllQ0JBnSpXIoRmPpChU"/]
[share]