Writing by Carolina Bardelli // Ayelen Lujan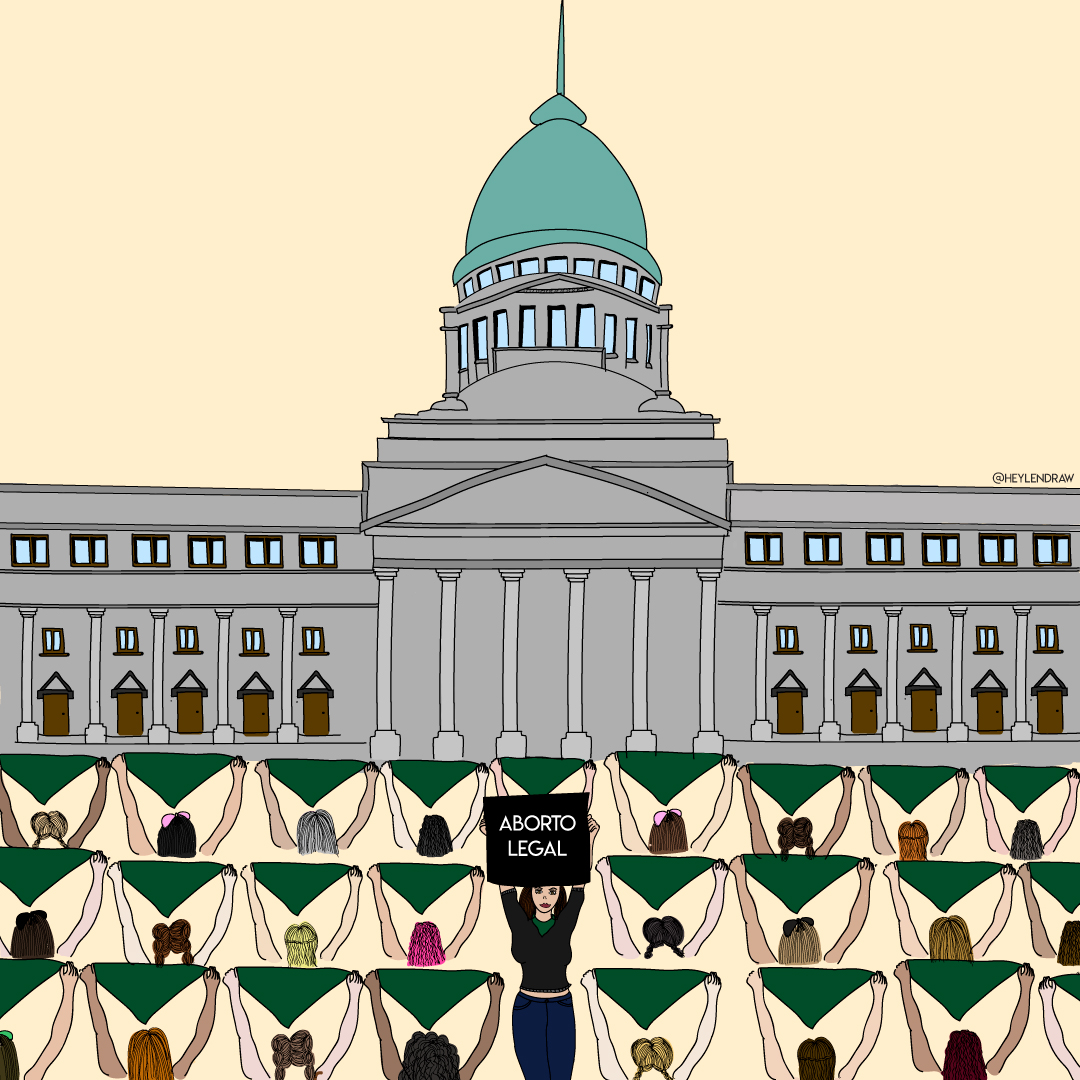 The night of the 8th of August set a no turning back point in the feminist movement of Argentina. After months of discussing the legalization of abortion, more than one million people in the streets claiming for this, the Senators rejected the bill and now we have to wait, hopefully, for next year to get the law approved.
Abortion in Argentina is illegal except when the mother's life or health is in danger, or when the pregnancy is the result of rape. There aren't official numbers, since it's illegal, about how many procedures are performed yearly, but it's estimated that 500.000 abortions are performed every year. Of this number, 80.000 patients are hospitalized due to complications, and must face legal punishment and 500 cases result in death. The consequences of illegal and unsafe abortion are the leading cause of maternal mortality in our country. Misoprostol, the drug commonly used to terminate a pregnancy is expensive and hard to find, so many people resort to using hangers, knitting needles, herbs and other medieval instruments.
Politics in Argentina are complicated. Our country is big, very conservative in most regions, and the representatives of the Catholic church have strong power in the society -the Pope is argentinian-. However, since 2015 the feminist movement has been growing strongly and steadily, changing and challenging everything we know not only about women but about the trans community, gender violence, economic inequality, sexual assault and many other demands that are heard. But, what happened in 2015?
On June 3rd of that year massive demonstrations were held across the country against femicides, sexual harassment, sexual objectification, the legalization of abortion, sex workers right and trans rights, among many others. The #NiUnaMenos, a.k.a "not one (woman) less" was born. This movement represents the fourth wave feminism in our country and it was created by journalists, actresses, artists and activists in order to fight the growing femicides across Argentina. The detotating femicide was the one of Chiara Pérez, a 14 year old teenage girl who was murdered by her 16 year old boyfriend and then buried in his patio. She was pregnant.  Chiara's case was one of many in a disturbing wave of femicides: in 2015, there were 286 cases of women and girls killed because their gender.
The first #NiUnaMenos demonstration was the first kick of a match that we are not willing to lose. Feminism existed before but it was during and after the emergence of this movement that it went out of surface and something that was kept among small groups of activists, became massive. After june 3rd, everything changed. #NiUnaMenos is held every year, with more protesters and also we organized the First International Women's Strike on March, 8, 2017. We became more open with our thoughts, started seeing women not as enemies but as friends, the mass media started very slowly talking about feminism.
Mass media in Argentina is the reflexion of the society: pure machismo and patriarchy. Women are seen as objects, there is no representation in size, ethnicity and, for most of the time, we are decorative objects in the background. However, things started changing during the summer of 2018, when in one of the most watched talk shows of open tv, Intrusos, numerous feminists activists were invited to talk about gender violence, stereotypes and, of course, abortion (I'd recommend listening to this podcast to get a deeper insight). We'll all remember that hot afternoon of February the 5th when Señorita Bimbo, a comedian a feminist activist, pronounced the word "Misoprostol" in open TV at 3 in the afternoon. From that day on, we knew that this issue broke social barriers and was now part of the agenda. The claim for safe, legal and free abortions for women, trans-men and non-binary people was settled.
What followed the discussion about abortion on TV was historical. For the first time, the bill to legalise abortion was introduced in the Congress, after seven attempts in the last 20 years. After a long debate, in which both pro choice and pro life arguments were heard, it was voted in the lower house of Congress on 14th June.
That day was beautiful. People started gathering since early in the afternoon, there was music, talks about feminist issues, chantings and dancing. It was very cold but it didn't matter, we were willing to stay the night under shared blankets on the street and improvised bonfires. One million people invaded the center of Buenos Aires, holding their green handkerchiefs – the symbol of the campaign to legalize abortion-.  After more than 24 hours of debate, the law was approved by the Chamber of Deputies. The result had been uncertain for weeks, because there were lawmakers uncertain of what position should they take and, in the last minute, some of them changed their mind to vote in favor of the legalization. The first battle was won, but we had to face another step.
We knew that the most difficult part was yet to come because the Chamber of Senators is conformed by old and conservative white, cis and straight men in the most part and, most of the women are part of the conservative party. The President of his chamber is the Vice President of Argentina, Gabriela Michetti, who said in an interview with the newspaper La Nación, that abortion should be illegal even when they are result of rape. When the session started we knew that we hadn't the wind in our favor. Nevertheless, we resisted. It was rainy, windy and cold. This time we didn't had the bonfires but we danced and chanted. There were more people than in June 14: the pizzas shops and restaurants were packed, cafes had to stay open until way later. At 3 in the morning they voted and it was against the bill. Even though the numbers say we lost, we know that we didn't because we won in the streets.
Yes, we are mad and frustrated because the Senators did not pass the bill. However, we are proud of what we built in the last years. We had never seen so many teenagers fighting for their rights, so many women of all ages carrying their green handkerchiefs and this issue being overheard in every conversation. During this months, many schools held debates and talks about sexual education, contraceptives and what to do if you need to get an abortion. The claim to legalize abortion was spread across Latin America: Ecuador, Chile, Perú, Colombia and Mexico are now fighting for their right to choose.
We are more empowered than ever, because we know that we are not alone and that feeling will not be taken from us. We own our bodies and our desire and we know that sooner than later the legalization of abortion will be a reality. Even though abortion is still illegal, it's less stigmatized than before. When we become vocal about our stories, they are no longer personal and private but they became part of a collective narrative. Now, we have to be stronger than ever and continue to build this movement that has saved many lives. There is no turning back, we are here to stay.
[share]