Writing by Molly Mckew // When we heard Ripple Effect's new single Nguddja, we couldn't wait to chat to the band about the meaning behind the track. Music editor Molly Mckew got the low-down on Maningrida's Ripple Effect and their label Skinnyfish, who are working away at supporting and publicising music from remote NT communities.
Writing by Molly McKew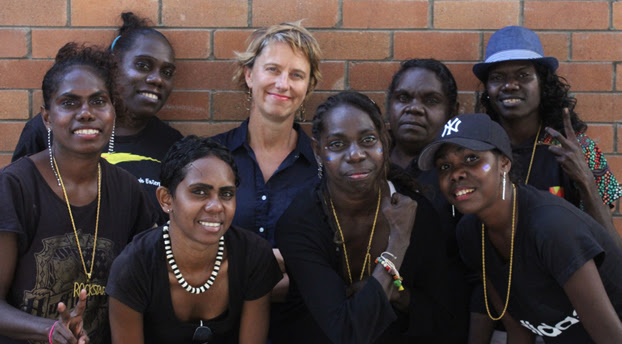 When visiting for the first time, the top-end of Australia feels surprisingly different to the rest of Australia. It is green and lush, laksa is the lunch du jour, and if you're not used to it, the humidity makes you want to pull your skin off. As a tourist, it's hard to avoid the Northern Territory chiches – in the Darwin CBD you can buy crocodile-shaped items and miscellaneous, vaguely offensive tourist-kitsch every 2 meters or so. But there's a lot of work being done by venues, artists and cultural organisations to showcase the breadth and diversity of culture in the Territory. Although the cultural noise coming from Australia's bigger, southern cities may be louder, there's a lot to discover in Australia's top end – both in Darwin, the capital, and in Aboriginal communities throughout the Northern Territory.
Ripple Effect are an all-female band from the remote town of Maningrida, about 500km east of Darwin. They started performing together 15 years ago while they were still in high school, under the name Front Street Girls. After a long break, they regrouped two years ago after their old music teacher encouraged them to record an EP, and called themselves Ripple Effect. Their latest single Nguddja, a collaboration with Sydney producer Papertoy and Skinnyfish Sound System, is an upbeat dance track with an addictive groove. Nguddja celebrates language and culture, reflecting the 15 Aboriginal languages that are spoken by those in the Maningrida community. As explained by the band: "We are so proud of our languages as they express our identity and you can hear the spirits of our ancestors in the song and the wind that brings the words, Nguddja. Then in the chorus we explain that even though we speak our different languages, we all sit down together on this country." Ripple Effect are the first all-female band to come out of Maningrida and they hope they inspire other women to "feel confidence to love themselves and believe in themselves and who they are and where they come from. It is time for change and for women to be heard, especially if they are playing drums and guitars!!!"
The band are represented by Skinnyfish music, an Indigenous-focused record label which operates out of Darwin. Founder Mark Gross came up with the idea for Skinnyfish in 1999, because "we could see that there was an enormous amount of talent and content in northern Australia, and apart from a Warumpi and Youthu Yindi, very little was known about the local music talent." He says the real treasures of the NT music scene is the music coming out of small towns in the territory's rural areas, "where remote Indigenous communities have ancient traditional music and contemporary band music. Every language group locks into a genre of music that suits that language, from Rock to Reggae to Country."
Part of Skinnyfish's work is to support and publicise the music coming out of these communities, that often can't be experienced live in Darwin or elsewhere because of the prohibitive cost of travel. "The cost of getting a band from their community to a gig is a huge disadvantage as bands can travel the equivalent distance from Melbourne to Brisbane just to get to the airport to fly south for a gig." To overcome the tyranny of distance, says Mark, technology has been transformative for bands in remote communities. "The internet has created greater opportunities for artist to gain exposure and with that exposure comes opportunities to perform."
Skinnyfish's work in small, remote communities is important because music plays such a crucial role in celebrating and sustaining culture. The pull of music can go some way in showing those who might not know much about Aboriginal cultures how the "songs and stories of Australia's Indigenous people are the oldest human constructions on the planet," and something that "we should all treasure," says Mark. Mark is passionate about the role that Indigenous musicians have to play in the preservation of Australia's first languages. "In a world that is swamped by the sameness of the "Coca Cola" culture it is important that people maintain their unique identity, and that is by maintaining first language, and music is a key to encouraging people to maintain their first language."
And that's what Ripple Effects' Nguddja is all about – a celebratory exploration of the ways in which language, cultural identity and community are tied up together. In an Australia where so many people know little about Aboriginal culture and language, and which abounds with one-dimensional representations of it, supporting the music scene in remote areas is a way of enacting change (and a pretty enjoyable one at that!).  
Ripple Effect want to spread their message of self-love, language and community further and wider, hoping to record an album and tour overseas in the next few years. "We believe in music. It makes us feel alive. So whatever happens, we want to keep playing music together."

Follow Ripple Effect on Facebook // Follow Skinnyfish on Instagram