Writing by Molly Mckew // We are loving Brisbane's shiny new neo-soul band Pink Matter, whose smooth sounds and super-cool instrumentation have landed them gigs with the Internet and at the Laneway Festival. We wanted to learn more about them, so unearthed their childhood by asking them to reveal their childhood musical heroes.
Writing by Molly Mckew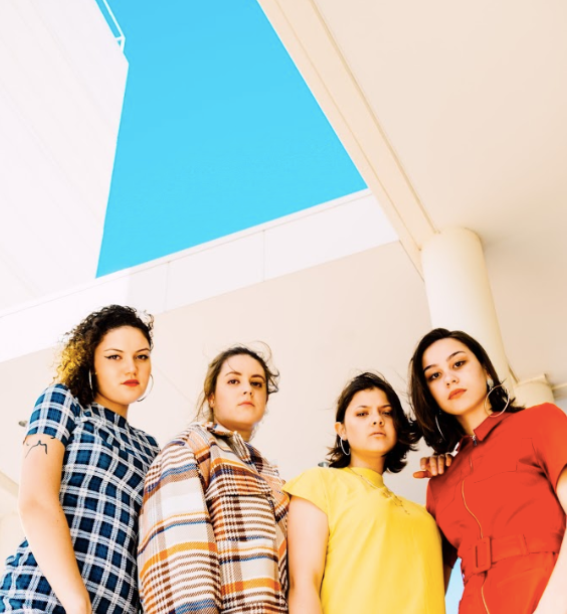 Pink Matter are an all-girl band from Brisbane who met at University in 2016, and one day decided to get together to create some music. The sound that emerged was a rich futuristic neo-soul with sensual vocals, grooves and jams. They released their first EP, Human Error, in 2018, and recently landed support slots with the Internet and Hiatus Kaiyote. They're back this year with their single 'Wonder' and an Australia-wide tour (dates below!). They write all their songs together, drawing from a diversity of genres: "We all draw inspiration from our individual music tastes when we write. We mesh together aspects of neo-soul, disco and jazz and sit it on top of funk/hip-hop inspired grooves." We are majorly crushing on their positive, immersive, feeling-yourself vibes, so asked them to open up about the eclectic music that inspired them throughout their childhood and teens.
Megan (Keys)
As a young child growing up, I remember my Mumma waking me up for school every morning with the likes of the Pointer Sisters, Chaka Khan and Evelyn 'Champagne' King, Donna Summer, Michael Jackson and Whitney Houston (just to name a few). I was fortunate enough to grow up in a household where both my Mum and Dad had very different tastes in music. I have very fond memories of dancing with my Mum and sister to disco classics and harmonising obnoxiously with my Dad to The Police, Steely Dan and Toto. Through the years continuing on my own journey, I realise how crucial this was to building the foundation of my musicality. For myself, my musicality comes purely from absorption. To this day, I find so much value in going to clubs and burying myself deep in the disco house scene, exchanging conversation with my own students, mentors and friends, compiling playlists etc. I find that the more I absorb externally, the more my piano playing reflects, and best represents who I am as a creative person.
 

Kerry (Vocals)

Throughout my life I've gone through some big phases of very different genres so my heroes are a pretty eclectic mix! My childhood was filled with a mix of Barry White, Diana Ross and Stevie Wonder kind of stuff from mum then Led Zeppelin, Lou Reed and The Beatles kind of style from my Dad! My older brothers introduced me to the powerhouse singers like Beyoncé, Alicia Keys and Michael Jackson. So all of those combined were my biggest influences growing up/ my introductions to my love of singing and music. Throughout high school when I was slowly falling in love with singing, Amy Winehouse and Lady Gaga were my main ladies, and all I ever wanted to sing in my lessons at school! Towards the end of high school I discovered SZA, Frank Ocean and King Krule and they've stayed my main influences for a while now and I think will stay that way!
Libby (Drums)
All I have ever known is that from a young age I loved music and have no idea what I would be doing without it. I don't even want to know how much time I spent as a teenager on YouTube listening to all the latest tracks from Coldplay, Foster the People, Skrillex, Alison Wonderland, The Kooks and Brisbane legends The Jungle Giants. That fact that I can't pinpoint a single musical inspiration from my childhood really shows the diversity of my musical journey. But the one thing they all have in common is a crazy good melody and pumping drums. Being in a band with 3 of your best mates is really rewarding when we are able to combine our individual music tastes to create something new that will hopefully inspire other people and become a part of their musical journey.
Izzy (Bass)
It's hard to remember specific people I looked up to as a kid because there were so many – but the likes of Taylor Swift, Beyoncé, Rihanna spring to mind. During younger primary school years I played about 5 or 6 different instruments in more of a classical setting, and used to dream of becoming a virtuoso like Lisa Simpson. When I got a little older, about 11 or 12, I started listening to a wider range of genres. I'd surf Limewire for hours downloading all my favourites (lots of rap, drum and bass, dance music and indie rock/folk). In high school I started experimenting with songwriting and took a lot of inspiration from Angus and Julia Stone, City and Colour and Matt Corby. I think I've always listened to a pretty eclectic mix of music, so I could probably go on for hours about people that have inspired me or that I've idolised in different stages of my life, but I've always admired anyone who is unapologetically themselves and isn't afraid to be a little different.
**********
PINK MATTER are touring throughout June!! Catch them at one of these shows:
Sydney | 6th June | Kings Cross Hotel –
EVENT HERE