Writing by Modesty Sanchez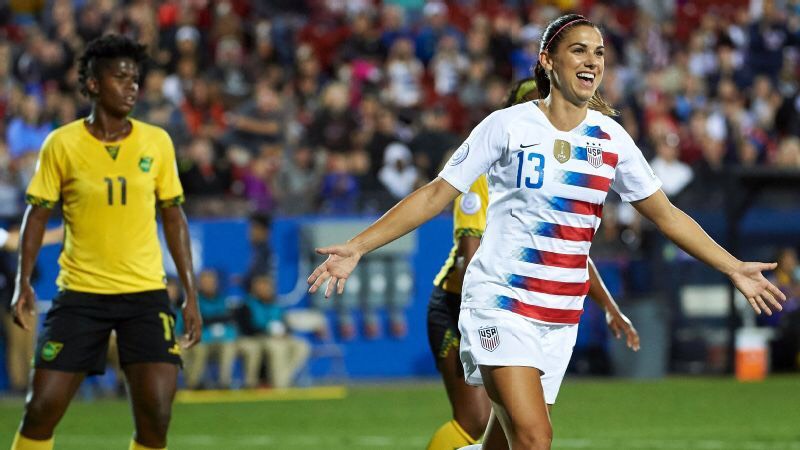 It was a Tuesday in summer and I was home alone with no plans except to watch the U.S. women's team in its FIFA Women's World Cup 2019 premiere against Thailand. I was ready to scream and cheer from my couch, but halfway through the game it became obvious that this would be a satisfying, yet very boring game. The U.S. won by a record breaking thirteen goals, making the score 13-0. After each goal, the camera would pan across the celebrating audience, showcasing the predominantly white families that, presumably, have enough money to take the necessary time off to travel to France and enjoy a World Cup match. After the game, the camera focuses on the team of majority white women who also come from a privileged, middle-class background. I'm not surprised by any of this, seeing as this is the demographic that has become the face of U.S. soccer.
Growing up playing youth club soccer, myself white passing and from a middle-class background, I've played with some of the best teams in Southern California, and had access to the best trainers and coaches. Many of my teammates were like me– white, middle-class, privileged– and I rarely played with players of color. This was always odd to me, considering soccer originated among people of color, and Southern California has a large population of Mexicans, among whom I knew soccer was extremely popular. But the fees to gain access to the coaching and training that I and my teammates were lucky to have were expensive (thousands of dollars) and the older we got, the more that price increased. More money was demanded if we wanted to travel to Hawaii, North Carolina, New Jersey, San Francisco, or anywhere else for the best tournaments and college showcases that would hopefully make these expenses worth it with a college scholarship.
Although I played with extremely skilled players who were deserving of these opportunities and the subsequent scholarships and exposure they granted, it was hard to ignore that part of the reason they were able to obtain them was because of their money and connections. Meanwhile, lower class, minority players who were just as good– if not better– were being denied these beneficial opportunities because they just didn't have the money for it. Thus, it's no wonder that U.S. Women Soccer is now made up of the same demographic that I saw at tournaments across the country: white, middle-class women. The team's biggest stars and most recognizable faces, including Alex Morgan, Tobin Heath, Carli Lloyd, and Megan Rapinoe, are featured on Sports Illustrated covers, Nike campaigns, and have even appeared on late night talk shows, cementing the idea that competitive, high-level soccer is only accessible to those who are light-skinned and affluent.
Yet, it is a privilege to play soccer in the U.S.–professionally or recreationally. While our women's rights are still regressive, they are more progressive than those in many developing countries, and the U.S. women's soccer program is taken more seriously than programs in countries such as Jamaica, Argentina, Chile, or Thailand. Female soccer players in the U.S. (and in other first-world countries) are able to have a lucrative career playing their beloved sport, but female athletes from Jamaica, Thailand, South Africa, and Nigeria hardly make enough to cover living expenses, and are forced to make daily sacrifices in order to play. It's thus not very shocking that the favorites to win the 2019 World Cup–U.S.A, Germany, England, France– come from developed, wealthy countries with women's programs that are well-funded by their governments. And it's hard not to notice the results of this superior training, not only on the field but also on the airwaves. Commentators discussing the U.S. team's road to the World Cup make mention of how much training each player has done, and how the tournament has been their only commitment for months; but hear them discuss Argentina's preparation and you find that much of the conversation revolves around their attempts to get funding (they were effectively disbanded for 2 years after failing to qualify for the 2015 World Cup).
But even with how much more money and support the U.S. women's team may get than other countries' female soccer programs, the U.S. men's team is still valued much more by U.S. soccer. This should come as no surprise to many, seeing as players on the women's team have been very vocal about the appalling pay disparity between their team and the men's team. In 2016, the men's team qualified for $3.5 million if it were to reach the Round of 16 in the World Cup, whereas the women's team, despite having never failed to reach the Round of 16, would get $0. Evidently, no women's team is being treated equally, not even a team that has been lucky enough to be taken more seriously in its home country than other countries' teams. Sexism stifles the team's progress and prevents them from career opportunities that are made readily available to the best men's teams in the world.
While many are aware of the lower status of women's soccer around the world, it is impossible to ignore the manifestation of this condescension during the Women's World Cup, when it is easiest to witness how the superior training of the wealthier countries' teams have resulted in success compared to those who had to pause their training and instead fight just to have a team.
This is why it was hard for me to completely take the U.S. vs. Thailand game seriously– the U.S. players play soccer for a living, whereas the Thai players play in addition to doing other jobs just to make ends meet. While I believe the U.S. players were right in not slowing down for Thailand and treating them with the respect they deserve, I also believe the game ultimately served as a stark reminder of the disparity between women's soccer programs, and how far women's soccer has to go. It is objectively impossible to deny that the U.S. soccer players are extremely talented and skilled. However, it's hard not to speculate how differently the team would look if money and privilege weren't qualifications to compete. And it's even harder not to imagine how much farther the team could go if gender inequality didn't permeate every part of their beloved sport.
I love soccer. I always have, despite the politics that have infiltrated the sport. And though I may not play competitively anymore, I still watched the tournament with a deep reverence and respect for each team on the field (except, maybe, France, but that's just my competitive streak talking). Argentina may have only tied Japan, but it was their first World Cup point ever, which is a major accomplishment for a team that didn't even exist four years ago; this was only Cameroon's second World Cup, but they managed to defeat New Zealand in a very exciting game and secure a spot in the Round of 16; and none of those women's teams were being treated equally to their male counterparts and each of them were underestimated, yet they still managed to make it to the world stage. So, while it is important to acknowledge the significant nuances of privilege and oppression that are present in women's soccer, it is equally important to acknowledge the strides that have been made and will continue to be made until the top female soccer players have the same salary and recognition that the top male soccer players have.
[share]