Writing by Molly Mckew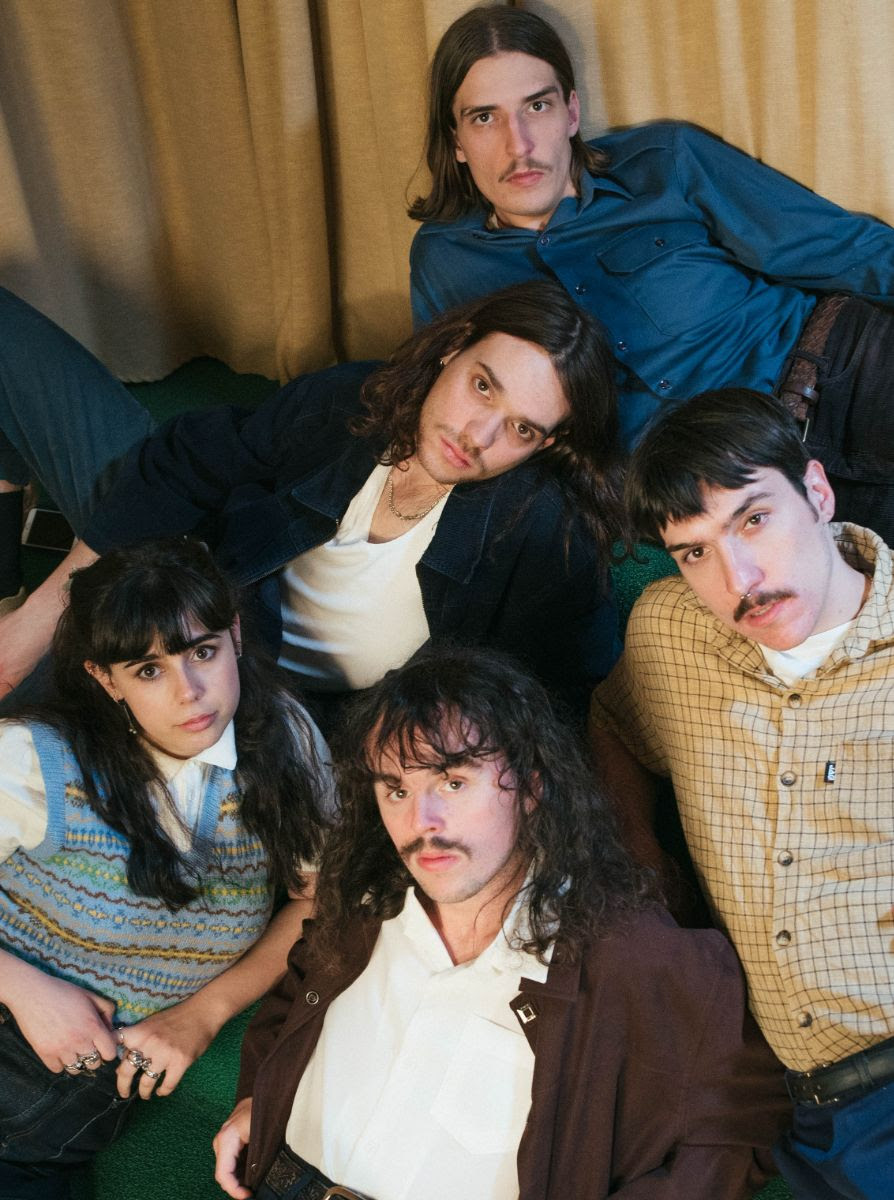 Sydney-based band Georgia June have just released their single 'Try Again', and are about to embark on a nation-wide tour to bring their energetic shows to the rest of Australia. Singer and songwriter Georgia wrote the track about a tumultuous and painful friendship and her inability to confront it. The result is a melodic mix of strength and vulnerability, with the five-piece band creating a dynamism that makes for an epic live show. The band bring together a range of influences, and have worked their way up the Sydney live music scene with a committed DIY mindset, touring with the Preatures and Lime Cordiale and playing much-loved festivals like Falls and Festival of the Sun. Ramona is loving Georgia June's soulful vocals and upbeat sound and is excited about their future! To get to know the members, we asked each to nominate their all-time favourite album.
Joe – (Whats the Story) Morning Glory? | Oasis
You always hear that cliche, "Hey! Play Wonderwall," but the songwriting on this album is (pardon the pun) quite wonderful. Lying underneath its Rock 'n Roll ego, family feuds and 90s Britpop sonic are carefully constructed songs that defined an era. Noel Gallagher's memorable melodies and simple, yet profound chord progressions are characteristically pop. His lyrical romanticism coupled with Oasis' loud and provocative force is testament to this albums timelessness. So when everyone jokes and groans whilst those opening four chords play, soon you'll be hearing them sing those lyrics that they love to hate and hate to love!
Jack – OK Computer | Radiohead
Upon being asked about my favourite album, I knew it would ultimately be Radiohead. (It was a close finish between this one, In Rainbows or A Moon Shaped Pool.) OK Computer eventually won, as it was my first introduction to the band and, instantly took me to a place that was entirely new to me, sonically and emotively. I love music that transcends my sense of reality or allows me to envision an otherworldly character behind the creation of the music. Whether it's the soaring, introspective performances from Thom Yorke or the Greenwood, O'Brien duo, this album definitely ticks all the boxes.
Georgia – Sampha | Process
This was super duper hard, but Jack choosing OK Computer made it easier, because we couldn't both do Radiohead (just for the record, In Rainbows is equally as close to my heart!).
 

I find it difficult to listen to Sampha's 'Process' without getting overy emotional. Lyrically, the entire record is laced in honesty, the melodies move sweetly, working perfectly with every syllable found in a phrase. The nudity and discomfort of his voice throughout the record carry the story of each song, whilst still maintaining his lush tone. He created a sonic which lives entirely on its own planet. The song '(No One Knows Me) Like The Piano' was the single, and most definitely my favourite. It makes me feel like I'm seven – it shrinks me and songs that make me feel small are the songs I end up carrying around most with me. The entire record makes me feel vulnerable from beginning to end, which is what I think I love most about it.
James – Kanye West | Yeezus 
The album from the future. This album, I reckon, is so ahead of its time it could be released tomorrow and still turn heads. It's some of Kanye's boldest work (On Sight, Send It Up) and the scope of the album's collaborations allows for its aesthetic to be far reaching and boundary pushing (most notably production from the French prince of electro Gessafelstein). With tracks left of centre (I'm In It, Hold My Liquor) and some more within the popular music trope (Black Skinhead, New Slaves) which have stood the test of time, it's one of the greatest techno-electronic/hip hop hybrid albums, and for me there's nothing else quite like it.
Lewis – Les Rallizes Denudes | Heavier Than a Death in the Family
Coming out of 1970s Japan, Les Rallizes Denudes are maybe the most mysterious band to ever exist. With a constantly revolving lineup, extreme left political ties (try plane hijackings) and making their entire discography out of their bootleg recordings, they blended psychedelic music and noise in a perfect combination. 'Heavier Than a Death in the Family' shows this perfectly, and for me is a great entry album for the band. With songs like Strung out Deeper Than the Night and The Night Collectors, they show the brutal assault of noise they have become known for, contrasting with tracks like Enter the Mirror, where the influence of bands such as the Velvet Underground shines through. The mystery of this band is enough to get anyone to listen, but past that lies some amazing music, and this album is a great snippet of the larger whole of Les Rallizes Denudes.
*********
GEORGIA JUNE 'TRY AGAIN' TOUR 
Friday 27 September – The Cambridge Hotel, Newcastle, NSW
Saturday 5 October – Yours and Owls Festival, Wollongong, NSW
Thursday 10 October – The Gasometer, Melbourne, VIC
Saturday 2 November -The Vanguard, Sydney, NSW
12 – 14 December – Festival Of The Sun, Port Macquarie, NSW
[share]