Writing by Rose Sejean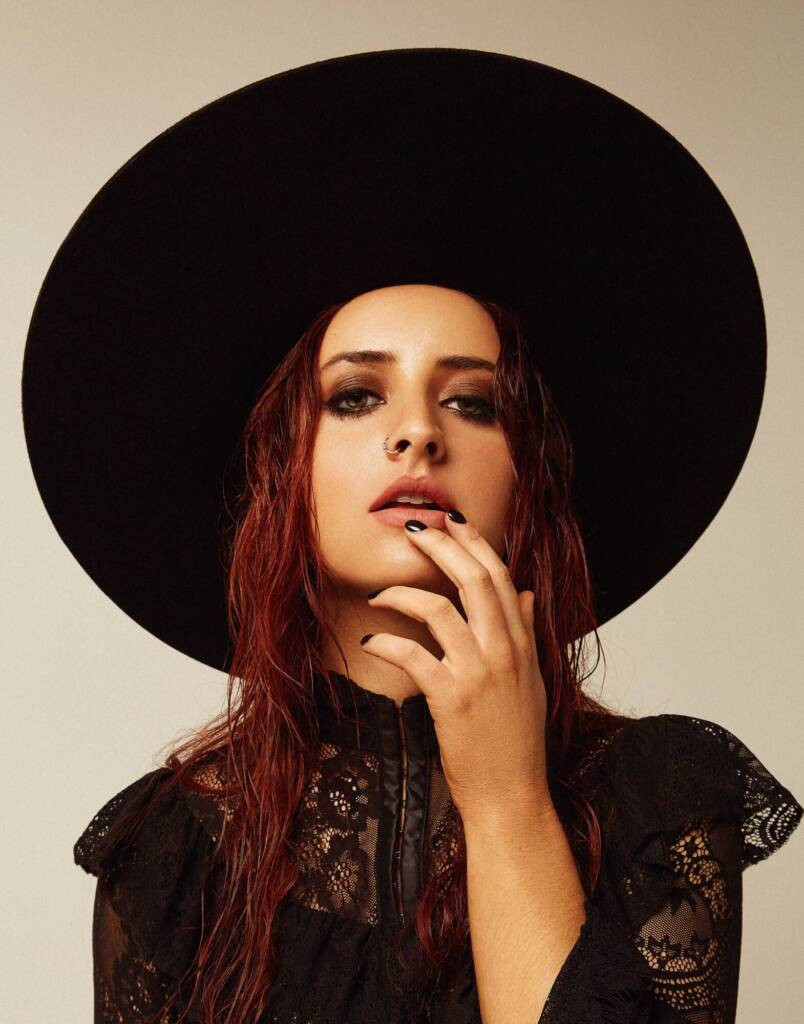 For an artist who first came to our attention making emotive country-folk, Tori Forsyth seems to be delving deeper into 90s grunge glory with each new release; switching out warm acoustic guitar tones for badass distortion and revealing a newfound grit and intensity.
Her current single 'Down Below' packs an alt-rock punch, tackling the maddening downward spiral of intrusive thoughts and lending proof that her musical evolution is steeped in authenticity – Tori Forsyth is embracing her shadow and well and truly dancing with her darkness.
Originally hailing from the Hunter Valley in New South Wales, Tori began playing guitar at age 16. Struggling with school, the somewhat rebellious teen was gifted the instrument by her dad with the idea that they would learn to play together. Music would soon become for her a constructive outlet in which to focus her energy and today has earned her a loyal following, a major label record deal and over 5.2 million streams worldwide… not bad!
I'm catching up with Tori during what would ordinarily be the most action-packed phase of a single release campaign, but with COVID-19 restrictions in full swing, she's instead isolating with her family in Queensland. The artist tells me she spent the morning working on a mood board – one of the little ways she's been trying to stay grounded amid the chaos. As we get onto the topic of the current state of the world, she sounds all too sensible of her position of privilege in it, but admits that she too has her days:
"I think it's the uncertainty" she says, "the not knowing when, I think is one of the scariest parts for everyone. It becomes less about dealing with right now and more about, this could be what's up for the next six months."
As we dive into the ups and downs of adjusting to the new reality, it's hard not to address the toll it's taken on the live music industry; with venues closing, tours cancelled, and major festivals postponed, it's been one of the music industry sectors hit hardest by the pandemic:
"I mean, that's my livelihood. It's how a lot of musicians make money and I think getting that part of the industry back up and running is going to be a slog" she says soberingly. "For now, I've accepted that reality and made peace with it… I feel like it's less about my personal experience and more about the collective."
Like many artists, Tori has tried to make the most of the enforced downtime by channeling her energy into creativity; in addition to her music & spirituality blog, the singer songwriter has been hosting her own Insta-Live series aptly titled 'Down Below', featuring an awesome line up of guests on all things holistic healing, astrology and witchy rituals.
Despite previously being hesitant to open the doors to this part of her life, spirituality and music have always gone hand in hand for the self-proclaimed 'Poet Witch from the Stix', who describes her songwriting approach as far more intuitive than methodical:
"It's like being a conduit for some other thing… I've never really spoken about it in that context until recently, I know it probably sounds a little 'woo woo' or whatever" she laughs, "but everything I've ever forced myself to write has been pretty shit, to be honest. I have to just let it happen when it happens, and it's taken me a long time to accept that that's how it is for me."  
'Down Below' (produced by Shane Nicholson) was no exception; written earlier this year while Tori was recovering from surgery for endometriosis. She recounts how easily the song "spilled" out of her at the piano, with no expectation of the fleeting moment of catharsis becoming a single.
'Down Below' is inescapably dark, with themes of paranoia, anxiety and fear of inadequacy, but Tori tells me she's a big believer in embracing both one's light and shadow sides:
"There was definitely a point at the beginning of my career where I was trying to be what other people might perceive as more palatable – I think we all go through that – but I eventually realised that it's ok to accept the darker parts of yourself because we all have them…. I'm drawn to dark artists because I think there's an element of human there, where you can go "I relate to that", and you feel seen… It's my favourite part of music, I think; being able to relate to darker things and allowing it, knowing it's ok to do so" she says.  
For all its darkness, there's something strangely unifying about 'Down Below' – after all, we all grapple with these emotions and in one artist giving voice to them, it serves as a comforting reminder that we're never alone.
WATCH THE VIDEO FOR 'DOWN BELOW':
(Video by Bradley Murnane and Billy Zammit)
FOLLOW TORI FORSYTH: WEBSITE | INSTAGRAM | FACEBOOK | YOUTUBE
LISTEN: SPOTIFY | APPLE MUSIC
[share]