Poem by Priyanshi Arora // illustration by Ramya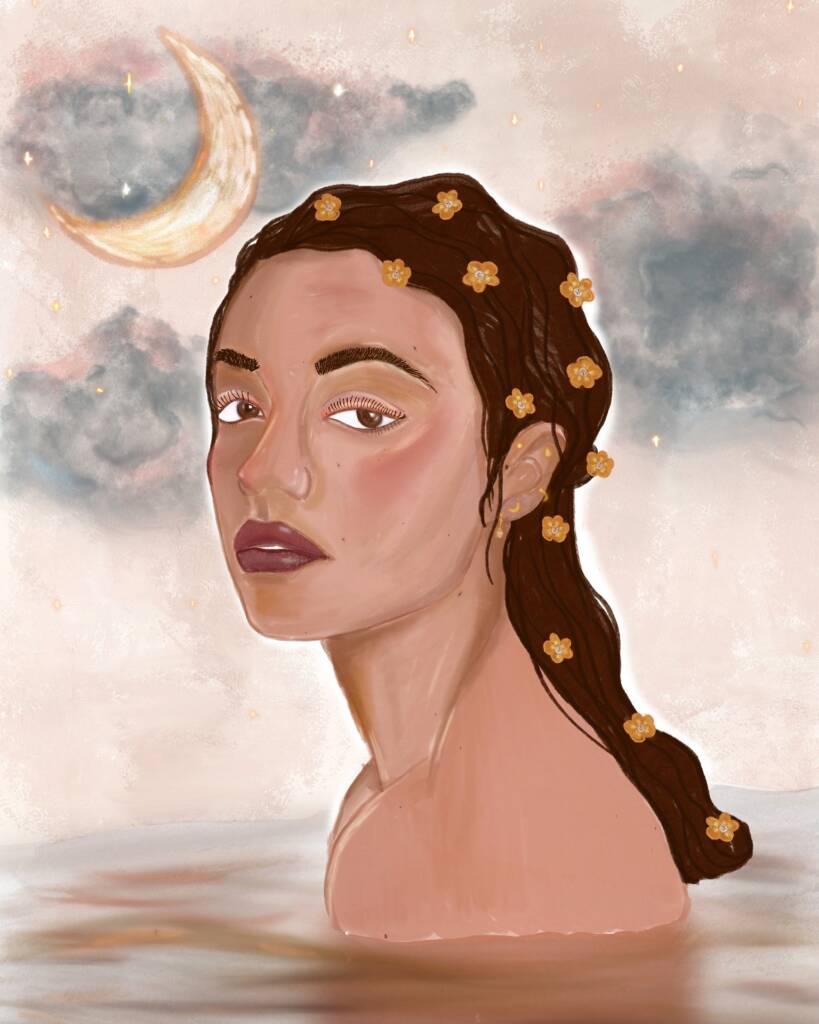 They tell me to look in the mirror, for the sunrise in my eyes is urging me to chase new beginnings.
I see irises, light deprived and glowering in hues of carnelian, cerise and coquelicot.
I tried, I swear I tried to drench my scabs in skin-toned acrylic paints to conceal my "illness".
They only ended up searing more.
My mascara is caked around my eyelashes, crumbling along the creases.
The sunflowers you got me are crumbling onto the floor, too.
I dusted the record player today, and sang along, choking on saltwater and turning it off.
You told me the rustling wind is unpaid therapy.
I stood out on the balcony, only to wrestle the urge of throwing myself off of it.
I have 16 freckles on my torso, and that is your birth date,
And that is the number of seashells I stockpiled on my bookshelf today.
Oh, and there's another way of fighting the blue, build sandcastles.
Even they are washed away by some blue waves.
It's been me who gulps down an entire ocean furtively.
I hope for the ocean to gulp me down tonight.
I ran around in circles, at eventide, to exonerate my mind of doing the same.
None of it works.
Today completes 3 months of me living out of a suitcase, but hey,
Art comes out of my anxiety, so mental illnesses may be worth it.
I sometimes punch the walls, roam the streets at night and not reply to texts.
"Are you okay?", am I?
I don't comb my hair and sometimes, wear the same silk camisole until it's grimy.
I tape my dreams with duct tape every dawn, and then some water seeps in, and my dreams go lulling on the shore.
Acid rain is diluting my black coffee as I sit cross-legged on the 28th floor balcony.
Why didn't you tell me it's corrosive to memories too?
Yes, but there are also other things you never told me.
"Okay love, the sun has gone out, go to bed".
And so, has the air inside of my cells.
"Goodnight. I love you."
Goodbye, I love too much.
[share]