Interview of Pleasure and Peach by Haylee Penfold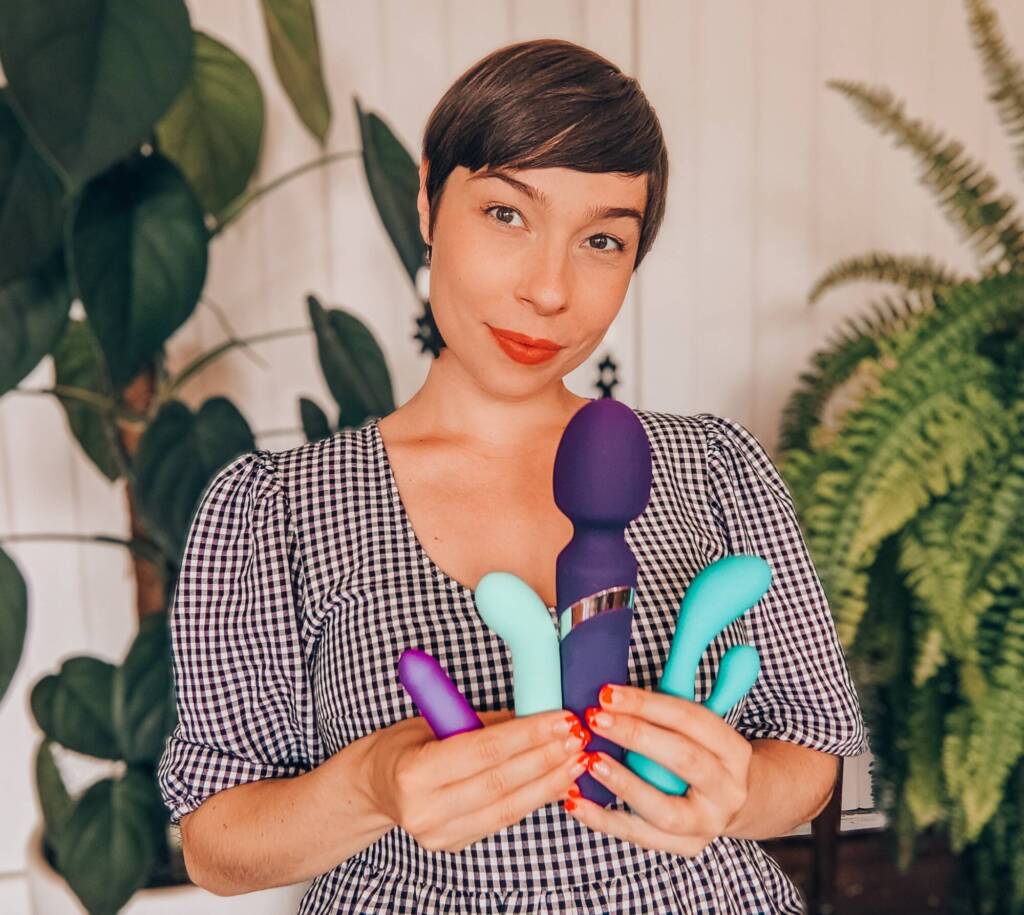 For this year's International Women's Day, I got to celebrate with the owner of Pleasure and Peach and had the opportunity to interview Abby to find out a little bit more about how she started her empowering and sex positive brand that I have grown to know and love.
Abby is a mother of two and the proud creator of Pleasure and Peach, she is a pleasure positive sexuality professional with a huge passion for bringing women uplifting and educational experiences in sexuality and self-care.
Having grown up in Newcastle, Abby moved to Sydney to study her bachelor of psychology with a focus on sexology. She thrived and loved her degree as it cemented her passion for creating empowering and therapeutic experiences for women. However, she also knew the traditional clinical route wasn't where her passion would lead her and that is when the concept of Pleasure and Peach began.
Many of Abby's personal experiences relating to sex, pleasure and body-image inspired the creation of her brand. In her early twenties Abby lived with severe anxiety and an eating disorder and struggled to connect with her body, losing her sense of worthiness when it came to authentic pleasure which brought about a struggle to really connect with her body. Abby found that seeing a qualified therapist, learning about her body and her right to pleasure was hugely empowering. She found the importance in self-care and self-compassion and started the loving ongoing relationship she now has with her own body. A huge lesson was realizing her pleasure was equally important as her partner's and learning to communicate her sexual needs and desires had a huge impact on her individual growth.
"It was amazing to be rediscovering the joys of my body, self-confidence, authentic pleasure and reconnecting with myself. Sexual self-care played a big role in this. Now turning 30, I look back with so much admiration, love, and empathy for my past self. I am so proud of my journey and where I am now" says Abby.
She also rebuilt a wonderful relationship with herself through connecting with women and building relationships with each other. "Connection is nourishment" she says, explaining that she wants to use her business to show the importance of building connection and community among women instead of pinning us against one another.
Pleasure & Peach is a pleasure-positive business with a focus in sexual self-care and education for women. Online, there is a store full of quality, body-safe pleasure products and lubricants, educational literature, pleasure-positive art and more. There is also a range of creative workshops featuring signature sexual self-care classes on offer. With it's focus on empowering women, Abby's brand creates opportunities for women to connect with themselves, their bodies, and their pleasure all while deconstructing toxic socially constructed shame and stigma that women face when it comes to their own sexual pleasure.
So what sex advice would Abby give her younger self? Her answer – Solo sex!
"solo-sex is an important and wonderful part of self-exploration and self-care. It is healthy, completely normal and nothing to be ashamed of." She explained.
In Abby's words "The Clit is lit!" get to know yours, she's awesome. Despite how penetrative sex is depicted in pop culture, orgasms come from direct stimulation of the clitoris not penetration alone, you are not broken, you are completely normal. Also the importance of clear and enthusiastic consent is crucial, always. Vibrators and lubricant will change your life. The incorporation of Pleasure products are amazing in BOTH solo and partnered sex. It's important to remember sex is an experience and not a performance – don't fake orgasms, you deserve real ones. Communicate your sexual needs with your partner and it's okay to take as long as you need to orgasm. There is no right or wrong way to experience or explore pleasure as long as it is consensual. Don't think of having sex as "losing" something, virginity is a social construct.
And what sex toy does Abby recommend for singles and couples wanting their first toy?
The answer is clitoral vibrators and g-spot stimulators. Over 95% of women need direct clitoral stimulation to reach orgasm. Vibrators are an amazing tool that can be used to stimulate the clitoris, and they often make it easier to orgasm too! They are great to use both for solo and partnered sex. If you're looking to purchase your first toy Abby's recommendation is a versatile toy such as the VeDo Yumi. It can be used on it's own or paired with internal stimulation from other toys, fingers or a penis.
"Pleasure & Peach means everything to me, it is what I needed growing up, what my friends needed, my mum and grandmother and generations before them. Everybody deserves to explore and learn about pleasure, free from shame and stigma."
The workshops offered are for all vulva owners and female identifying people over eighteen years and over. They are made up of two parts, the first is a creative class which acts as kind of an ice breaker letting everyone get to know each other, learn a new skill, make something beautiful for yourself and warm the space before starting the Signature Sexual Self-Care Class. The Signature Sexual Self-Care Class involves a safe space to discuss sex and pleasure. Information about The Orgasm Gap, sexual response & desire, sexual pleasure centres and erogenous zones, health benefits of solo sex, introduction to body-safe lubricants, introduction to body-safe adult toys, introducing toys to partnered and solo sex, celebrating body diversity, sexual health, ethical porn, Q&A and where to find more information. "The workshops are beautifully styled and includes wine and a grazing station because you are wonderful and fabulous and deserving of all the good things." Abby says.
Workshops can be booked for private events, publicly ticketed events, birthday celebrations, hen's parties, a break-up party, Galentine's Day, or just because!
Private bookings are currently unavailable until the end of 2021 as Abby will be taking time away to give birth and care for her new bub. However, in the meantime you follow @Pleasure_and_peach on Instagram and sign up to the waiting list on the website to be notified when they become available again.