Interview of Mabel and Ivy by Juliette Salom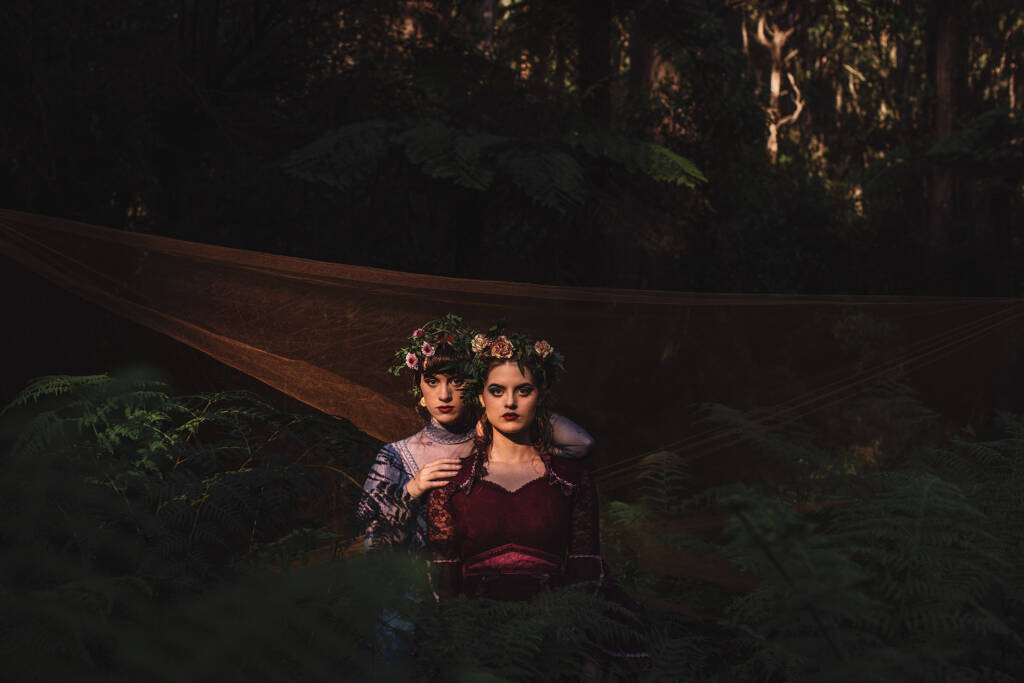 Hello Mabel and Ivy! How are you? And where are you speaking to me from? 
Hey! We're pretty good thanks! We're in Naarm/Melbourne, Australia – in lockdown at the moment, drinking lots of chai tea, eating chocolate and making lots of promotional videos for our album release!
The latest single Canyon from Charm of Finches is a soaring dreamscape of harmonising vocals and images of ethereal ventures into the mountains. Where did the inspiration for this song come from?
Well, we both keep a dream journal and we wanted to explore dreams as our song inspiration. We noticed that we were both having dreams about leaping into the unknown – one was leaping out of a huge tree, the other off into a canyon. It's strange and beautiful the way your subconscious can show you things through bizarre little dream journeys. So this is our little leap of faith song.
The music video for Canyon is a compilation of colourful wigs and dreamy dancing; what is it like to see the music you create be made into a visual format? Do you two have any hand in the process?
We normally work with a small crew and we love to get our friends to act in our videos with us. We've always loved coming up with the concepts of our videos and creating a story-line or aesthetic which fits into the world of the song.
We made the Canyon music video during lockdown in our apartment, so the crew was just the two of us! We transformed our kitchen into a kind of studio and put a bunch of colourful cloths up on the walls for the backdrops. We dug up all of our costumes and wigs which were our mum's from when she did performance in the 90s. We also gathered props from around the house and picked some wattle from the creek. We had lots of fun filming each other and then Ivy edited it together. Ivy edits all of our music videos!
Making music as a sister duo must be incredibly rewarding. What prompted you to start Charm of Finches together?
We've grown up listening to a lot of folk music at home like the O' Brother Where Art Thou soundtrack, Celtic music and always around our dad's Bob Dylan obsession. We also went to a Steiner School where you sing in class everyday. Our mum also ran choirs in the school playground. As kids we always sang together around the house and in the bath (good acoustics!) and when we were 8 and 11 we started singing in an acapella trio with a friend, where we did a lot of busking and a few gigs. When Mabel was 12 she started writing her own songs and Ivy joined in with some harmonies and that's where Charm of Finches started. When we heard that the Swedish sisters from First Aid Kit made their first album in their teens we were inspired, so we recorded our first EP when we were 11 and 14 for Mabel's school project and then started playing music festivals around Australia.
What's the process of creating music together like? Do you work within a structure of delegation or is it a collaborative process all the way through?
As sisters we can be very honest with each other when we collaborate and we don't worry about losing a friend! It's nice living together because we can always have spontaneous songwriting sessions. We have been writing together a lot recently. Most of the songs on our upcoming album Wonderful Oblivion are collaborations. We have a few favourite songwriting techniques – we do a lot of stream-of-consciousness writing to a set time and we often draw inspiration from poetry and novels, using our favourite lines or phrases as prompts.
You both grew up busking and playing on festival stages. How do you think having the experience of being in front of audiences from such a young age has impacted how you perform now as Charm of Finches?
Starting young has enabled us to get really comfortable performing on stage and has given us a lot of time to develop our stagecraft. There's a lot of things that you learn on the job as a performer like communicating to a sound person about how you like your sound, interacting with an audience and developing arrangements as a duo.
Being musicians in this current state of the world must be exhausting with continuous venue closures and strict density restrictions. Have lockdowns given you both the chance to slow down and focus on the music? Or is this time of global catastrophe making it hard to be creative?
Yes, it's definitely very exhausting and frustrating as a musician right now. We've had so many shows and projects postponed. We've just been trying to focus on what we can do during lockdown. Last year we were supposed to be touring our last album but when we couldn't, we decided to record another album, recording at home and working remotely with our producer Daniel Ledwell who lives in Canada. This process involved sending a lot of audio files back and forth over the internet and a lot of Zoom meetings very early in the morning (because of the time difference). There were a lot of good things about recording from home – there was no time limit with our recording sessions so we could record as many vocal takes as we liked! We wrote a lot of the songs on the album during lockdown. Now we can't wait to get out of lockdown and experience life outside of our apartment more and we are imagining getting back to being in the world properly again will inspire new creative work!
And you have a new album coming out in October! Tell us a bit about Wonderful Oblivion, and where will we be able to listen to it once it's released.
Yes! We are so excited to share this album! We are very proud of this body of work. It will be out on all streaming platforms on October 22nd, with CD and vinyl following after that. There's currently a huge backlog on vinyl record production worldwide, so we are at the mercy of that, as to when the actual records will be here.
While our last album Your Company came out of a time of grief after our friend passed away where we were writing a lot of songs as a process of healing, we feel this new album was written from a place of new possibilities and adventure, both with sounds, as well as the stories we wanted to tell. Working remotely with Daniel Ledwell in Canada, there was a spirit of discovery and playfulness. There are new landscapes, not just emotional, but outward looking and far horizons. Lyrically we were inspired by artists like Sufjan Stevens, Joanna Newsom and Aldous Hardng to take a finer paintbrush and create vivid scenes with absolute minute details.
We've reflected on how lots of the songs can be linked to the title Wonderful Oblivion. Gravity is about false hope and reality-denying positivity and how it can be counterproductive – it's like choosing to live in wonderful oblivion (denial) to mask pain and fear. Canyon, inspired by dreams, is another sort of wonderful oblivion and As A Child mourns the loss of the wonderful oblivion of childhood where there were no worries, only wonder and faith in goodness.
It was so lovely to chat with you both. Where can we find you for all the latest Charm of Finches news and music?

Instagram: @charmoffinchesband
Facebook: @charmoffinchesband
Twitter: @singingfinches 
Website: charmoffinchesband.com
Bandcamp: charmoffinches.bandcamp.com/album/wonderful-oblivion
YouTube: youtube.com/c/charmoffinchesband