Writing by Montgomery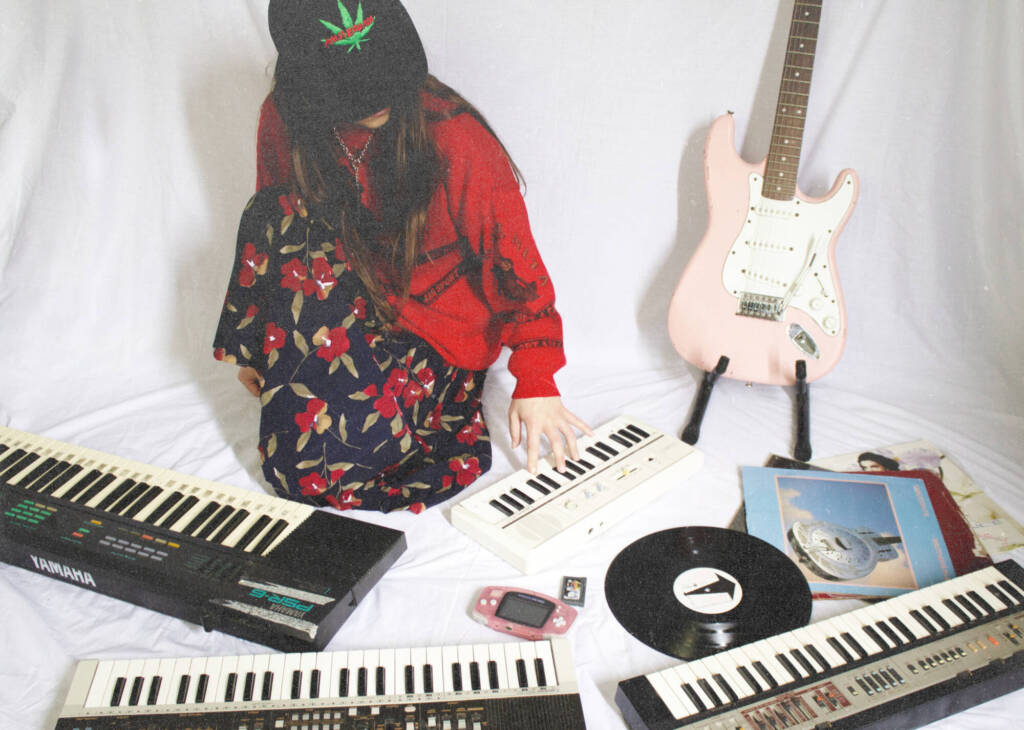 Over the years of moving around a lot, I've come to realise I'm a big collector of things. Mainly items that provoke a feeling of nostalgia. A lot of what I collect are things that have lived before me and already have a story, that feel deeper with their own history and personality. But there are also things that I've held on to for the memories I've created and associate with that certain "thing". I know on the surface they're just objects, but there's life and feeling in them that makes me feel something I don't get from other things. So here are some of my favourites.
My first ever electric guitar.
I remember going to the store when I was 12 and picking it out on the spot after months of learning on an old acoustic that hurt my fingers. It was a dark green imitation brand fender and it was perfect. I took it home and over time covered the scratch plate with stickers because all my idols were doing that. I've upgraded and downsized my collection of guitars & instruments throughout the years but this one has stayed, though not without going through an awful DIY paint job to make it light pink. The guitar is absolutely trash but the sentiment is not so this one will be staying with me.
My Korg Poly-800.
This was my first vintage synth purchase and really the catalyst to collecting old synths/keyboards. I bought it off someone in Japan and it arrived smelling like cigarettes so I assume it's had a very rock and roll life. Just wish it could talk. I do like the mystery behind it because I feel like it would've met some cool characters and seen some shady places. It's become a punish to own though as it keeps needing to be serviced but it has a firm place in my heart so I can't part with it. We will soldier on.
My Casio VL-1.
This little teeny tiny synth is a literal museum piece and maybe my favourite collectors item, being the first commercial digital synth back in 1979 and used in by artists/bands including The Human League who I love. Fergie even used a beat from the VL-1 in "Clumsy" which is iconic. The day that I picked it up, it inspired me film to covers using some of my little instruments and I recorded a Nelly Furtado cover with it that night.
My Gameboy Advance. 
I bought this second-hand Gameboy about 5 years ago off eBay because I wanted a nostalgia trip. I used to take it with me everywhere for train rides, lunch breaks at work, etc. Now I'm scared to put batteries in it to see if it still works, however it's still next to my bed to remind me of the time I pulled it out of my bag after a few drinks at a bar and asked the guy I was sitting with to help me beat a level in Castlevania that I was stuck on. I fell in love that night. We still haven't beaten that level.
My parents' records.
When I got my first record player for Christmas, my parents gave me their records. I didn't even know they had records. We only had a CD player growing up. They gave me Queen's Greatest Hits, Lovesexy by Prince and Dire Straights' Alchemy Live. They were all in pretty average condition but they still play, you can still sing along and I was really just so excited to bring life back to the few records my parents held on to and build my own collection from there. The majority of my collection now consists of artists that played in the house I grew up in. I think that set me up.
My favourite op-shop finds.
I used to go to my local op shop almost weekly to hunt for new items. I really like up-cycled clothing for the same reasons I like collecting things. There's a story in those clothes. Maybe Grandma Jill wore this skirt to her first date with Grandpa Brian and now I'm about to wear it to the bar where it'll get covered in someone else's Midori. That's wild. Almost 10 years ago, on separate trips I found a bright red jumper and a navy pleated high-waisted skirt with red flowers on it. I remember so many different occasions and periods over the years where I've worn them. I love that even now they're still on high rotation in my wardrobe, the colours haven't faded and I will continue to add memories to an already long list.
Dad's hat.
My sister and I found this hat in our dad's car after he passed away. She bought it for him when she was travelling through Amsterdam. It was supposed to be a joke. No one expects their dad to wear a cap with a marijuana leaf on it but it was in his car looking well-loved which led us to believe he was actually wearing it out, the mad man. My sister let me keep it, though I don't really like wearing it because I don't want it to become "mine". It's still Dad's hat, I'm just looking after it.