Q&A with Heirloome by Juliette Salom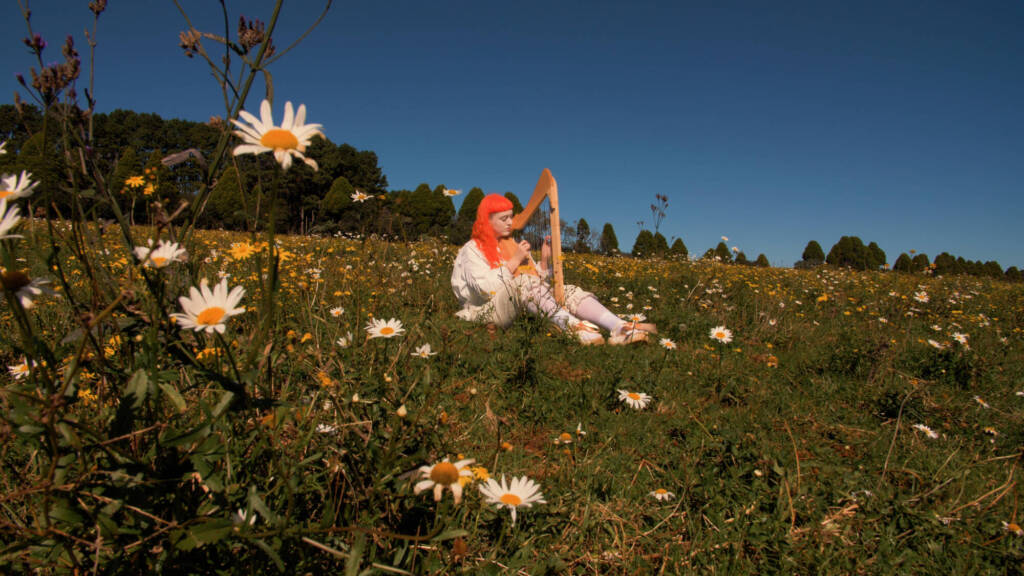 Hello Heirloome! How are you? And where are you speaking to me from?
Hello! I'm on Gumbaynggir land right now, also known as Dorrigo, in NSW Australia… it's a lush, green-covered mountain with an incredible old-growth rainforest, and spectacular waterfalls. It's easily one of my favourite places in the world – very magical, very misty, very sacred.
Your upcoming release Flesh to Flower is an exploration of the beauty of transforming grief into magic. Can you tell us a bit about how the song came about?
I wrote "Flesh To Flower" after the death of my younger brother, Matty, in 2019. Not long after he passed, I saw a shaman – and together we sang to my brother's spirit to help him move on. She called in the medicine of the hummingbird to guide me… and ever since, little birds have appeared to send me messages. A few days after I saw the shaman, three swallows appeared at my window, and told me to write three songs for my brother. "Flesh To Flower" is one of those songs…  it's me asking my brother questions about what it means to die, and what it means to live after you lose someone you love.
Do you gather most of your inspiration for your music from your own life?
I do, yes. I think I used to really cloud what I was writing – and try to make it less direct – or borrow voices from mythology or characters in my songs, because I suppose I was afraid to just let people really see me. I still do that sometimes, and I think its wonderful – but increasingly I realise that my identities & experiences are inextricably tied to what I create & why, and I'm leaning in to that more as time goes on. For example – I'm queer, nonbinary, and neurodivergent – and I have a complex trauma history. For a long time I hid those things… and now I just want to be honest, because it matters. I want other people to know they matter – so how can I say that, unless I say it honestly?
You describe the song's music video as Ponyo meets Picnic at Hanging Rock. Where in the process of making music does the role of visuals come in for you?
I have to give a huge shoutout to Tim Kent (Stackhat) who directed the music video here. I honestly think he is a creative genius. He heard the song, and almost immediately came back to me with this concept about meeting a magical water spirit in the shape of a fish, and wanting to hold it & keep it… but ultimately learning that sometimes we have to let go of the things we love, to set them free. To me that was perfect – I wanted the song & video to be filled with magic, because for me a sense of curiosity & wonder is a huge part of how I move through grief. When I'm writing songs, in real-time I'm always seeing the colours that belong to them, the landscapes that belong to them… I see them form visually in my mind as well as sonically. They're always tied together – and working with Tim was a dream because he just seems to get it right away, and elevate it.
Have you always been making music? Tell us about how you came to find your unique voice.
When I was 17, I tossed a coin. If it landed on 'heads', I was going to study Poetry & Literature, and become a writer. If it landed on 'tails', I was going to study music and become a singer. I got tails! I still write a lot but mostly I sing my poems now. I've been singing to plants, to the sky, to animals, to spirits as long as I can remember… and trying to listen to what they sign back to me. I think of my voice as an instrument that life has shaped… I sound the way that this lifetime has chosen for me to sound. It's the most direct line between me & everything else.
Your sound is very ethereal and dreamy, the music in Flesh to Flower almost sounding like rain pattering down in the mountains. What was the process like of building this song from the ground up?
This song started very bare – just ukulele and voice. I was laying on my back, singing to my brother (in spirit), asking him questions. I left my phone recording, because I knew that I would want to remember. A few days later I listened back, and realised I'd written the entirety of "Flesh To Flower". I contacted a friend of mine, Dryden Thomas (who I met online in a Björk meme group, true story!), and asked if he wanted to do a string arrangement… I had no idea if it was going to be possible, but in my heart I knew this song needed strings. He very generously said yes, and created an arrangement more beautiful than I thought possible. So I contacted the producer, Santpoort (Julien Mier), and tentatively asked him if he would lend his magic to the song. I love his work, and he was perfect for this – we both share a love of sounds sampled from the environment, and of tiny details. This song is really a testament to what happens when people really unite around something, tenderly. Dryden & Julien both knew how important this song was – they knew what it meant.
Thank you so much for speaking to me Heirloome! Where can we find your sweet tunes? 
Thank you for being here!
You can also sign up to my mailing list (we talk, I pull tarot cards, I send exclusive music, videos, writing…)
…and you can also find me in the usual places:
Instagram
…or you can try dropping me a line in the astral realm. I can't guarantee you'll recognise me, though!