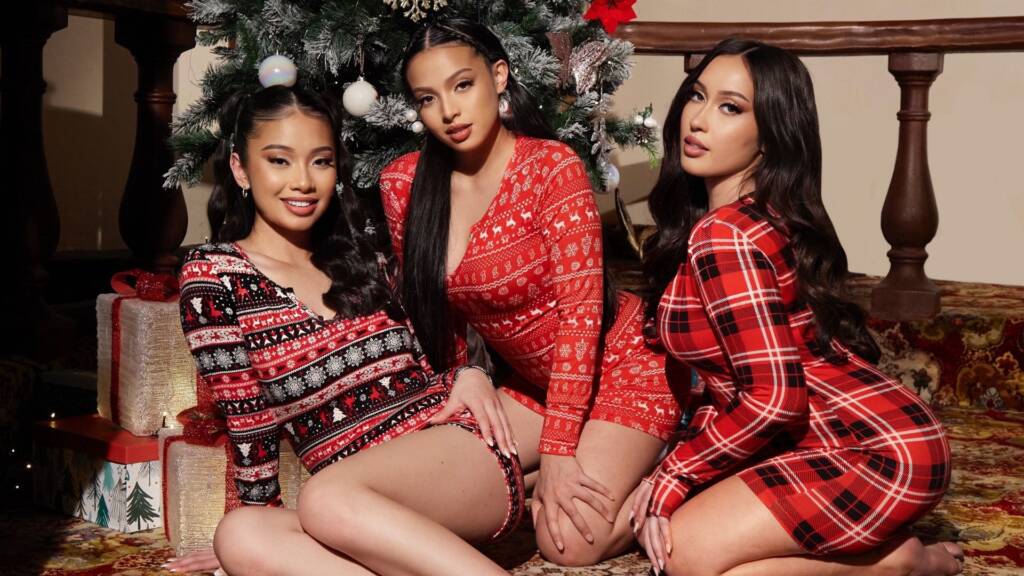 Congratulations on the release of One More Christmas! How does it feel to be releasing your first Christmas single? 
As a Pop Girl-Group Trio, we definitely felt so excited to finally get festive with our music and bring all the Christmas joy to all our followers this year! Especially with our Filipino backgrounds, Christmas is a very special time of year in our culture, so we were nothing but excited to bring all that beautiful Christmas nostalgia. – Tiara
The video clip for this song is so sweet. Can you tell us what the vibes were on set during the making of? Any bloopers we didn't get to see?
There are so many great memories we made filming the music video. We all had the most amazing time on set. The cast and crew were so hardworking and everyone really focused on bringing the story to life. There were so many bloopers during the process, especially one specific segment when we were on the top of the staircase looking over to our younger selves. In the video, it shows us being all cute and happy seeing our past selves when in reality, we were actually all making fun of each other and laughing hysterically. – Tiara
One More Christmas has quite a bittersweet feeling to it. Can you tell us about the recording process/story behind the song?
We had the pleasure of talking to Raquelle Gracie, the songwriter behind "One More Christmas". She shared that the inspiration behind the song was her longing to spend one last Christmas with her late father who had passed a few years ago, reminiscing the times they shared together at those special times of the year. It was so heartfelt hearing her story, and especially during these hard times where people may not be able to connect with their loved ones, we want this song to give hope to them that someday soon they will get that chance and that this time of Christmas will bring them so much joy.
This song is also really special to us because it was the first song we recorded in the studio together as soon as we got out of lockdown. Recording this song felt like perfect timing for us and we're so happy that we were able to shoot, promote and release it in such a short amount of time, all thanks to our amazing team! – Gabby
Do any of you have any special Christmas traditions?
My family loves to do a tradition where my great uncle dresses up as Santa Claus and before he comes in, our parents scream "Santa's coming!" all night. When midnight strikes on Christmas Day, Mariah Carey's "Santa Claus is Coming to Town" is put on and we all hush during the intro of the song until he comes in and the mood changes as he surprises everyone with a sack full of presents, all especially for the little kids!! Afterwards, he gives out the gifts one by one, calling out our names, and by the end of it, we open it all together. It reminds me of how much I cherish Christmas with my family and funnily enough, the tradition still lives on to this day! – Gabby
1.9 million followers is a lot of followers. Do you have any advice for Ramona readers who are trying to grow their audience on TikTok?
We have so much love for our followers! And we've done the same thing since the beginning, when we had a small amount of followers: we stay humble and show our gratitude for our audience! Always show your appreciation for your audience through doing the little things such as liking their comments, responding to them, and interacting with videos that mention you. And don't be afraid to show your passion on Tiktok. You can make sure to keep up with the trends and viral sounds, AND stay true to your brand at the same time! There's always a fun and clever way to combine your passion with what's trending. – Bernie
What are your plans for 2022?
We're honestly so excited to get back into things once our holiday period is over. We're planning to do a lot of songwriting and release more singles, perform as much as we can, and keep creating content for our AMAZING followers. And because we LOVE food, we can't wait for all the different Korean BBQ restaurants for us to explore! – Bernie