Writing by Freya Bennett
After what has been a challenging time in Melbourne over the last two years, we're gearing up to celebrate a Christmas full of achievements and gratitude. At Ramona, we've always been passionate about supporting local businesses – especially women, trans and non-binary run businesses and this year is no different. In fact, this year, it's even more important to be shopping local and supporting small businesses and creators!
We wanted to share with you our top picks from the QVWC shop because of their support of local women, trans and non-binary creators and we can't get enough of their amazing products!
You can visit them in person at the Queen Victoria Women's Centre, QV Square, Rear 210 Lonsdale Street Melbourne or online here.
So without further ado, and in no particular order, please find our patriarchy smashing gift guide for 2021!
1. PINK UTERUS – acrylic hanging earrings
For 12 years (before the inception of SciencePlay Kids) Dr. Loz was a medical researcher investigating the factors that were thought to contribute to cancer chemotherapy resistance.
Since moving on from research and focusing on communicating science to kids, Dr. Loz has missed the lab. She wanted to find a way to still contribute and to improve the understanding on factors that contribute to the development of cancer and how to treat it.
By designing, creating and selling these earrings and giving a portion of the profit back to medical research. Dr. Loz has been able to keep following her passion to improve the quality of life of people touched by cancer.
This amazing area of the female body is also unfortunately host to gynaecological cancers, which account for 10% of all female-cancer related deaths in Australia. Endometrial cancer, also called cancer of the uterus, is the most diagnosed gynaecological cancer in Australia.
The other aim of these earrings is to start a conversation about Endometriosis. More than 730,000 (more than 10%) of Australian women suffer, often in silence, with endometriosis at some point in their life. These women are regularly dismissed by their medical professionals, family and peers who often don't appreciate how debilitating this condition can be. Wearing these earrings you are loudly and proudly bringing these conversations into the open.
By buying these earrings you are contributing funds to undertake research that aims to improve our understanding of these conditions, how they originate and progress, so that we can improve the outcomes for all who are impacted.
Love your uterus (and ovaries, fallopian tubes, vagina and vulva) and wear them proudly. They are beautiful, even with their faults.
Check out the SciencePlay gifts here.
2. COOLIO SLOTH – enamel pin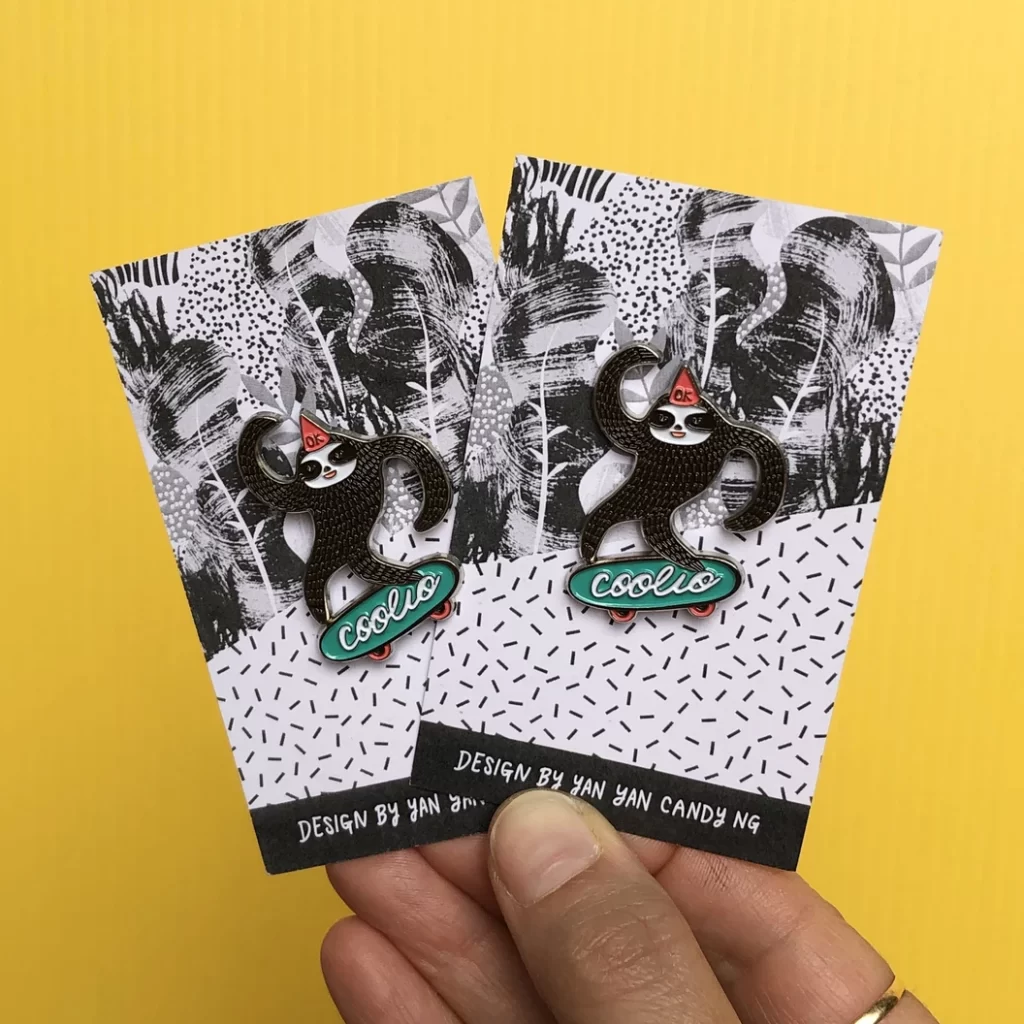 Candy Ng is an illustrator, graphic artist and maker based in Melbourne. She takes time and care for every piece; her style is whimsical and colourful. She feels very grateful to create little something she love and to share the joy to everyone.
Check out Candy Ng's collection here.
3. SHAKE YOUR PALMS PALMS – reusable face wipes
These reusable face wipes are made from organic cotton fabric designed & printed in Australia. Set of 5.
Each wipe is approx 7.5cm x 7.5cm.
The fabric on one side & cotton toweling on the other. 100% Cotton.
Home compostable at the end of their long life. Machine washable.
Check out Juz Savage's collection here.
4. MOTHER & CHILD – fine art print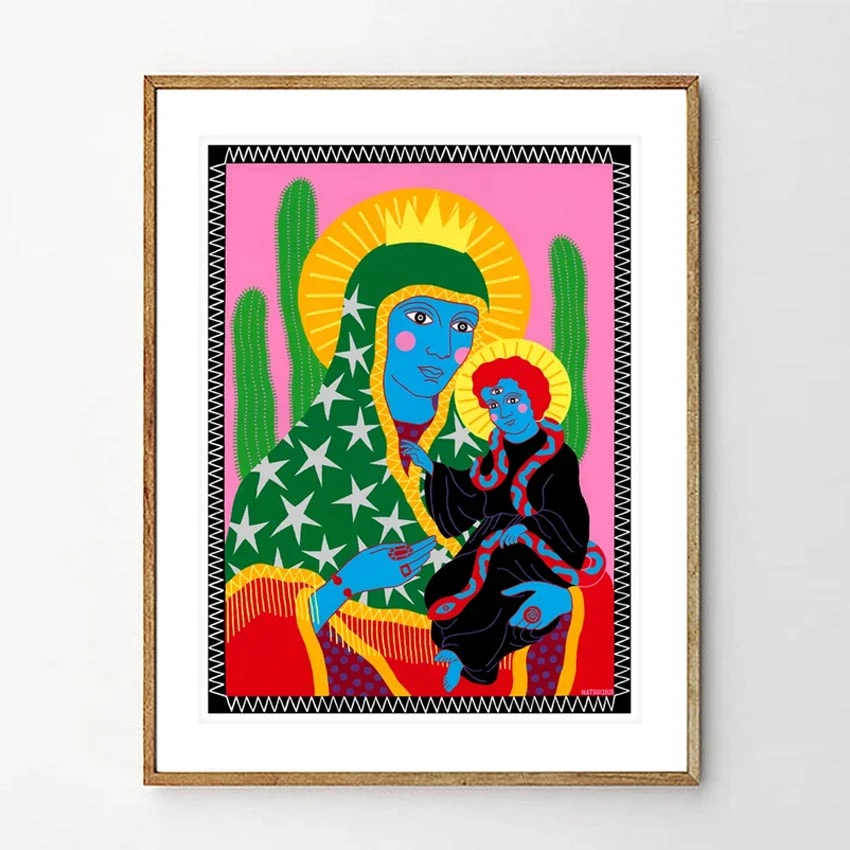 Giclee Fine Art Print. Printed with archival inks on Hahnemhle Photo Rag Stock (Acid Free, 100% Cotton, 188gsm, Matte Finish). Printed in Australia and packed in acid-free packaging.
'A4' Size: Free Edition, hand signed by artist.
'A3' Size: Free Edition, hand signed by artist.
Note: All prints come unframed and include a white border.
Check out Natsui's collection here.
5. MELBOURNE CITY – 1000 piece puzzle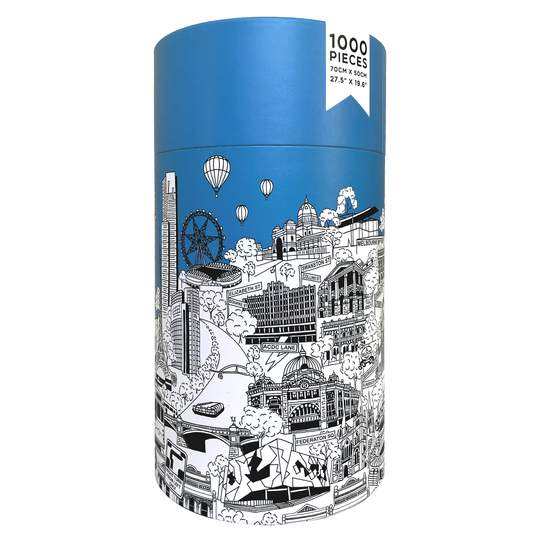 This 1000-Piece Jigsaw puzzle features some of Melbourne's most iconic attractions & buildings. Some of which include the Eureka tower, Federation square, Flinders Street Station, the Royal Exhibition building, Melbourne Arts Centre, Melbourne Town hall and a vintage Yarra Tram.
The original illustration was hand drawn, in Melbourne, Australia. There are so many iconic buildings and locations included in this puzzle, you will be intrigued to look at every one of the 1000 pieces.
This Melbourne Jigsaw not only will provide hours of entertainment, but also a finished artwork that you can admire for years to come. Ideal gift for lovers of Melbourne & puzzle enthusiasts.
DIMENSIONS:
Finished jigsaw is 70cm X 50cm or 27.5″ x 19.6″, ideal for framing when finished.
Check out Vicinity Store's collection here.
6. DOLLY TSHIRT – unisex tshirt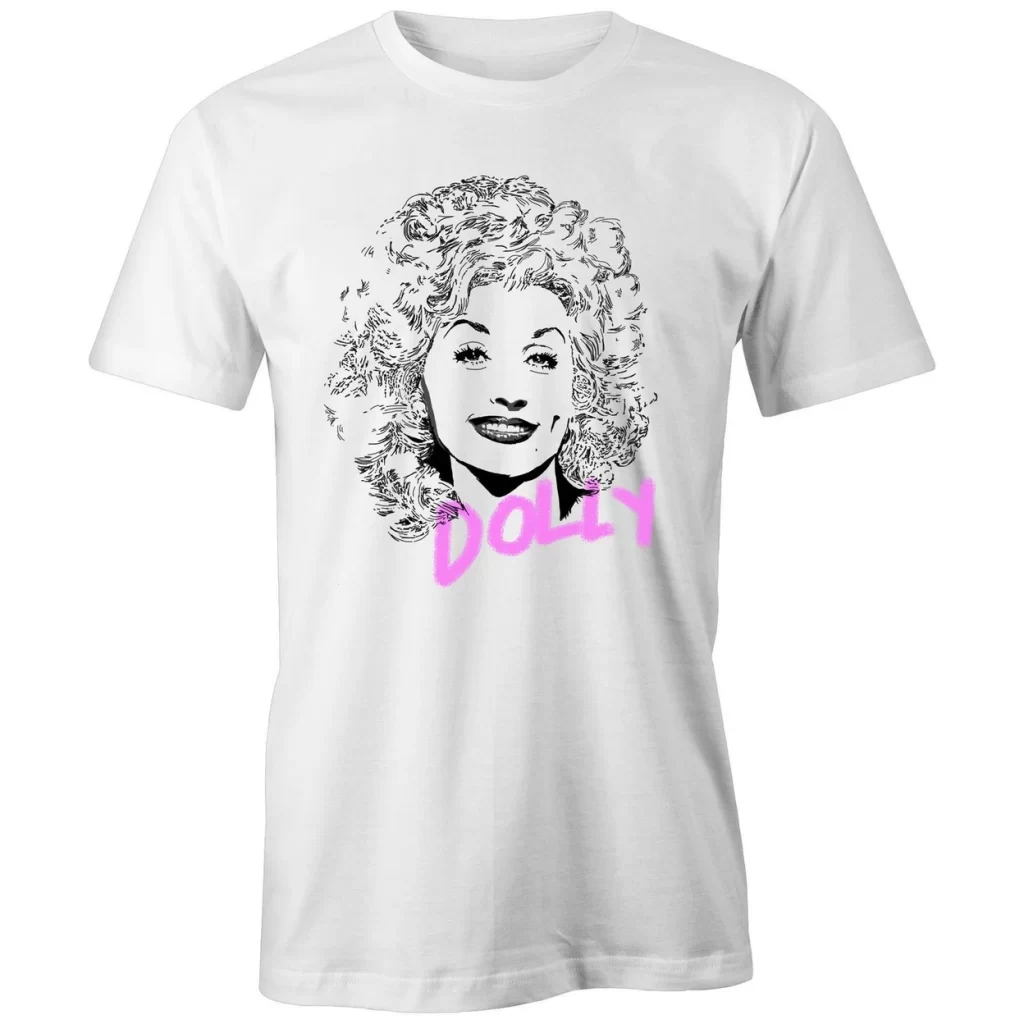 All you gotta do is smile that smile. And there go all my defences.
Here We Go Again – Dolly Parton
The Queen Of Country Dolly Parton – songstress, musician, actress, producer, author and 20th century ICON. Not only having penned all her own songs – many of which were hits – but also penned some of the most successful songs of all time. Most notably – I will always love you.
Unapologetically Dolly, she embodies resilience, grace, charm, determination, strength, perseverance and she had the unique ability to not take herself too seriously.
Slim-Regular fit
Crew neck
Light weight 100% organic combed cotton
Quality cotton grown without the use of herbicides or pesticides – GOTS (Global Organic Textile Standard) certified
Neck ribbing, side seamed, shoulder to shoulder tape, double needle hems, preshrunk to minimise shrinkage.
Check out High Tees collection here.
7. COLOURFUL BLOOMS – A5 notebook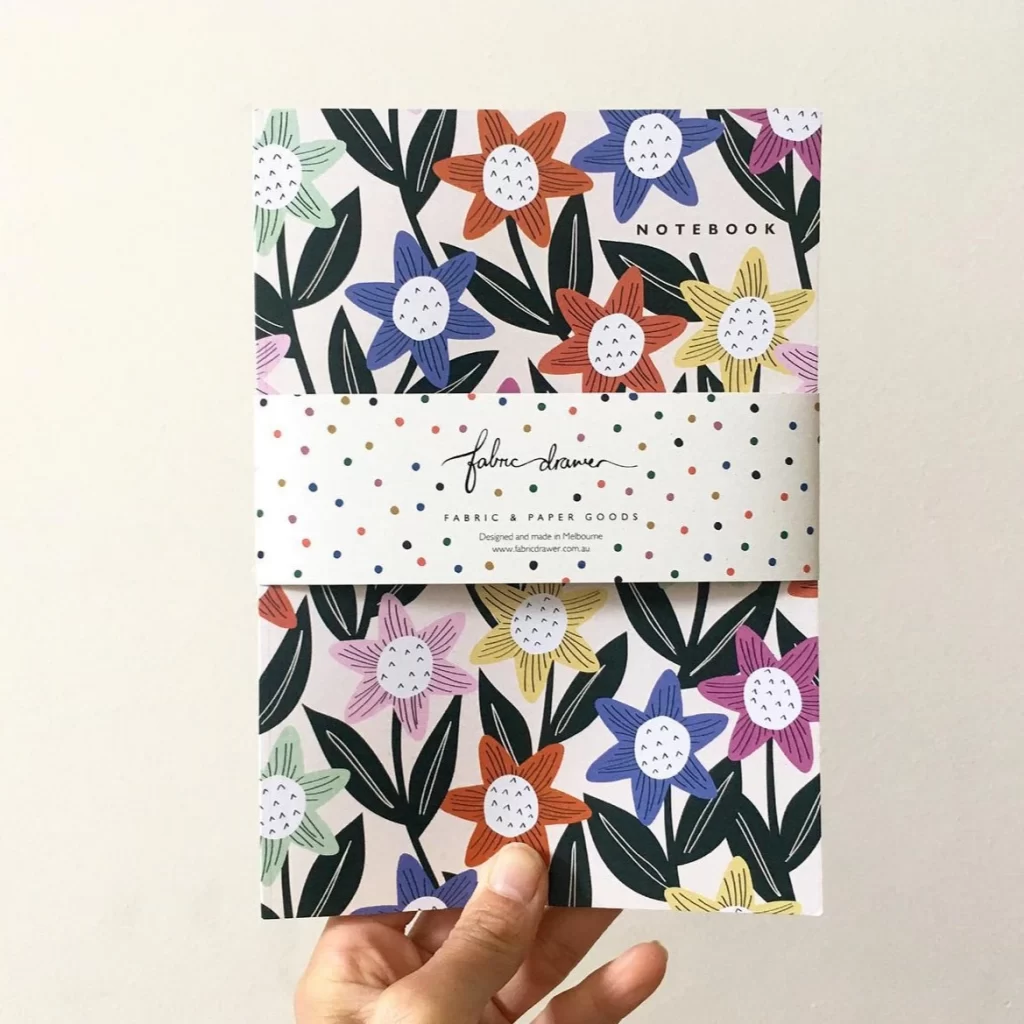 This A5 blank notebook can be used to take notes, as a diary or even a sketch book. Easily pop into your bag to keep with you when you need it. Designed and printed in Melbourne on recycled paper with a beautiful floral pattern on the outside and dotted design on the inside cover.
Check out Fabric Drawer's collection here.
8. POM POM WIRE EARRINGS – Pink
Four years ago, while watching a video about wire crochet, maker Pamela discovered the Peruvian Stitch Technique. Two years later she travelled to Peru and took classes from the experts and became a professional and now she dedicates all her time to this beautiful art.
Each piece that she finishes, she gives the best of herself: using non-tarnish, sterling and fine silver wire (99.9%). The Peruvian Stitch Technique allows her to form symmetrical rings and achieve beautiful jewellery.
Material: Sterling silver hooks Bronze wire Handmade with love Super Light
Check out Pam Designed's collection here.
9. DIFFICULT WOMAN HUG MUG – Raspberry Glaze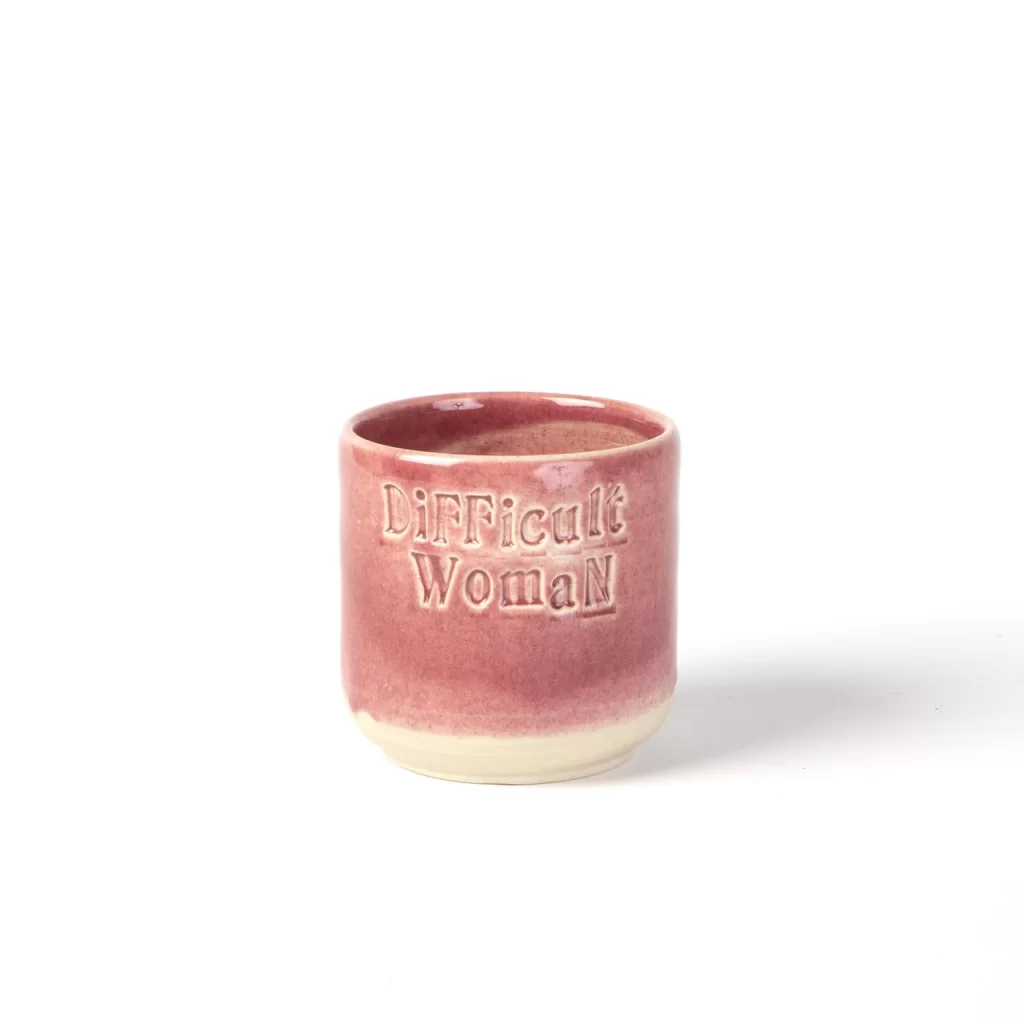 Smash the Patriarchy one cup of tea at a time! Handmade hug mug in midfire clay. Glaze has been mixed from raw ingredients by the artist in a quest to expand the colour offerings of this range of Little Acts of Rebellion cups and mugs.
Check out Jade Lees Pavey's collection here.
10. QVWC 2022 CALENDAR – Women Now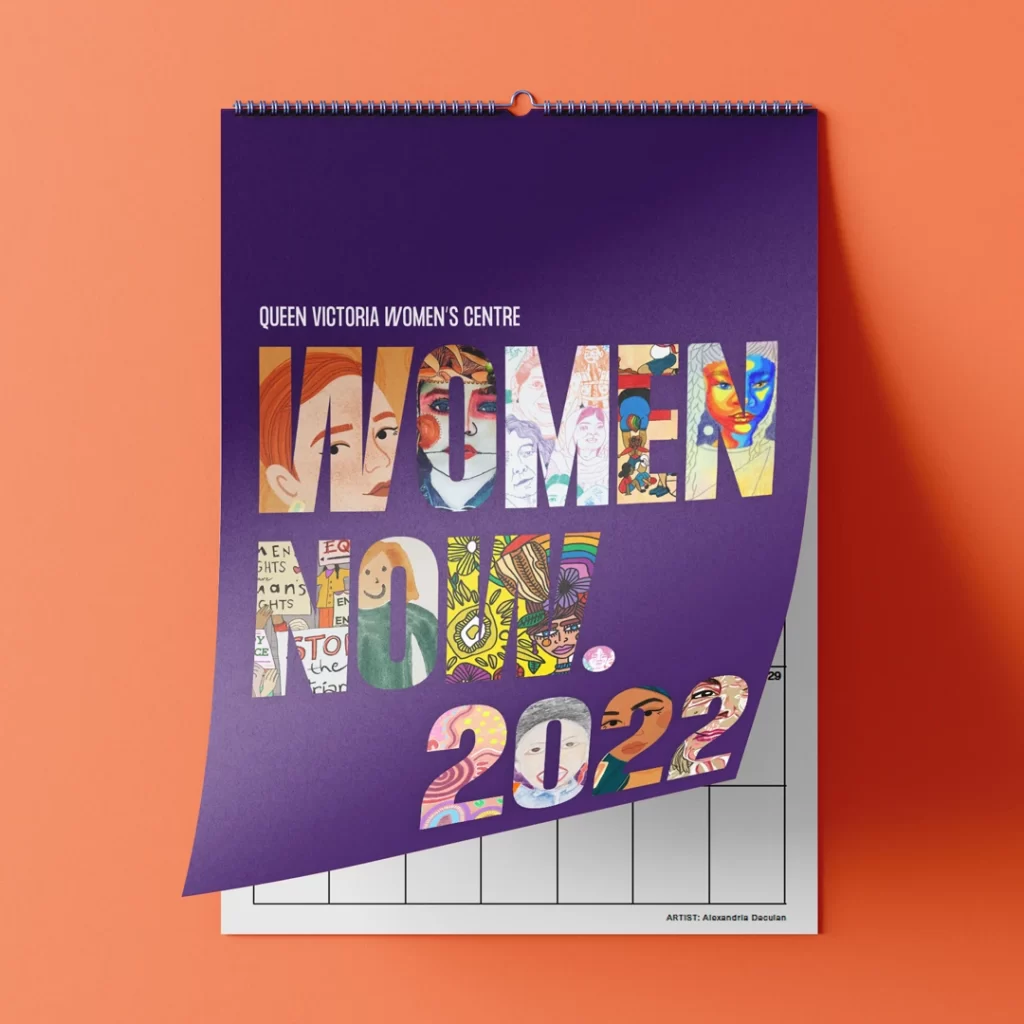 The theme of the QVWC 2022 calendar – Women Now – is a reflection of this current moment. It's a call for a feminist future, and for women to hold space, to be seen, heard and valued equally.
Let's face it, these last couple of years have been less than exciting for our social calendars. We've missed opportunities to gather, connect, learn, dance and share in each other's physical company. It's been hard. But 2022 is going to be different (hopefully!) and we're excited about that!
So what better way to celebrate putting events back on the calendar than with an actual calendar –  One filled with beautiful art by local women artists.
We've commissioned twelve Victorian women (cis, trans & non-binary inclusive) artists to contribute to our Queen Victoria Women's Centre  2022 Art Calendar.
DETAILS:
A4 Portrait. Wire bound on the short edge.
Printed in Melbourne on high quality matt finish recycled paper stock.
Full A4 page per month to write on. Designed so that you can keep the artwork to frame after you're done using the calendar.
Grab a calendar for yourself here.
FEATURED ARTISTS:
Alexandria Daculan
Adrienne Shelford
Katie Sfetkidis
Maria Camila Quintero Arango
Viviana Croce Ortega
Katie Kilgour
Aimee McCartney
Emma Fayelecaun
Emily Viski
Ana Armillas Carbonel
Angela Watson
Rumali Thisara Kularatne
All proceeds from the sale of this calendar go towards the Queen Victoria Women's Centre, a not for profit organisation that supports women through creative experiences, community resources and the power of connection.
Learn more about the Queen Victoria Women's Centre here.