Writing and artwork by Claire Tonti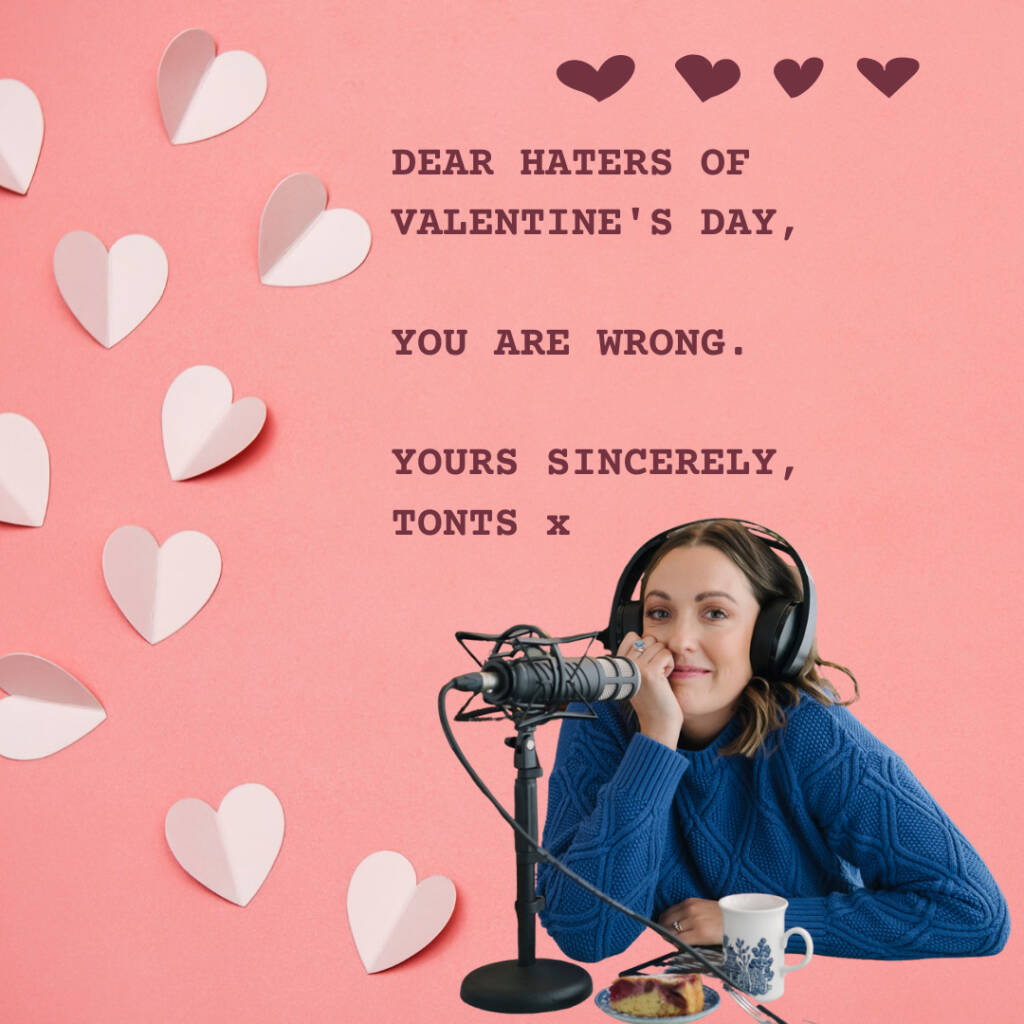 I have a friend who's boyfriend insisted that Valentine's day was a big commercial waste of money and that under no circumstances would he buy her flowers that day (or actually any other day really) because of his stance against consumerism and his environmental consciousness. And while in principal that all sounds very noble and sensible it also makes him, well, frankly… WRONG.
Here is what I will say to the Valentine's day naysayers, to the anti Valentine's day vigilantes who insist that there is no need for a fuss on the 14th of February. The ones who say "Why would I buy you something or organise something on that day specifically, isn't our WHOLE relationship meant to be full of those spontaneous moments? I don't love you on a schedule." Well mate, being a parent means everything I do has to be on a bloody schedule or it doesn't get done.
If you are one of the above offenders, here is my argument, you soulless vampire. How many times do you actually do anything very romantic for no reason? How much do you REALLY remember to be #grateful for the love in your life? And I'm not just talking about your romantic partner. Galentine's day is also a thing and a bloody lovely thing at that.
I am aware that being single on Valentine's Day is also full of landmines but the 14th of Feb is not going anywhere anytime soon so shouldn't we all just embrace it? God knows we need whatever joy we can scrounge around for in these dark times. And maybe a rom com, a big box of tissues, an excuse to drink a whole bottle of wine while watching Bridget Jones Diary with your gal pals and eating your weight in Tim Tams could also be delicious in it's own way.
And so, as you've probably guesses, I am ONBOARD for the love holiday. I need to set double reminders in my phone to book my pap smear, replace the toilet paper, book my annual dentist appointment and for my mum's birthday. Overall, human beings (and dare I say it hetero male ones – for which I have the most experience with) could do with a yearly reminder to step up their game a little and get love organised. That mental load for once can fall to them and society has conveniently placed loads of glaring reminders of the upcoming need to do something to make their loved one feel special and in essence I find this annoying but also GOOD. Bloody good. It's why we have father's day and mother's day and birthdays and anniversaries so we don't forget to check in. I reckon it's essential to think about the most important people in our lives and say to them, 'hey I love you you're great, let's take a breath and maybe I'll surprise you with a red rose, a cold glass of chardonnay and possibly dinner alone sans kids.'
Gifts don't have to be big. I cannot remember where I read this but to most women, one simple beautiful flower or a tiny gesture given at the right time can feel just as effective as a big expensive bunch of flowers. It's in the timing and the thought put in.
For example a dinner you didn't have to organise at your kitchen table after the kids go to bed can mean just as much as a big dinner at a fancy restaurant. And don't get me wrong, if my husband man is reading this, I also love a fancy restaurant thank you very much but what I think makes the most difference on Valentine's day is the idea that there has been forward planning. That they have thought of you in advance and that despite all the corny signs, the big dumb teddy bears and the commercialness, you still want to feel a bit of magic, a bit of rom com delight. And don't give a gift that then requires additional mental load for them. I stand by my thesis that a massage voucher is NOT a good gift. Booking said massage at a time you know they can get to is in fact an actual gift. I'll say it right here. Vouchers are BULLSHIT.
With all this in mind here is my list of things to do on Valentine's or Galentine's day for your great loves whomever they may be (I am also including YOU in this equation. If you know in your waters no one is going to buy you that bunch of roses, go and god damn order them for yourself. Run a bubble bath, pour some bubbly and enjoy some ALOOONE time if you know what I mean):
Tulips – these are by far the BEST flowers to be given in a bunch – come at me. I'll fight you on this. Buy them fresh and closed so that they magically open and last longer. This sounds, well dare I say, maybe a bit unromantic but the reason I also love them is they make very little mess and are easy to clean up. They also don't stink up your house. Fresh, clean, timeless. Don't for god sake get orange or yellow though for Valentine's day. Pink, red, white will do nicely. And don't give them in plastic wrap from the greengrocers or the supermarket. Simple brown paper with twine for the win.
One single red rose. Not in a plastic tube. Produced with a box of really delicious chocolates.
Make them a playlist and run them a bath.
Buy an indoor plant already in a sweet white pot.
A really good lingering kiss. I'm serious about this one. So many of my pals tell me their partners no longer love to kiss unless it's going to go somewhere horizontal fandango style. Blurg. Let's get going with the romance and give a real good, long gentle smackaroo (is that a word for kiss?) without any agenda. One that feels like it says I love you, here's some chemistry and damn you're gorgeous. Side note: do not do this at an inopportune moment like when she is in the middle of taking out the rubbish or trying to wrangle the kids and has just stepped on a piece of lego or an old mushy pea that is now smooshed into the carpet. Pick your time people.
Dinner planned by you from the top to the bottom. Taking the mental load of choosing the place, time, menu, brilliant. Restaurants on Valentine's day in Covid time might feel well, less than sexy so at home candle light might just be what the doc ordered.
I'll leave you with my last thought maybe nothing says I love you more these days than a fresh box of Rapid Tests, pre-purchased and delivered in advance to your door. I mean the level of planning and forethought to find them would seriously be a task of epic proportions. Romance in 2022.