Interview by Kara Zosha
In the year 2022, punk is definitely not dead and Clamm is here to show us why. Clamm is a Melbourne-based group that uses their "in-your-face" sound to touch on important topics with raw emotion. Recently I got to chat with Maisie, their bassist, who you can see at this year's Meadow Music Festival.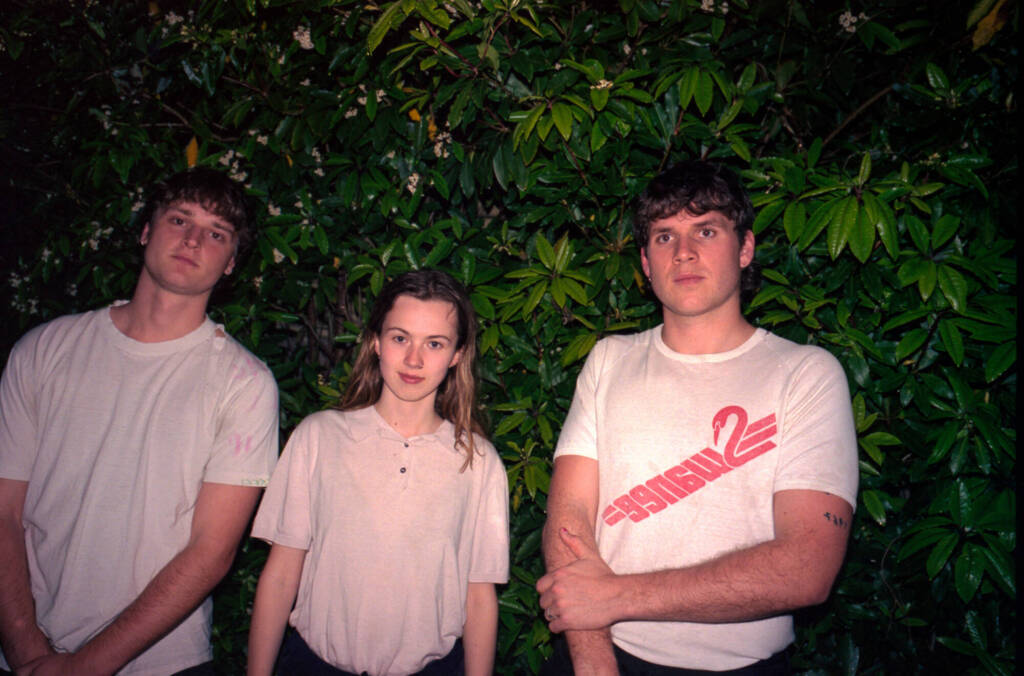 How would you describe your music to someone who has never heard it before? What are you about?
Cathartic garage punk. We're a punk band but I think one of the special things about Clamm is the emotion that the music evokes, from my perspective at least. Our songs are about important and sometimes sensitive topics, but I guess delivered in a totally loud and in-your-face kind of way. There's a word called 'clamorous' that means 'making loud complaints or demands' which is exactly what Clamm's music does. Clamm=clammorous
How did you guys meet / how did the band come to be?
Jack and Miles have known each other for like almost 20 years or something. I met them a few years ago when they played a gig with my other band and they were playing with their old bassist, Luke. He moved overseas and they needed a new bassist so we just started jamming and it just flourished from there. That was mid 2019 so nearly 3 years ago now
Who writes your music? Do you all have a hand in the creative process?
We write our music together in a room, most songs are sparked by one of Jack's riffs and it kind of goes from there. Jack writes the lyrics to CLAMM songs which I know a lot of people really resonate with.
Maisie, When did you start playing bass and why did you decide to join Clamm?
Honestly I never really played bass until CLAMM. I've been playing guitar since I was a kid though, and I still consider myself more of a guitarist. It's kind of the same instrument I guess, although if you asked an ACTUAL bass player that they'd probably scream at me. Actually one time after a gig someone came up to me and told me that I look like I play bass like it's a guitar which I thought was kind of hilarious because it's probably kind of true. It's great though and playing bass in Clamm is wonderful. It can be really quite intoxicating sometimes especially on stage. We all just really lock in when we play.
How long did it take to create your debut album "Beseech Me"?
I can't speak much on that because I didn't actually have a part in the recording of beseech me. That was recorded before I joined the band. I was however in the band during the re-release of Beseech Me with our label Meat Machine which was really exciting. It was a long process, from redoing all the artwork to doing new press photos, all the late night zoom meetings and everything else leading up to the release but it was an awesome experience for all of us, and our first time working with a label, we learned a lot and got a lot of insight into how things work.
If you weren't a part of Clamm, what would you be doing today?
I'd probably be playing in a Clamm cover band
Why should someone check out Clamm's discography?
Well, I don't think anyone should have to do anything but I think there's a little bit of something for everyone in CLAMM. I guess It's straight up punk but I find it to also be quite melodic at times. Anyone who likes loud music should consider listening… if they want to x
What's next for Clamm and what are your aspirations for the future?
Well, we have new music coming out real soon and I think it's going to open up a whole new bunch of opportunities for us. We basically just want to keep doing what we love and play to as many new faces as we can. We wanna show CLAMM to the whole world and hope people enjoy it as much as we do
Gabriella Cohen is a musician who once you listen to you'll be hooked right away! Her music has a groove and funk to it that is rare to find. She's a Melbourne-based artist that'll be playing at this year's Meadow Music Festival. Between the release of her third album and preparing for touring, I had the pleasure to chat with Gabriella about her music and future plans.
How would you describe your music to someone who has never heard it before? What are you about?
It's colourful, playful and intimate. I'm about swinging your hips to some good music.
You have such a unique and groovy sound to your music, what / who inspires you?
Thank you. I'm inspired by all the classics, Nick drake, Leonard Cohen, Bob Dylan, Karen dalton, Velvet underground, but nature is my longest standing inspiration.
How would you describe your new third album? How has the process been different from its predecessors?
I recorded and produced the majority of the album in a cabin on my parent's property in QLD. The other half I did in various places. I worked on a few tracks with Sam Cromack (Ball Park Music), JB Paterson of Easy Machine Recordings, and at Chaos Magic Studios in Brisbane.
What's your favorite song on the new album? What's your favorite song you've ever written?
I like Son Of A Gun. Favourite song I've ever written… would have to be I Feel So Lonely. Waiting for Michael Bublé to cover it.
You have such a beautiful and distinct voice, how did you find your specific style of singing / music?
That is very kind of you to say. I'm not sure, it kind of just evolved. I took a few opera classes when I was a teen, but I was singing Ani DiFranco in the shower.
How did you get into music? How has your journey been as a musician?
I've been playing and singing since I was pretty little. Open mic nights, lounge room gigs, you name it. I never planned to study music, but it's a good thing I did because it propelled me to take it seriously.
Why should someone check out your discography?
They might find a small piece of joy amongst the colour.
What can fans expect at your upcoming shows?
A good time!
What are your aspirations for the future?
To grow a garden.
Triple R and Forte present MEADOW 2022
Friday 25 – Sunday 27 March
Bambra
Music, Camping, BYO
Methyl Ethel, Tropical Fuck Storm, Camp Cope, Mo'Ju, Maple Glider, Fantastic Man, MOD CON, Gabriella Cohen, Luen, Karate Boogaloo, Youth Group, Clamm, In2stellar, First Beige, Andy Golledge Band, 1300, Moktar, Izy, Placement, Emma Russack & Lachlan Denton, Cookii, Middle Name Dance Band, Mess Esque, Teether & Kuya Neil, Water Streets, Don Glori, Ella Sweeney, Watty Thompson, Charlie McCosh