Interview with ANGE by Juliette Salom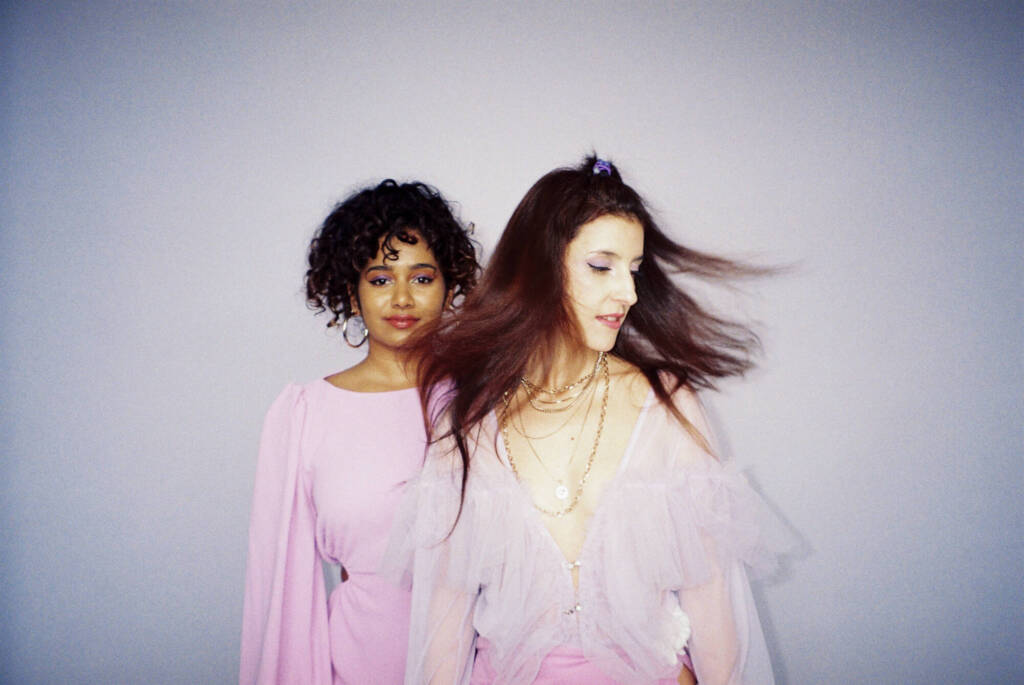 Hey ANGE! Can you tell us a bit about where you're speaking to me from today?
Ange: We are speaking to you today from Sydney, Eora nation.
Your new song Tender Without You is an ethereal dreamy pop collaboration with the artist Anieszka. How did you two come into contact and end up collaborating?
Anieszka: Ange and I connected over a year ago and developed a beautiful friendship. We started this track in May last year and worked on it bit by bit until we realised we wanted to release it. I think we always knew we wanted to collaborate, but I genuinely feel like the closeness and ease we feel as friends made the writing and creating process that much more fun and seamless. We were very in sync with one another from the get go and were able to capture both of our artistic styles and essences in 'Tender Without You'.
Also working with Chelsea Warner on co-production, the song is produced by an all-female team. What is it like working on music with only other women in an industry that is still so often male-dominated? 
Ange: It's refreshing and warm. I enjoy working with men but there is something so unique and powerful about women getting together to create and collaborate. There is a beautiful sense of openness and freedom in the space. I love learning from one another and empowering and elevating each other.
Is collaboration with other artists something that comes easy to you? What was the process like of working with these other creators?
Ange: I love collaboration. Sometimes it's easy and other times not so much. There are so many factors that play a part in co-creating. Sometimes a mood you're in that day can make it difficult for ideas to flow. Other times, something you speak about and connect over with the person before the session culminates in a beautiful song. It's like getting naked in front of someone who you don't know well (laughs) it's a vulnerable thing. Sometimes it flows and other times it doesn't and that's okay. I always learn something from collaborating with people. The most important thing is respecting the other person's ideas and trying to contribute to each other in the best way you can.
With Anieszka it was super easy and organic. It felt comfortable and fun. I think we didn't have any set expectations or pressure so we just made space for the ideas to flourish and I think that worked.
Tender Without You is a compilation of dreamy layers of pop, electronic and R&B/soul sounds that combines guitars and synths with the entrancing vocals of yourself and Anieszka. Where did the inspiration for this song come from?
Anieszka: Ange and I both hadn't written a love song in a long while. At the very beginning when we were putting melodies down, I remember singing the words 'and I love you' quite naturally in (what is now) the pre-chorus. I think from there we dived into the theme of love but we both felt like we wanted to emphasize vulnerability and tell the story of falling in love with someone, fears and all.
Now that Australia and a lot of the world is coming close to the end of the pandemic (fingers crossed!), it must be great to have the opportunity to hear your music played in a world outside of lockdowns and venue-restrictions. Where is the ideal place for listeners to chuck on Tender Without You?
Anieszka: I think Tender Without You is one of those songs you can listen to in a number of different situations – on a roadtrip or late night car ride, at home with your partner, a summer pool party to get the vibes started, when you're having a girls night, or maybe you use it as a way to tell your current crush you like them. I think the options are endless as it's one of those songs that fits many occasions. But I have to say the best place to hear it is live, at either of our shows!
You've began the year with a bang with Tender Without You, is there more music we can expect from you in the coming year? What else is on the horizon for ANGE? 
Ange: So much more is on the horizon! I am very excited to be releasing a new song in March which is the first single off my debut EP. The EP which will be bilingual, talks about the cycle of love and the different stages we repeatedly go through in life. You'll be able to hear the full body of work in May so stay tuned!
Anieszka: Lots more music coming from me this year with an EP on the way and a couple more singles, stay tuned!
Thanks so much for chatting with me today! Where can we reach you and listen to more music? (social media / Spotify / etc.)
Ange:
Instagram @angemusica
Anieszka:
Insta @anieszka