Writing by Miranda Michalowski // photographs by Aliyah Knight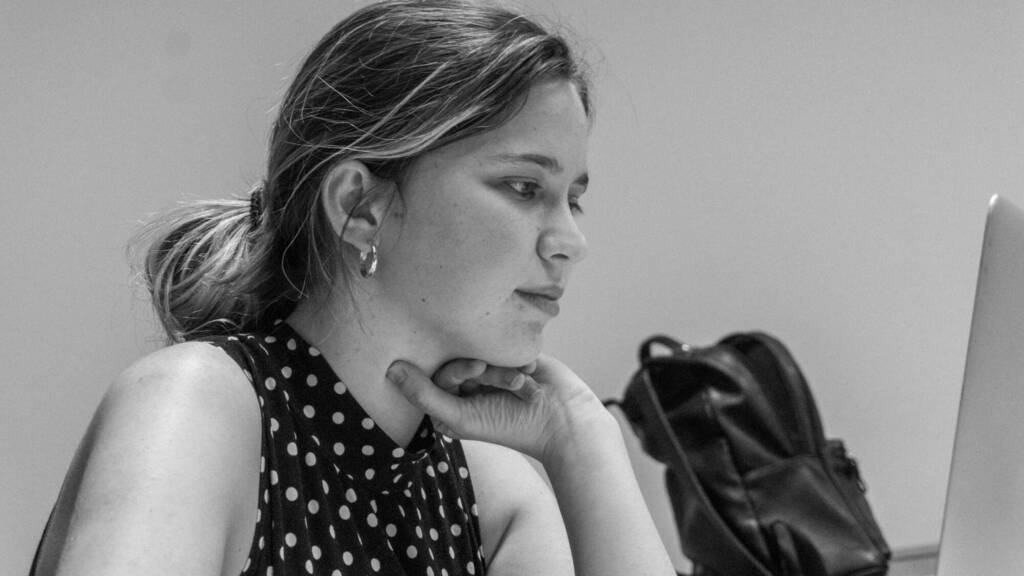 Growing up as young women, we often feel a sense of shame. It's practically hard-wired into our systems. In a society that teaches us to be critical of our appearances and feel ashamed of our sexualities, it's easy to feel like our bodies don't belong to us. At least, not completely.
I wanted to voice this feeling, so I wrote a play about it.
When I first started writing Young Bodies/Somebody's, I had no idea how to write a play, let alone get it staged. All I had was a jumbled mess of thoughts and feelings that I knew I had to get onto the page somehow. But I Iearned a few things along the way, and now it's a living, breathing piece of theatre, with actors, props, and all those bits and pieces – and it's hitting the stage in just over a week.
The play is about two sisters in university who are dealing with experiences of shame. The younger sister, June, is a competitive swimmer grappling with an eating disorder. Her older sister, Anna, is struggling to gain a sense of power over her sexuality after a sexual assault. Their lives are messy, and they get even messier after their mother decides to move out with her boyfriend and tells them both to find a new place.
Young Bodies is a play about not feeling comfortable in your own skin and not being ready to live in the real world. While it's a play about female shame, it's also about the beauty of sisterhood – a dynamic that I don't think we see represented often enough. Anna and June spend most of their time arguing over meaningless things that somehow mean everything. They're each other's worst enemy and best friend, which I think is true of many sisters.
These sisters also both have complicated relationships with their mum, Dawn. Anna is constantly at Dawn's throat, while June is desperate to please her mum by being the perfect daughter. June's eating disorder is partially motivated by the pressure her mother places on her. Despite Dawn meaning well, she inevitably hurts her daughter because of her insecurities.
Dawn is a flawed character, but she's also an ordinary person dealing with her own sense of shame about her body and the failure of past relationships. Even though this play centres on young women, I wanted to show that shame doesn't have an age limit and can affect women in different ways over time.
I also think representations of eating disorders and sexual assault in media often get these issues wrong. When depicting eating disorders, writers often fall into harmful tropes that trivialise or glamorise the problem. My director, Jo and I often joke about teen shows writing eating disorder story-lines into a single episode and then abandoning them altogether (Gossip Girl – I'm looking at you).
More harmful than these superficial story-lines, however, are the ones that depict eating disorders as aspirational or glamorous. These tend to focus on thin, white girls – like Cassie in the TV show Skins. I devoured it back in the day, but it's hard to deny that Cassie was the face of pro-anorexia black-and-white Tumblr in the 2010s, along with her "thinspiration" quotes like "I didn't eat for a week so I could be lovely".
While there are flawed representations of eating disorders in media, there are also some great ones – My Mad Fat Diary springs to mind. There's also recently been some brilliant work about the nuances of consent and sexual assault. I remember when Sex Education Season 2 came out, so many people praised the TV show's representation of Aimee's trauma after being sexually assaulted on a bus because Aimee represented an atypical experience of assault, and Sophie Goodhart – who wrote the episode – treated her character with such care.
My play isn't the perfect representation of these issues, but I'm hoping it can make a ripple in the much bigger pool of these stories in media.
Calling Young Bodies a play about shame makes it sound quite dark, but it's mostly a funny story. At least, I hope it will be. A writing teacher once told me that the best way to make an audience cry is to make them laugh for an hour, and it's become my favourite piece of advice. I see humour as a way of unlocking an audience emotionally, making them open to feeling things that might be awkward, or uncomfortable. Theatre, at its best, is a way of sparking conversations.
By naming the experiences that make us feel ashamed as young women, we can take a bit of the power back and maybe even realise that the shame was never ours, to begin with.
Young Bodies/Somebody's is playing at the Flight Path Theatre in Marrickville, Sydney (Gadigal Land) from May 21st-28th. Tickets can be purchased on the Flight Path Theatre website.