It's the most electrifying time of the community radio calendar! Plug in, switch on and fire up that voltage, because PBS Radio Festival has returned to the airwaves and the station still needs you to help 'Complete The Connection'. Once a year PBS 106.7FM hold their biggest annual fundraiser, Radio Festival, asking listeners to dig deep, plug into the mainframe and amplify this open circuit community of music-lovers and tastemakers. After the gargantuan task of moving an entire radio station less than a block away in the midst of a global pandemic, PBS have just about settled into their new home at Collingwood Yards and need listener support to help complete the final connection for the station's inaugural Radio Festival at their new digs and beyond.

Although Radio Festival has just concluded for 2022, it's still more important than ever to continue to support the station all year round. If you still need convincing, please allow seasoned PBS presenters MzRizk, Helen Jennings and Emma Peel to help put your money where your ears are!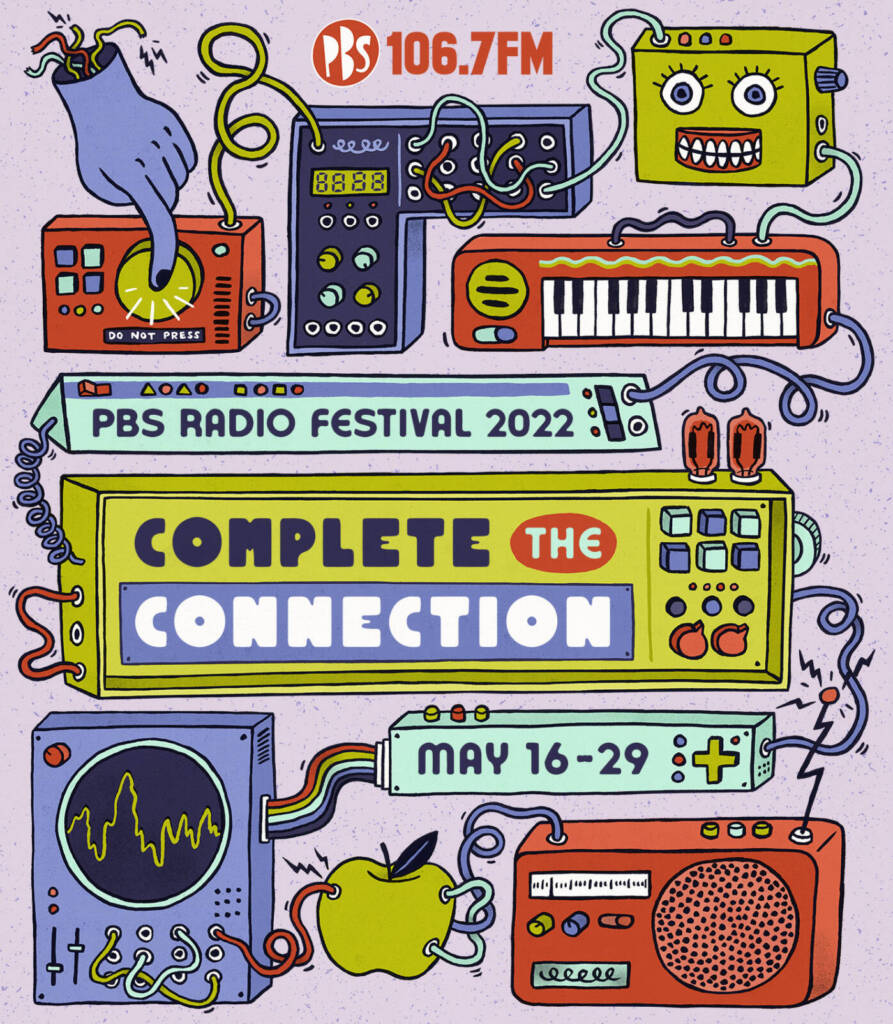 How long have you been presenting at PBS and what does community radio mean to you?
Helen Jennings (Roots of Rhythm):
My current show, 'Roots of Rhythm', first went to air on Wed 1st Feb, 1987 and remains on a Wednesday 35 years later. I became a volunteer in 1984, actively involved both on & off air. I started co-presenting 'Women in Blues' with Melbourne musician, Kaz Dalla Rosa in 1986, which led to being invited to present my own show. I was working professionally in the Music Industry & also had a strong volunteer background, having sat on several Committees & Advisory Boards. I loved the idea of turning listeners on to the music that I love. I still love the community feel, my fellow Announcers, all as passionate about music as I am.
MzRizk (Boogie Beat Suite):
Boogie Beat Suite first aired on August 1, 2017, a relatively new show on the grid. Community radio is an essential service for music lovers and PBS has some of the most knowledgeable broadcasters bridging music and community daily. From interviews, new music and supporting local and international scenes, PBS reflects what is happening in the world of music and really supports artists' careers in multiple genres. I am so pleased to be a part of the PBS team.
Emma Peel (Switched On):
I've been presenting my show, Switched On, for 14 years. That time has flown by – I still feel as if it was only yesterday when I started. Community radio means a lot to me. It is family. It is where I truly feel myself and at home. I have met some of my dearest friends through the station – fellow announcers, musicians, and volunteers. Every announcer on the PBS grid is in it for the love not the glory or the fame. We are united by our deep passion for music and our desire to spread it as far as we can so that everyone can enjoy it.
Do you remember the first song you ever spun on air? Why did you choose it?
Helen:
I don't remember my first track on Roots of Rhythm, but it would have been an Instrumental. I had decided from the beginning not to have a Theme intro/Outro and 35 years later, can proudly say I haven't played the same track twice, Artists yes.
MzRizk:
The first song I played on air was D'Angelo's cover of Prince's She's Always In My Hair. I am sure I chose that to open the show because it is one of my most favourite artists covering my favourite artist beautifully. It is a classic track and I wanted to share my favourite songs on my first show.
Emma:
I really can't remember the first track I played. I'm assuming it would have been a Latin soul number or something like that. Something super 'caliente' to get people dancing.
List a few of your favourite artists that you've discovered on community radio. On what show did you hear them being played?
Helen:
Given the diversity of music genres, I love music discussions with other announcers. In the early '90's Roots of Rhythm was followed by Phil McDougall's, (The Prince of Darkness}, Sunglasses after dark. Phil usually listened on his way to the Station, & never ceased to amaze me with questions/opinions about a particular track, which he usually liked. Listening to similar music shows, I'm often reminded of Artists/Tracks that I haven't played for a while, sometimes years, & I know it's the same for my fellow announcers.
MzRizk:
I discover many artists on Mike's show Mystic Brew and Edd Fisher's Tomorrowland. Mike and I have similar taste when it comes to jazz, soul, funk and local artists. Most of the time I try introducing new artists to PBS listeners, that is something we love doing, introducing new artists to listeners and offering new artists a platform to share their music. Artists like Nikodimos, Emma-Jean Thackray, Glass Beams to name a few. It is quite easy to discover new music everytime you switch on to PBS, which is really part of the station's charm.
Emma:
The great thing about PBS is that every time you tune in you learn about someone new. I've been introduced to so many artists, for example, by listening to Babylon Burning. Reggae and dancehall aren't genres that I know much about, so I'm all ears when Jesse I comes on the mic. Most recently I've discovered Jamaican harmony trio, the Mighty Diamonds. Many years ago, the late Pierre Baroni and Soul Groove 66 introduced me to artists like Esquerita and P.P Arnold. Saul Savarce and Fiesta Jazz introduced me to Celia Cruz, the Queen of Salsa. I could go on.
If you could interview any artist on your radio show, dead or alive, who would it be and what would you ask them?
Helen:
I've Interviewed and meet some of the world's most amazing musicians, such as Taj Mahal, Tony Joe White, Long John Baldry, Paul Jones, Mose Allison (one of my favourite chats), Georgie Fame, Jon Cleary, Charlie Musselwhite, Lonnie Mac (high on the list), The Persuasions, Junior Wells, Chris Smither, Big Daddy Wilson and Dale Watson, just to name a few.
Joe Camilleri, Judith Durham, Colleen Hewitt, Margret Roadknight, Judy Jacques, Russell Morris and Geoff Achison, are just a few of the incredible local musicians I've had the pleasure of hosting on my show.
I've also had lots of friends/colleagues drop in to co-present Roots of Rhythm, such as Margret Roadknight, Billy Pinnell, Geoff Achison, Russell Morris & Derek Guille.
I would have loved the opportunity to meet & talk with Dr Nina Simone, singer/songwriter/musician & Civil Rights Activist. Her music spanned styles including, Classical, Jazz, Blues, R&B & Gospel.I would have loved the opportunity to meet & talk with Dr Nina Simone, singer/songwriter/musician & Civil Rights Activist. Her music spanned styles including, Classical, Jazz, Blues, R&B & Gospel.
MzRizk:
There are so many artists I have been lucky enough to interview on Boogie Beat Suite like Natasha Diggs, Phony People, The Merindas, Sampa The Great, Kye, Pookie… I always love having a casual chat with the artists instead of a formal interview. I want to know how they are really going, what their go-to meal is, what is it that inspires them, etc. When an artist is comfortable in a space, they usually give the most detailed responses. If I could interview anyone it would be Nina Simone, Prince, Sade, Stevie Wonder, Diana Ross, I have a list of people I would love to have chats with.
If I could interview anyone it would be Nina Simone, Prince, Sade, Stevie Wonder, Diana Ross, I have a list of people I would love to have chats with.
Emma:
Oh god. Where do I even start with this? I notice Helen Jennings said that she interviewed Mose Allison. I must ask her about this! When I finally plucked up the courage to ask him for an interview he was too unwell, unfortunately. It's one of my regrets. I'd love to interview Nancy Sinatra, Grace Slick, Rita Lee, Gal Costa, Joyce, Gilberto Gil – they're all still with us. I would have loved to interview Elis Regina, Joe Cuba, Jimmy Sabater, Lee Hazelwood, Roky Erickson. I'll stop there. My approach with interviews is to 'do my research' about my subject and then let the conversation flow naturally with a few guiding questions. We see where it goes. I hate stilted interviews where the interviewer checks off a list of questions. It makes for very dull listening and I'm sure the artist/interviewee doesn't enjoy it much either.
Why should listeners sign up to PBS and support community radio in general?
Helen:
It became strongly evident over the last 2 years of lockdowns & uncertainty, that PBS & Community Radio in general has substantially increased its listener base. Music lovers & casual listeners alike have been seeking radio that isn't constantly bombarding the airwaves with social & political opinions. The diversity of music genres, the expertise & knowledge of presenters is what attracts me as a listener & as a presenter; the community feel, my fellow presenters, all as passionate about music as I am.
For independent musicians, Community Radio is their only forum for their music. PBS is renowned for live performances, both in studio & venues.
I'm very proud to be part of such a strong community, & grateful for the opportunity to do what I love.
MzRizk:
PBS gives so much, the broadcasters are volunteers and we are so passionate about researching and sharing music to our listeners and interviewing artists. Signing up to PBS shows us that you care about what we do and support our community. The joy I feel when I see a new subscriber sign up to Boogie Beat Suite reminds me why I love doing what I am doing. Community radio provides happiness to so many people, this was reflected strongly during Covid, providing tunes to listeners while avoiding the doom and gloom on most media. I love presenting my show and chatting to artists and would like to continue to do so for as long as possible to please support the station! Your support helps the music ecosystem so much, let's keep the music playing.
Emma:
I always like to say that PBS FM is people powered radio. We are truly independent. We don't receive any government funding or kickbacks. We exist purely on memberships and donations from our listener community. Isn't that incredible?? Even more incredible is that we've been able to keep the station on air with this model for more than 40 years. We don't have anyone breathing down our neck telling us what to play. We don't push any agendas (aside from presenting and promoting great music, of course). When you become a member of PBS, you can be assured that every cent goes towards making the station not just survive but thrive . And the best part is that by becoming a member you are just that – you are part of the PBS family. This is your station. Cherish it. Support it if you can!
Tune in or sign up to support PBS via the website https://www.pbsfm.org.au/