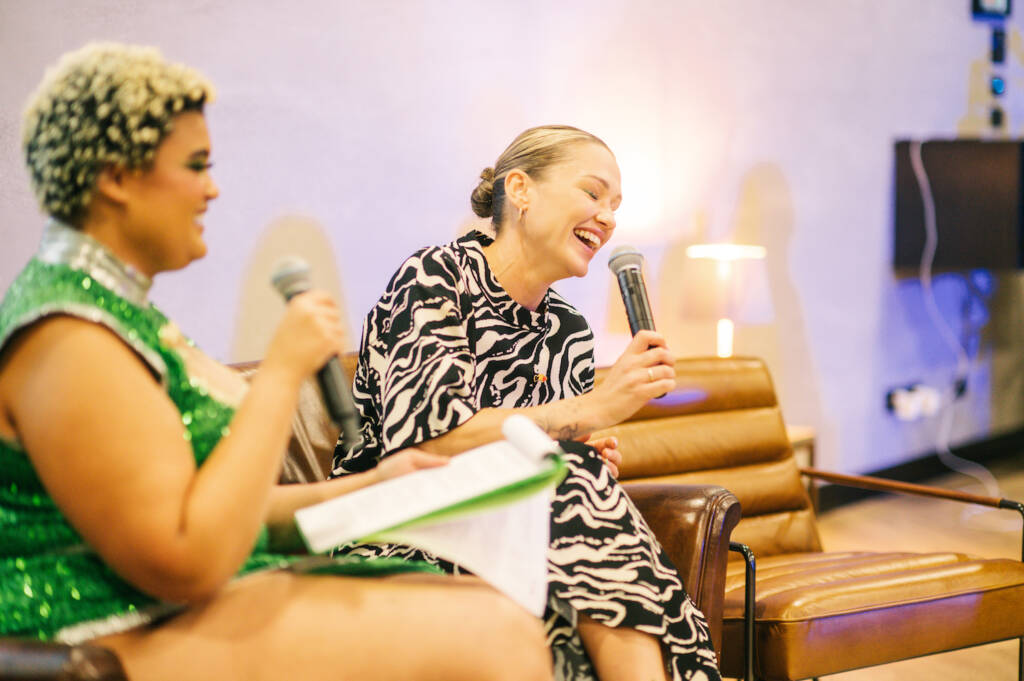 In person events are back and we are so here for it!
Just as the weather was getting chilly, OodyKoo put on their first in-person event Popping the Lid on the Unspeakable. With a star cast of amazing panelists, guest speakers and wonderful company, the room was abuzz with like-minded individuals keen to learn, listen and laugh.
Hosted by the effervescent Milo Hartill and facilitated by OodyKoo founder, Stephanie Earle, the evening started with great belly laughs and a sigh of relief as Milo held us in her confidence, easing any nerves we had about socialising for the first time in awhile.
There was a warm sense of community as each guest speaker and panelist spoke, inspiring thought, reflection and action. The evening started off with a powerful panel consisting of the babes behind Clothing the Gaps who were so generous with sharing their story of success and moving forward as they accomplish their goals.
A highlight for me was Sabina McKenna of Where Are You From? who shared a powerful video of the experience of BIPOC Australians being constantly asked 'Where are you from?' and how it feels to be constantly 'othered'.
In between panels and speakers, there was a chance to catch up with friends and like-minded strangers, armed with juicy topics and delicious beverages (I see you Banks Botanicals helping out us sober babes)!
The importance of events like OodyKoo's can't go under the radar as we strive for change in this beautiful city of ours – Naarm. Here's to continuously learning, practicing listening and great belly laughs with friends and those alike.
And can we hear it for Milo Hartill's custom Milo dress?