Writing by Erandhi Mendis // photographs by Laura May Grogan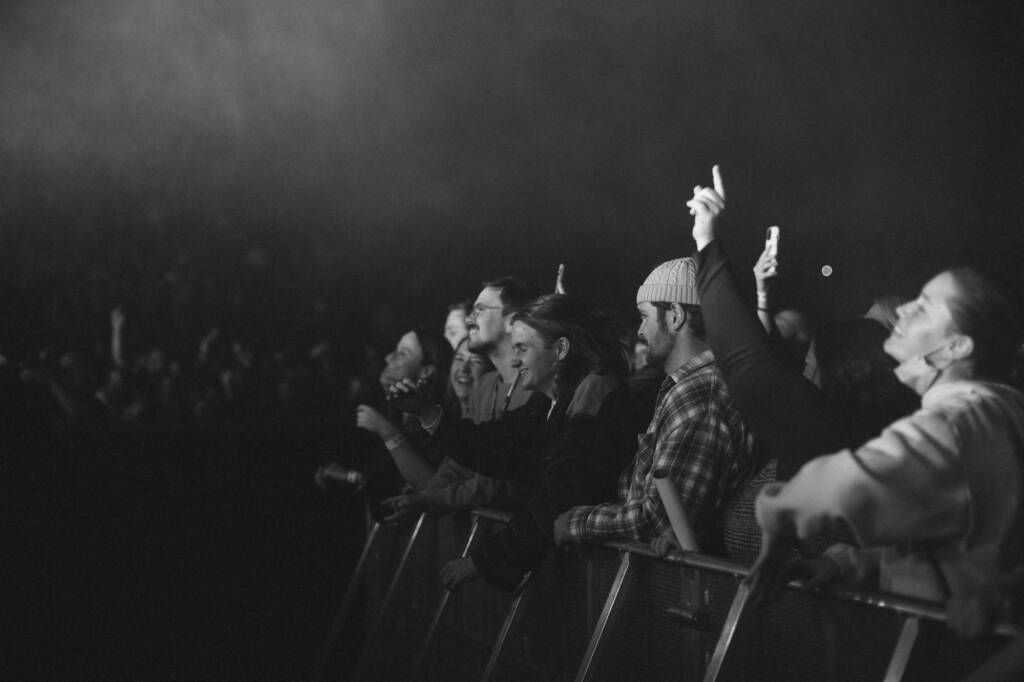 The last memories I have of arena shows before the pandemic are almost comical. Liam Gallagher was singing the first verse of Supersonic, Oasis' debut single, when all of a sudden the sound stopped.
Everyone kept singing until it became clear the power was cut. Liam's mic was off but you could hear him shouting profanities. Eventually the lights came up, everyone realised the show wasn't going to continue and we were being kicked out. Curfew had been breached.
Like I said, comical.
It became less funny when, in the depths of the pandemic, it seemed like I might not even get that feeling back. The grumpy, inebriated shuffle out of a crowded GA – I never thought I would miss that.
As much as I will probably always preference an intimate acoustic bandroom, there is something special about arenas and stadiums. When your favourite band graduates from mid-sized venues to big stages you notice a) how widespread their appeal is and b) the magical phenomenon of singing with thousands of strangers – the latter of which, is a feeling I wish I could bottle.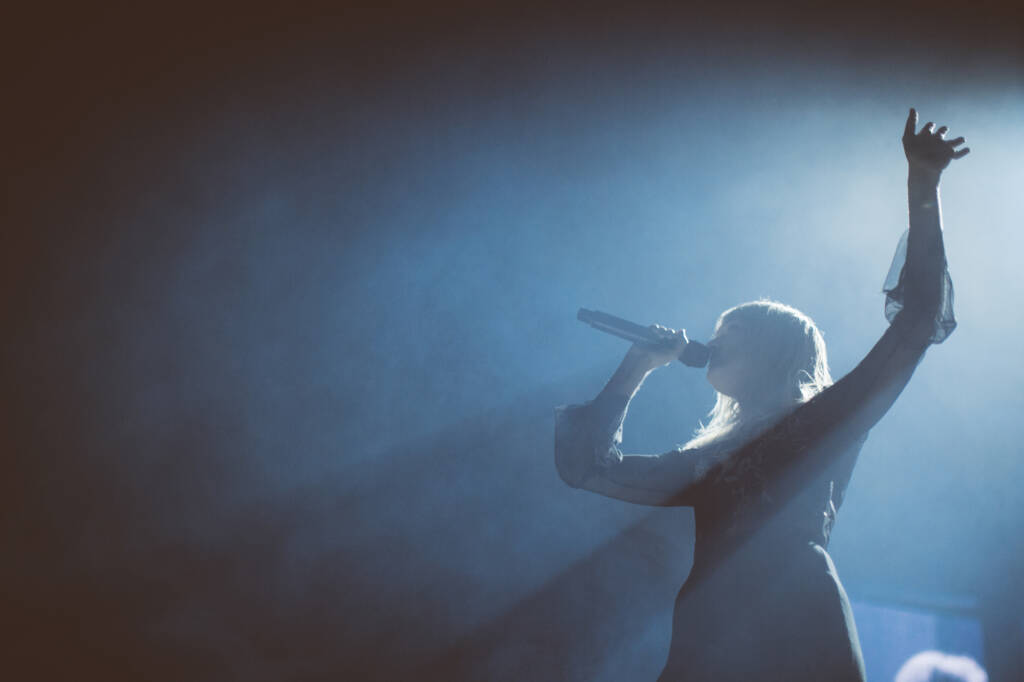 Returning to Melbourne Park last weekend, I walked back onto the floor of Rod Laver Arena – a venue I have been visiting with some level of religiousness since I was a teenager. It was night two of Gang Of Youths' Angel in Realtime tour and homegrown talent Gretta Ray was on stage. The joys of an arena show meant that people sitting in the stands had brought enormous signs reading "Gretta Slay." And slay she did, a perfect appetiser before the entree of Sydney's Middle Kids, who despite only being on their second album are ubiquitous with Australian indie music excellence.
The excitement kicked up a notch when Gang of Youths took the stage. Enigmatic frontman Dave Le'aupepe thanked the crowd, "Melbourne was the first place people gave a shit about our music." Their new record, while somehow more emotionally poignant than their last, oddly lent itself quite well to dancing. It is the jumping up and down and spinning with strangers as the band slides down the catwalk that reminds me how different arena energy is.
Gang Of Youths are an incredibly talented band live, to say they command the venue is almost a disservice. Standout musical moments include the addition of strings courtesy of violinist Tom Hobden, Gretta Ray leading the vocals on Deepest Sighs and choirmaster Simon Matāfai who takes the audience through an impromptu piano rendition of Queen's Bohemian Rhapsody.
Away from the mellifluous, dazzling setlist Gang of Youths performs, the magic of an arena finds life in the mundane. Le'aupepe stops the audience twice during the opening of Let Me Down Easy, to ensure everyone is dancing. When only pockets of 10,000 people are moving, it's obvious from his elevated stage. "You're not too cool to dance, let's try that again," he almost seems annoyed, which I adore – there is truly nothing better than a rockstar who is pissed off nobody is executing a full length Beyonce routine.
The seemingly forgettable big show moments continue when the band regularly interrupts the set to ask about the football score – answers seem to fly from all sides of the arena. Sport ends up being an integral theme. The last two tracks on the record, Hand of God and Goal Of The Century are named in honour of Diego Maradona's goals in the 1968 FIFA World Cup Semifinal. The latter song name-checks Australian Formula 1 driver Daniel Ricciardo who is credited as a percussionist on the record. And as we stood in one of the more recognisable tennis arenas in the world, one person had the genius idea to hold up his phone in GA so that everyone could watch the AFL game happening across the road. Like I said, mundane magic.
There are quieter moments interspersed with the set: being hoisted onto the shoulders of a friend while a stranger holds my hand. Being told by a disgruntled security guard to "get down," because some people don't like joy. The solidarity between myself and the girls next to me, all about 5'2 and blind to a world above our eyeline. The confetti that rained from the ceiling (and collected in my bra). The tears when Dave's father – the album inspiration – is shown on screen at the close of the show. What you often lose in acoustics in a big cacophonous room, you gain in the special bond that only comes from a prodigious crowd agreeing upon what a good Saturday night is. Live music is a pretty resilient business after the past few years, and my god, save for the ever present risk of illness – it felt really damn good to be back in a crowded room.
A month after the Liam Gallagher debacle, I found myself up the front of a Vampire Weekend gig. In what should be an SNL skit about my life, during the first few songs the power went out. No curfews this time – an electrical issue. And not in a cute, oh we can just turn the lights on again kind of way – but in a, the band will leave for 40 minutes while we fix this but maybe the show will be cancelled kind of way. While thinking about who I had wronged in a past life to lead to this series of disasters, they returned to try again with Cape Cod Kwassa Kwassa. The power issues repeated until blissfully it was fixed and the show was able to go on. It's funny in hindsight, knowing what I know now. That four weeks from that moment my concept of being in a big venue would disappear entirely – for two whole years.
I thought about this while I was in Rod Laver Arena over the weekend, laughing with strangers under a downpour of coloured paper. Stuff breaks, curfews are blown, storms happen. It's part of the risk of doing big live shows – they're steeped in the reality that the world does not always work the way we want it to.
But as great philosopher, avid football fan and excellent dancer Dave Le'aupepe once sang: If everything is temporary, I will bear the unbearable, terrible triteness of being.
It's good to be back.