Interview of Peppa by Erandhi Mendis // photos by Sara Regan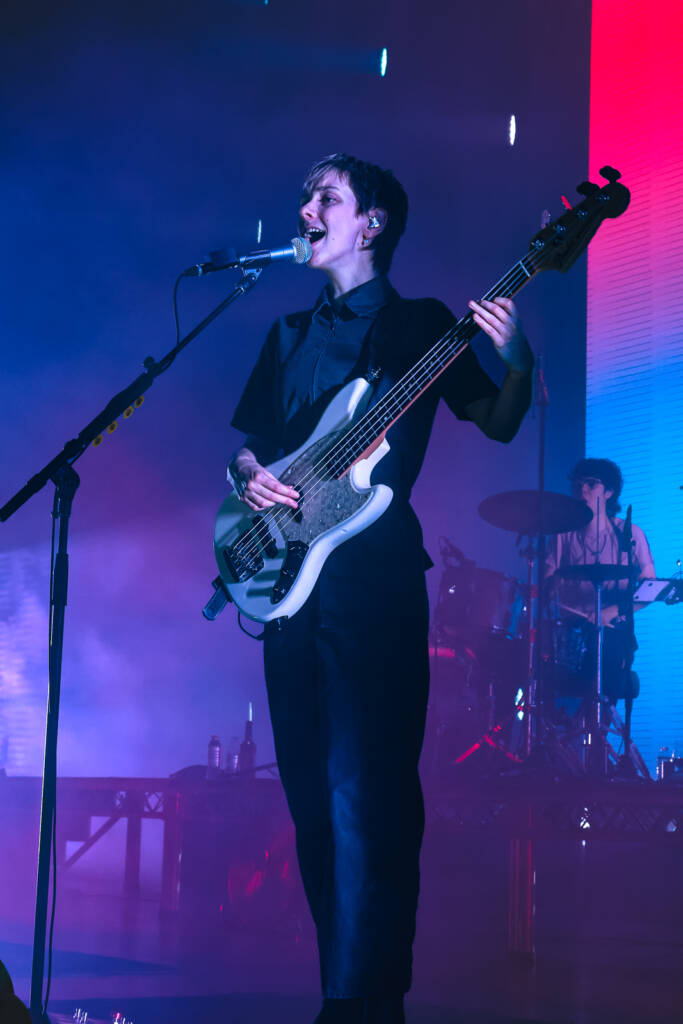 Chatting to Peppa Lane is like being on the phone with an old friend. It is immediately obvious that the Spacey Jane bassist is as genuine in real life as she appears on stage.
"We gotta keep evolving," she tells me, talking about their new record and investment in touring production. And evolve they have, off the back of the release of their critically acclaimed album, Here Comes Everybody – Spacey Jane are selling out. In a good way.
"It's surreal," she says, of the sold out shows, "the only thing I can thank is the people buying the tickets – it blows my mind."
A few days after we chat, I arrive at their second night at The Forum in Melbourne – an all ages gig – and my mind is blown by the sheer noise coming off the crowd. Peppa alluded to this, that the underage attendees "really get into it," the unbridled joy radiating off the floor is truly something to behold.
The relationship between Spacey Jane and their fans is clearly one of both mutual adoration and respect. A perfect example when lead singer Caleb Harper stops the set to get numerous bottles of water into the audience – it's a practical display of genuine care. There is an awareness on stage of just how invested people are in human connection.
"We value being able to muck around with each other – it's nice to portray that [friendship] on stage," Peppa comments when I ask after the band's connection to each other.
It is refreshing seeing the four of them let loose and play off each other, abundantly clear how much they are all soaking up every little moment. Rockstars who aren't too cool to have fun with their best mates. Guitarist Ashton Hardman-Le Cornu somehow manages to execute his signature jumps without missing a beat and each time he takes flight, hundreds of little phone screens pop up to capture the moment before it's gone.
The setlist mixed older favourites like Skin, Feeding The Family with early standouts from the new record, Yet, Bothers Me, It's Been A Long Day and Lunchtime, the latter of which Peppa lauds as one of her top picks to play live citing being able to dance around as the drawcard.
Other than favourite tracks, I am always curious what little moments a live performer treasures within their own set – is it looking out when the house lights come up or a particular piece of production? Peppa describes a specific transition track between Booster Seat and Hardlight. I watch for it from the crowd as the Hottest 100 winning track winds up and suddenly develops into a lulling guitar melody that unrolls as the lights go down. It's quite special watching the band take an introspective moment, all turning to face drummer, Kieran Lama as the crowd swayed in anticipation for the next track.
Even from my vantage point, witnessing the way the audience bonds with the music is something difficult to capture. It feels more precious given how the live music industry was affected during the COVID-19 pandemic. "We didn't get to see how Sunlight connected with people face to face – it's so special [now] to see people sing along." Lane also mentions getting to meet fans at recent record store signings, "I always recognise people in the front row now."
The front few rows get extra love when Kieren pauses the show to capture a BeReal on someone's phone. I ask Peppa if she prefers Tiktok or BeReal, "Tiktok has funny videos," she laughs, but I'm also intrigued by her thoughts on the intricate relationship between a band and social media. "There's definitely a big connection to our careers," she references Kieren's dual role as their drummer and manager, "[he] is really good at capturing who we are on social media."
As for Peppa, she made a conscious choice to get off socials "I think I deleted instagram during lockdown…it's really freeing." It's fascinating seeing how engaged the crowd is at the show, reflecting on what she shared with me, "I was worried that people would not feel connected to me [after  she left Instagram] or maybe even forget about me…it's been the opposite because people want to engage with me more in real life."
That engagement feels palpable as the band returns to stage for the encore, creating euphoria amongst the audience as they finish with Headcold and fan favourite Lots of Nothing. It feels redundant to mention, but the musicality of the set is exceptional. Vocally, Harper has never been better and his delivery is supported by brilliant individual performances from the band. The theatrics and obvious investment in production makes for an incredible evening.
But the on-stage flair has extra meaning for Peppa when I enquire about her thoughts on representation in Australian music:
"it's my driving force – whenever I am on stage, my playfulness, my expression, my joy at being there will hopefully allow one woman in the audience to feel more empowered in some area of their life."
It's special being privy to this, noticing in particular at the all-ages show how many young women are in the crowd. Mentioning the lack of representation in the industry is when I first see fire in Lane's answers. Women in bands are often unfairly assumed to be quieter than their male counterparts but her disdain at how "there isn't enough," makes it clear she sees the bigger picture. When I infer to Lane that she is a role model she blushes, "I had my female role models in music when I was younger," referencing Esperanza Spalding and the original bassist for the Pixies, Kim Deal. "I think the more there is the more there will be."
There's no secret that even in 2022, being a female musician requires a level of fearlessness and grit. It's striking how artists like Peppa Lane quietly balance assumptions and social media with a meteoric rise to fame while being able to focus on their creativity. When I ask what the last song she listened to was, she pulls out her phone and laughs telling me Killing In the Name.
I laugh too, but it feels fitting given her wildly talented presence in the Australian music scene is a constant rage against the machine.