Interview of Amy Sheppard by Kara Zosha
Known for her work in the indie/pop band Sheppard, Amy sheppard has embarked on her own separate journey. Her new debut country EP "Nothing But Wild" is set to release on September 16th. Recently I had the pleasure to chat with her and go in depth about her career, body positivity activism, and much more!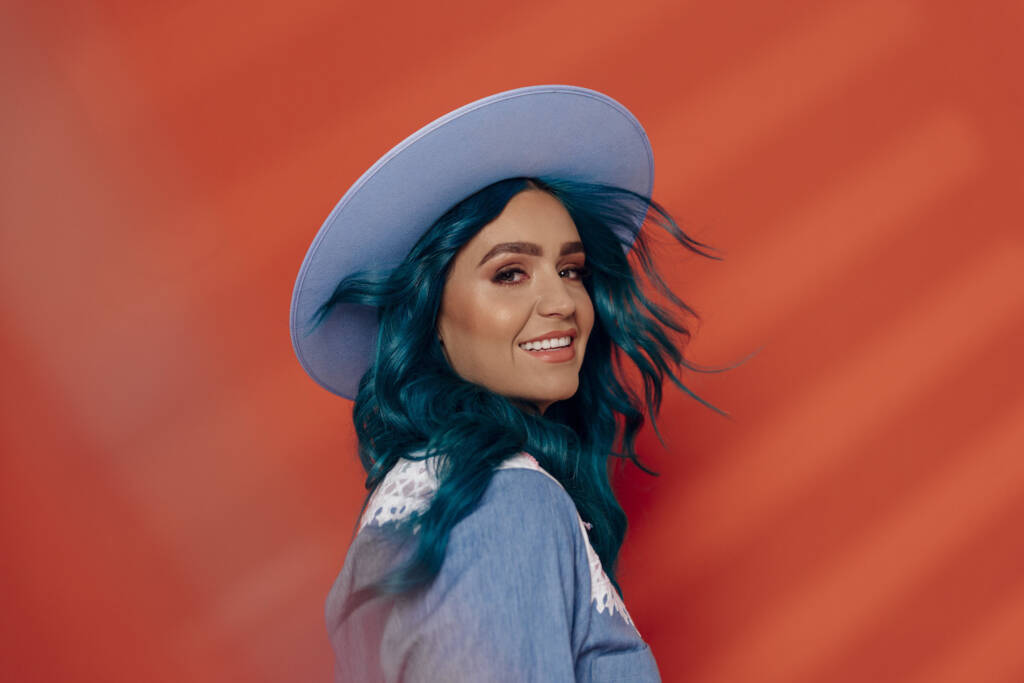 Hello Amy! It's great to chat with you today, how are you doing?
Amazing, thanks! So much going on and excited for my new music about to come out!
What can fans expect from your new EP Nothing But Wild? 
It's 6 brand new songs – a real country pop journey that I am proud of. A mixture of ballads and bangers showcasing my work for the past few years. This is still Amy Sheppard but a side I haven't been able to showcase before. I'm so excited to hear the reaction of my fans and new listeners.
What song on the EP is your favorite? Which one has had the biggest impact on you?
I love them all but I love Blue Guitar the most. It is the first song I wrote for this project – and my current single. The fact I got to write it with my brother George who I normally collaborate with on all Sheppard material… it was the perfect "handover" moment. I don't sit and listen to my own music of course but when I do hear it, I am reminded of the start of this journey.
How has your personal journey as a musician been? What led you to go in a country direction?
I grew up in the 90's and country music was big in our household. My Dad is a HUGE country music fan and for me, It was all about The Dixie Chicks, Shania Twain, Faith Hill, LeAnn Rimes + Kasey Chambers. These were my formative years of songwriting. I learnt how to write country music before I learnt how to write pop music. More recently, I've been drawing inspiration from Country/pop queens such as Kasey Musgraves, Kelsea Ballerini, Marren Morris and Carrie Underwood.
You have a knack for storytelling when it comes to songwriting. How much of your real life did you pull from when writing this EP? 
Oh thank you! Like most songwriters I guess there is so much of our own story woven into the lyrics – whether it be obvious or subconscious. I think that it's fun to keep people guessing. Many would call Taylor Swift's songs literal or autobiographical but the truth is she simply doesn't comment on this to keep fans guessing and adds that air of mystery. For me, it's a mix on this album. Blue Guitar is pure fiction whereas Couple Goals and Home to Me were written for my husband Lachie and are based in real life.
What's it like juggling both your solo career and the work you do in Sheppard? How has your solo journey been different?
So far it has been ok as Sheppard have largely been on a "year-off" which is not what it sounds like as we are still writing, recording, performing but perhaps with less intensity as when we have a new album out. The goal will be to manage two careers simultaneously and pursue opportunities with both. I have a very supportive family so we make it work.
It's amazing that you use your platform to promote body positivity, how has that journey been both personally and also as an activist? 
For as long as I can remember people have taken the liberty to comment on MY body. From being bullied in school, to throw-away comments from family members and more recently, scrutiny from the public, I just got sick of having to upkeep the facade of perfection. I wanted to take ownership and pride over my body. My body is there for me to experience life, not for someone to look and judge. If my posts and stories can encourage someone or perhaps educate, it is worth being a more public figure in that arena.
What was it like being featured in Embrace Kids and sharing your own experiences?  
It was such an honour to be part of the Embrace Kids documentary. Watching it at the premiere, we were all bawling. This is a movie that all children and teenagers need to see; such a powerful, poignant message.
Is there any advice you want to give your younger self or fans? 
While I wouldn't change anything because it has led me to where I am now, I would tell younger Amy that she is just glorious and worthy as she is… and to value health over a number on the scales or a dress size. I have so many facets to my personality and life and I'm grateful of how far I've come. I would wish this "stress" to be taken off the shoulders of every young person out there.
What can fans be on the lookout for? Do you have any exciting plans coming up?
I've had 3 years to work on this project so you better believe that there's a TONNE of new music coming your way. I'm already working on the release of my next single and you can also catch me at CMC rocks in September and BODfest in October! Keep up to date @amysheppardpie